Every time I stop by one of the train stations or airport in Paris, I see swarms of tourists struggling with their heavy, cumbersome suitcases, and the look of misery on their face speaks volumes.  Paris is packed with stairs, and since elevators and escalators are very rare (and usually out of order), you have to be prepared to haul anything you've got with you up and down an endless array of stairs.  Pickpockets and thieves specifically seek out these overburdened tourists, waiting until their hands are full or their attention is distracted to grab their purse, wallet, or passport and take off running.  Many hotels and most rental apartments don't have elevators, and the ones they do have are usually so small they can barely fit a person, let alone a suitcase.  If you're taking a train ride within Europe during your trip, you may not realize that trains have very limited space for luggage, sometimes only one or two spaces for fully-sized suitcases per carriage.  Discount airlines like RyanAir will charge extraordinary fees for checked bags, and they charge by the pound – currently the rate is $200 for a 50-pound suitcase.    If your trip includes a pedestrian city such as Venice or Bruges, you may be stuck hauling your bags down jittery cobble-stone alleyways for miles.
Honestly, loading yourself down with luggage can make your trip a complete nightmare.  I learned this the hard way on my first trip to Europe, and ever since then, I swore to myself that I would only ever bring a carry-on suitcase with me when traveling abroad from that point forward.  Many years and many many trips later, I'm happy to say that I have kept that promise, and I'm so much happier for it.  However, it's definitely not easy.  Like any girl, my instinct is to bring at least five outfits for every day of my trip, and of course every scarf, necklace, and pair of shoes I own.  To help my fellow females out, I've created a guide to packing light that will get you through 2-3 weeks abroad without sacrificing style.


As you can tell, we've stuck with neutral toned items that all mix and match easily.  Leopard and chambray effectively act as neutrals, giving you a small pop of color while still keeping flexibility.
For blouses, you'll need four items.  First, a classic chambray button-up.  If you don't already have one, you can almost always find a great version at Old Navy or Target.  I recommend going with a medium to dark wash, which will come off trendier and more sophisticated than a light wash.  Second, a leopard print blouse.  I prefer a sheer version, as the solid options can sometimes come off cheesy or loud.  Go with long sleeves so that you can layer it under other pieces. Third, a white silk blouse.   I prefer silk henleys over button-ups because they can be both casual or dressy depending on how you accessorize them.  Finally, a Breton stripe shirt, sometimes also referred to as a "mariner" shirt.  These are hugely popular right now and are available virtually everywhere, including countless versions at Forever 21 and H&M.  Make sure to get one with 3/4 sleeves, so you can layer it with your other shirts, and for maximum flexibility go with a black/white stripe over the traditional blue/white.
For your classic black pieces, you'll also need four items.  First, of course, your favorite little black dress.  If you're like me, this will be the hardest packing decision you make.  To help make your decision easier, I recommend going with a dress that has either elbow or 3/4 length sleeves (to maximize elegance, for pairing with other items, and to keep you warm in chilly restaurants and museums) and has a skirt that is either tight or goes down to your knees (to avoid embarrassing situations on windy days).  Avoid casual fabrics like knits or fabrics that wrinkle easily such as satins.  Second, a well-fitting black blazer.  A blazer is a great piece for travel because it rarely wrinkles, it can do double-duty as a light jacket, and it instantly transforms any outfit into looking formal and sophisticated.  Go with 3/4 length sleeves, and bonus points if you can find one with unique accents like a leather lapel or a contrast trim.  Third, black pants or leggings.  Like the LBD, there are a lot of options to choose from here: parachute, tailored, stretchy, wide-leg, boyfriend, etc.  I love American Apparel winter leggings because they never wrinkle and they keep me nice and warm on cold days.  Ponte pants are always a travel favorite as well, as they never wrinkle and feel as comfortable as leggings with a much more elegant look (in fact in many stores they're literally called "travel pants."  I recommend packing two pairs of pants if the weather is on the cooler side. Finally, black shorts.  I prefer "flutter shorts" which are loose fitting because they have the dressiness and femininity of a skirt without having to worry about a gust of wind showing off your goodies.  If you're not a fan of these, some nice leather or lace shorts will give you the same versatility and stylishness.  Opt for tailored, formal shorts rather than more casual denim or cotton options. Even if you're traveling during the crisp fall or spring, black shorts paired with thick tights can be a very chic and still seasonally appropriate option.
If you're planning to bring a jacket, you get ONE choice – and only one!  No exceptions!  During cold months, you'll be wearing this jacket every single day, so make sure it's durable, comfortable, stylish, and will fit with every outfit in your suitcase.  I recommend one of three options: a wool pea coat or wool wrap coat (during extra cold months, consider going with a hooded and/or longer-length version), a classic trench coat (best during transitional seasons like spring or autumn; versions with black contrast trim add an extra touch of sophistication and modernity), or a black puffer jacket (good for rainy, snowy, or very cold months – hooded and fur-lined are great, and make sure to choose one with a belt to avoid looking like a penguin).
For accessories, you've got two pairs of shoes and two scarves.  For shoes, go with a comfortable brown leather riding boot and a leopard print loafer with great support in the sole (I prefer pairs with bows or tassels on the toe to add a bit of character).  Make sure that both pairs are well worn in before leaving so you don't end up with blister from stiff new leather.  For scarves, choose a lightweight leopard print scarf and a heavy cable-knit black infinity scarf.  This will give you options for both warmer and cooler climates and will match with every outfit you've got.
For your unmentionables, keep it simple.  One black tank top for layering, one black bra, one nude bra, one pack of underwear (the rule of thumb is one for every two days of travel but I always throw in a few extra), one or two pairs of boot socks, and one or two pairs of black tights.  Plan to wash your undergarments in the middle of your trip, so opt for quick-drying lace or cotton.  These are all available inexpensively and easily in France, so if you need more, you can always pick them up locally (and who doesn't want some French lingerie?).
Things I purposely left out of my list:
1) Jeans.  Jeans take up lots of space in your suitcase, they take forever to dry after washing, and they're synonymous with "tourist."  Going with sleek pants or comfy leggings will keep you looking stylish and will serve you better as you travel. If you feel like you need a good pair of jeans, go for some black or colored skinnies in a dark shade like navy or maroon.
2) Tons of scarves.  France is the land of scarves, so it's tempting to bring every option you have.  However, these little strips of fabric can very easily take up your entire carry-on if you let them.  Black and leopard will serve you well (if you're not big on animal prints, go for a cognac brown or a subtle print in neutral colors), and it will also give you an excuse to pick up a few new French scarves while you're in town 😉
3) Jewelry.  While jewelry is a great way to add your own twist to these outfits, don't go overboard.  I recommend taking one statement necklace (a red, pale pink, or turquoise bubble necklace would be a good choice), one long pendant necklace, one dainty chain necklace, and a strand of pearls.  For earrings, I suggest three pairs of studs: diamond, gold, and pearl (add in a pair of gold hoops if you want).  Choose an inexpensive tortoise watch (gold ones are trendy but can attract attention from thieves), and leave the bracelets and rings at home (you'll silently thank me every time you have to go through a metal detector at a museum or airport).
4) Heels.  If you are one of those girls who can rock heels for miles, even on gravel and grass and cobble-stone streets, I admire you.  However if you're a mere mortal like I am, then just do yourself a favor and leave the heels at home.  Take them if you absolutely must, but I can pretty much promise you that you'll regret it (and you'll probably end up buying some flats ten minutes after you've left the hotel).  If you're planning to spend a lot of time at fancy restaurants or events and you don't think the loafers will cut it, opt for some black leather flats with good cushioning in the sole that you can also wear while sightseeing.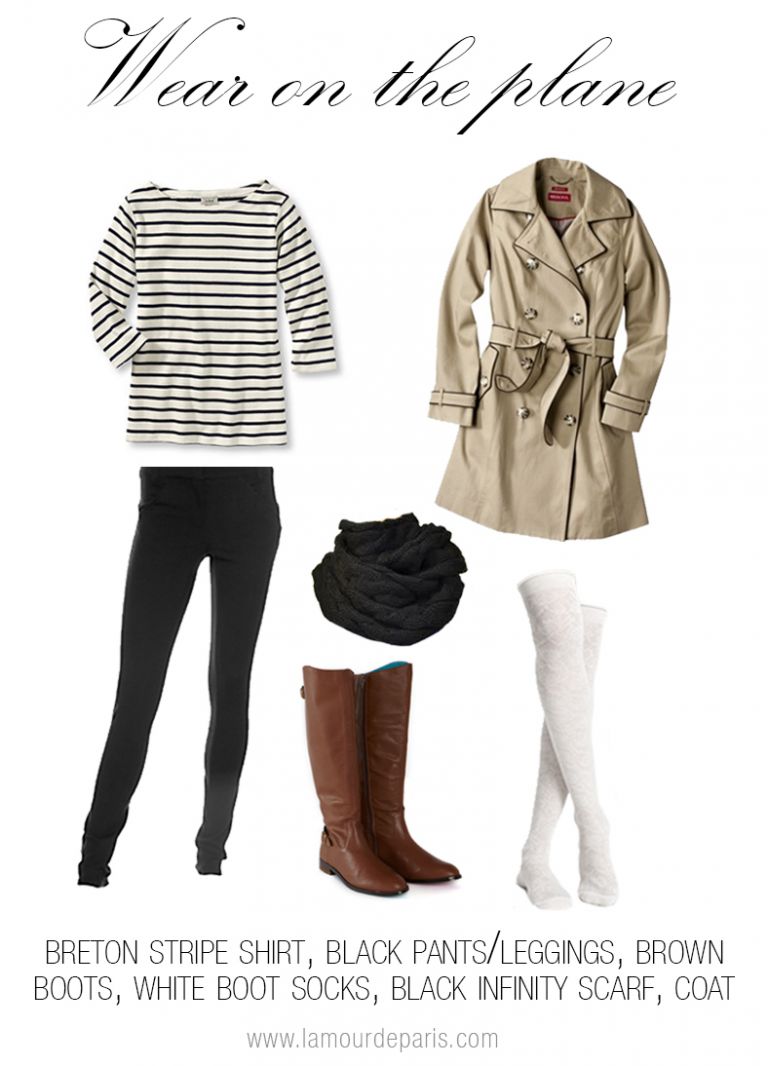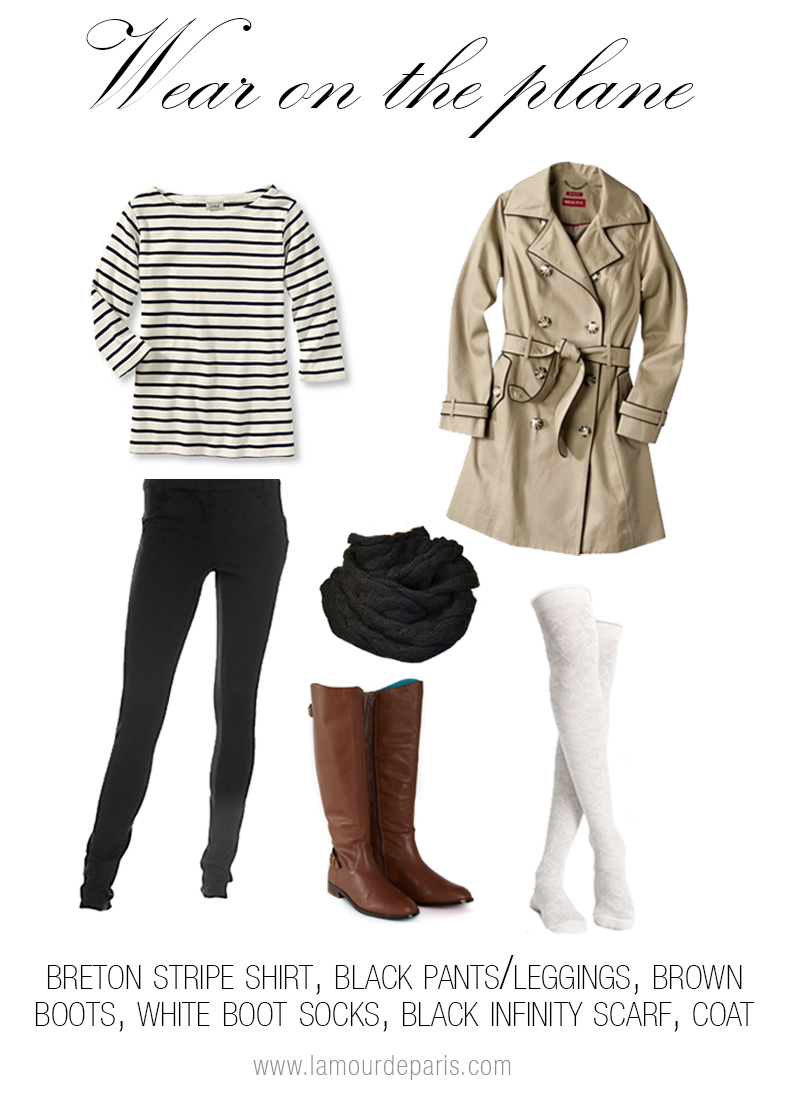 To maximize your suitcase space, wear your biggest items on the plane: the Breton stripe shirt (if you're willing to layer the chambray shirt under this, even better), black pants, boot socks, brown boots, black infinity scarf (it'll double as a pillow on the plane!), and your jacket.  If you follow this plan, you'll only have 6-7 items of clothing (plus underwear) and one pair of shoes in your suitcase.  This will leave tons of room for toiletries and electronics, and most importantly, room for souvenirs to take back home!  If you're planning to do a lot of shopping, pack all your items inside a duffel bag and then pack that in your suitcase, along with an extra TSA-approved padlock.  On the way back home, you can put soft items such as clothes in the locked duffel bag and use that as checked luggage.
If you're still feeling skeptical that these few items will get you through 2-3 weeks of travel, I've got good news for you.  I have put together a handful of potential outfits using only the items mentioned above.  Here we go!

These are just a few of your options.  You can pair blouses and bottoms, add and remove the blazer to all the outfits, layer blouses under OR on top of the dress, swap scarf and shoe options, or pair the leggings and shorts together to change up your look.
If you have room in your suitcase, here are a few additional options: cognac-colored pants, an extra dress (ivory, cognac, leopard print, navy, or maroon will all work well), a black or navy sweater, or leopard print skirt/shorts to further multiply your options.  Just remember to stick with formal pieces over casual ones, and keep everything in the same color family: neutrals, leopard, and chambray.  If you're really into color, then maroon, navy, and blush pink can also complement this palette. Here are a few additional options you can throw in as well:
Always remember that worst case scenario, there is an H&M and Monoprix on every corner in Paris, and inexpensive clothing and shoes are very easy to find.
Hair appliances can also fill up your suitcase pretty quickly.  The good and bad news is that US hair appliances won't work in France – even with plug or voltage converters, your blowdryers and curling irons will quickly fry here.  Heating appliances and dual voltage don't mix!!  Instead of ruining your favorite Chi, consider no-heat curling methods suck as the sock bun or headband curl (see our how-to post on no heat hairstyling here), or pick up an inexpensive curling iron once you get into town (Monoprix and BHV will have plenty to choose from).  Almost all hotels and rental apartments will provide hair dryers for you, as well.  When I'm traveling abroad I rock a lot of fancy Pinterest-inspired braids – no heating appliances required, and my hair always looks adorable in photos!
So there you have it!  A full trip to Europe in one carry on suitcase.  Try out these tips next time you come abroad, and enjoy life with less.  You'll be a happier traveler, guaranteed, and you may end up saving a lot of money in the process!
See also:  Packing for Paris – Warm weather guide and Packing for Paris – Accessories edition