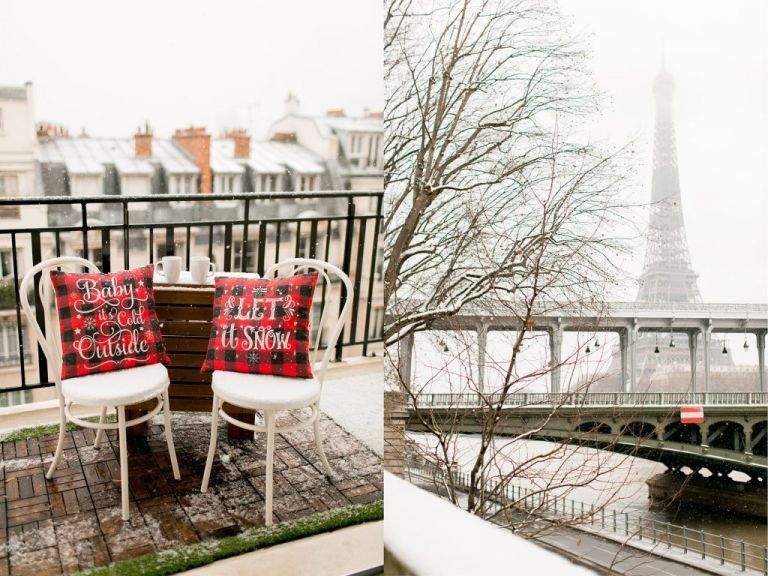 Paris blanketed in snow has to be one of the most magical and romantic scenes I've ever witnessed! Everyone says Paris is romantic in the rain, well I'm here to tell you snow is 100 times better!
I've been wishing for snow this season since November! Lol! And we finally received some in the middle of January. The images here are from that day. I knew snow was possible in Paris when I checked the weather, but it only showed a couple of hours likely, with it turning to rain after. I crossed my toes and fingers anyway!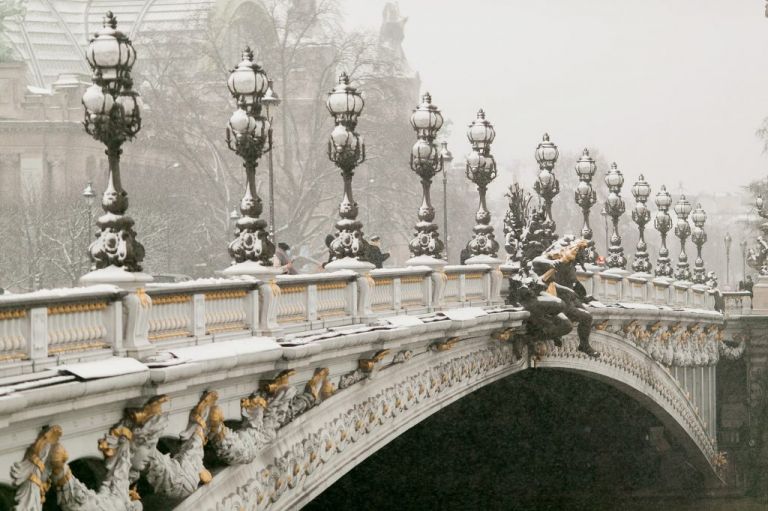 And sure enough, as I was washing dishes it began to snow outside my window! It made cleaning all the more enjoyable. 🙂 About an hour later, just as I was about to curl up with a book on the sofa and watch the snow drift down upon the gray Paris rooftops, the flakes got even bigger! In that moment, I knew this was going to be a bit more than flurries. So I turned into a flurry of excitement, running around the apartment finding all my warm clothes and hand/foot warmers, gathering all my photo equipment and gimbal for video. I ran out the door about 30 minutes later and hopped on the bus so I could keep an eye on the progress of the snow.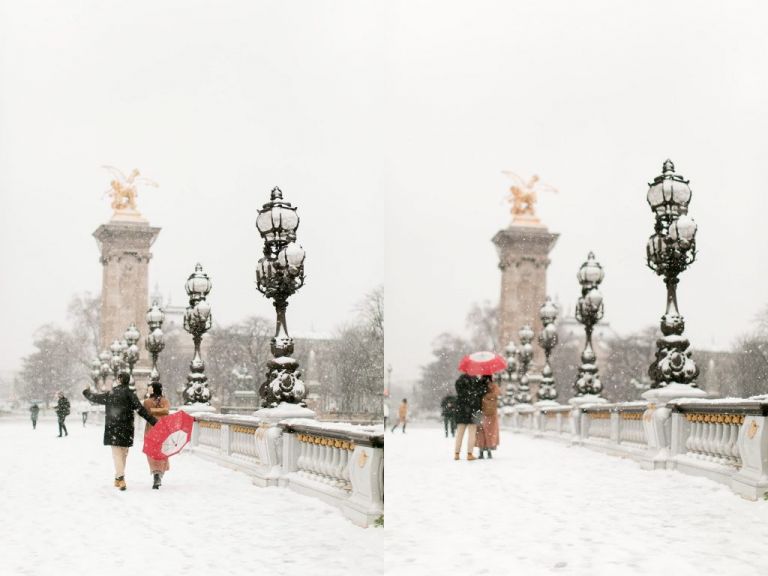 I was almost to Pont Bir Hakeim when my friend texted and told me it was turning to rain over near Jardin du Luxembourg. Oh no! Panic mode! I immediately pressed the request for the next stop and hopped out at Pont Bir Hakeim in case I were to miss everything else due to rain. It was already a very wet snow, an umbrella would have been nice, but it would have been difficult to juggle with all my gear anyway. Unfortunately, Doug was out of town, or we could have helped each other.
So…Pont Bir was a success! I couldn't believe how quickly everything was covered in a blanket of snow. I have to tell you that when we get to experience these rare occurrences, the journalist in me still comes out. ( I began my photo career in the Photojournalism department at Western Kentucky University.) I seek not only to take and deliver beautiful, magical scene setters, but also to tell a story about what the snow day in Paris was like. Which is why you'll still see images below that also include people.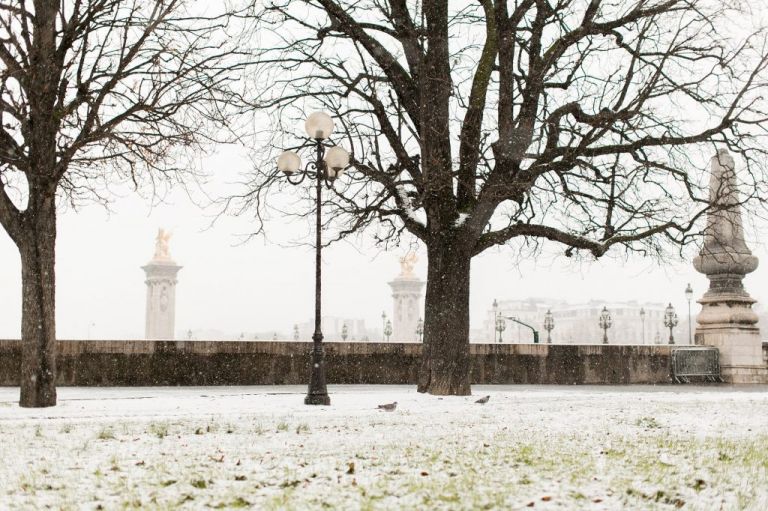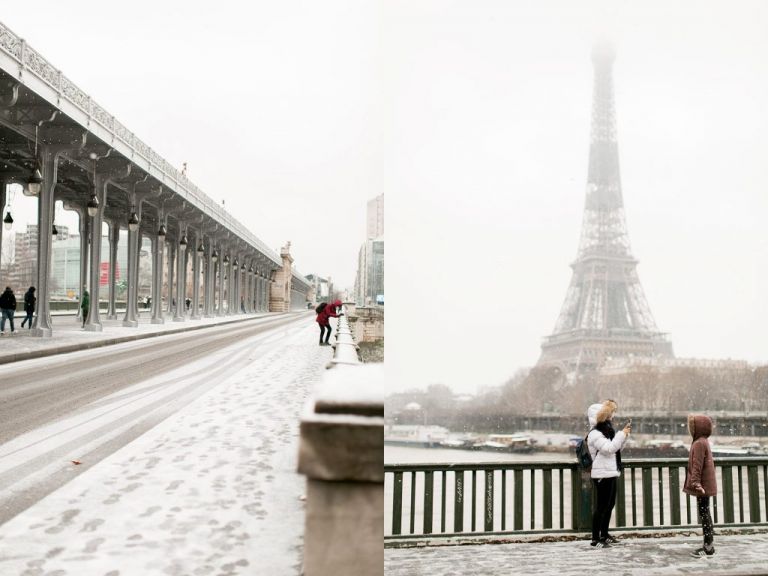 There was certainly an air of excitement as people shuffled around with their cameras too, taking pictures of one another and their kids — who looked so happy and in awe of it all!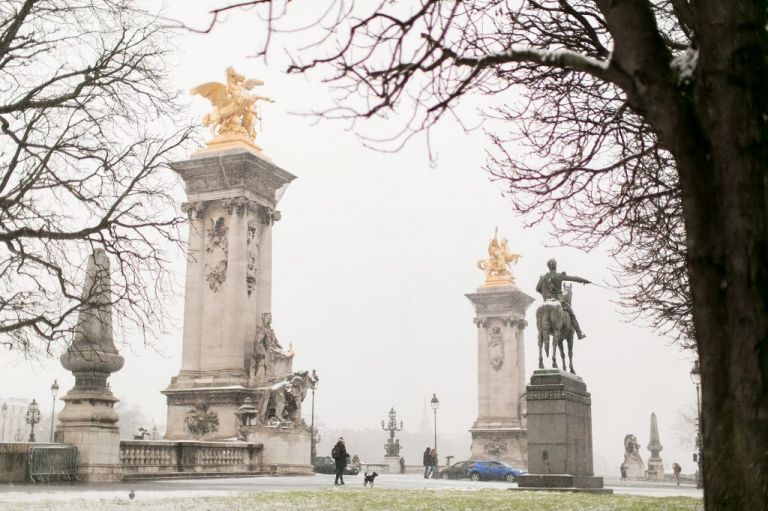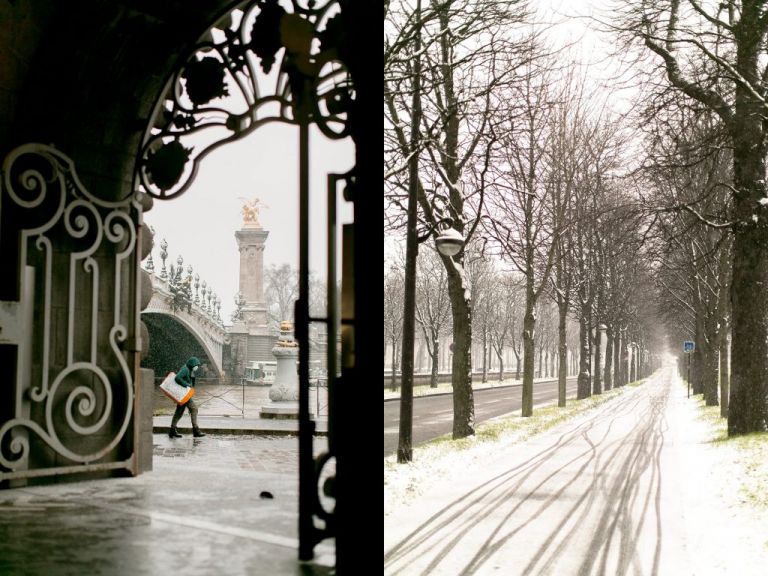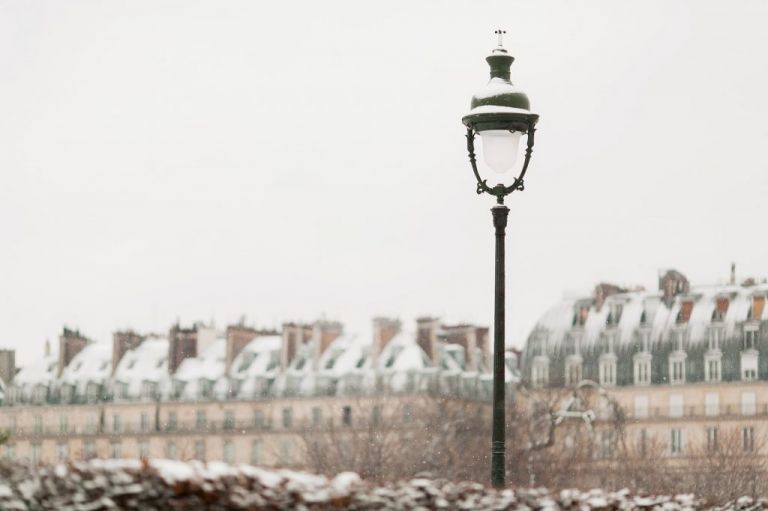 I ended up being out for a few hours — it would have been a bit longer because I really wanted to head to Montmartre too, but at my second stop I was already frozen! I put in my hand and foot warmers, but my feet ended up getting soaked! (Stupid boots, must buy new ones!) I went for about another hour even after they were wet, toughing it out for one more location as I hopped on the bus over to the Tuileries/Louvre area. As I got off the bus, I was already cursing myself under my breath. Telling myself, "Yes, it's beautiful, but it's not worth losing your feet!" You fill in the other blanks, haha! I could NOT feel my toes any longer though. I wanted to cry, but decided I had to bail. I stopped inside the Carousel de Louvre area and actually removed my boot and sock on each foot to examine and make sure my toes weren't black. Seeing that they were only red, I determined I could make it home.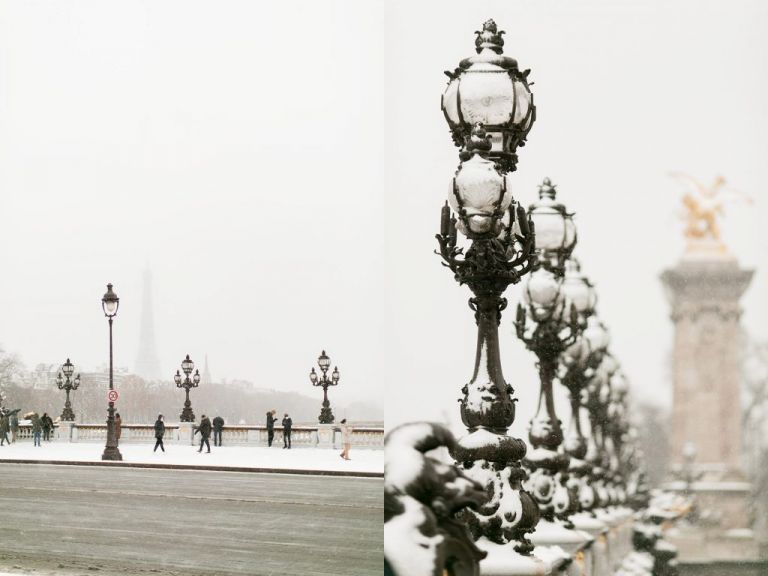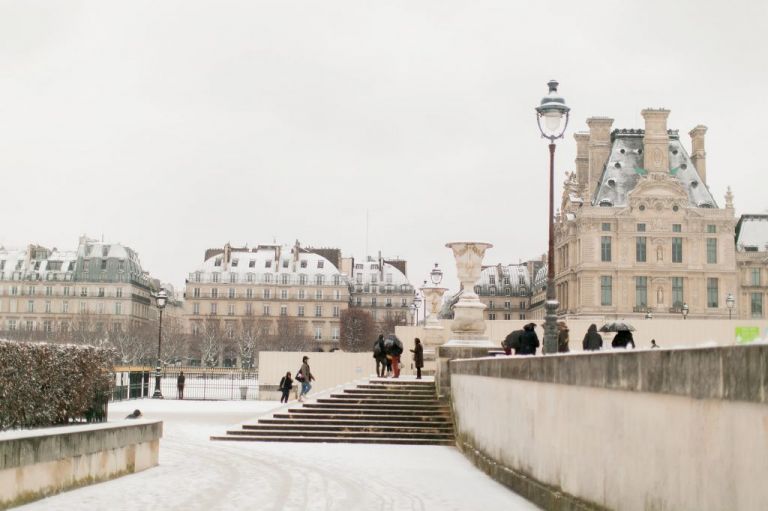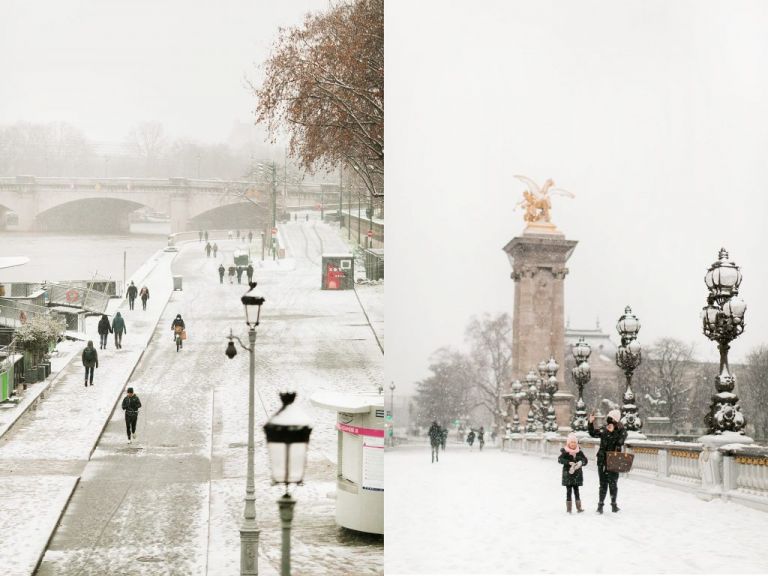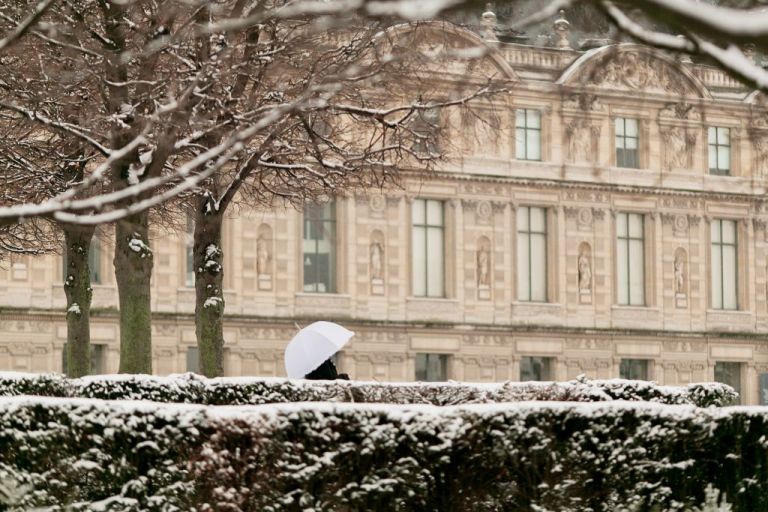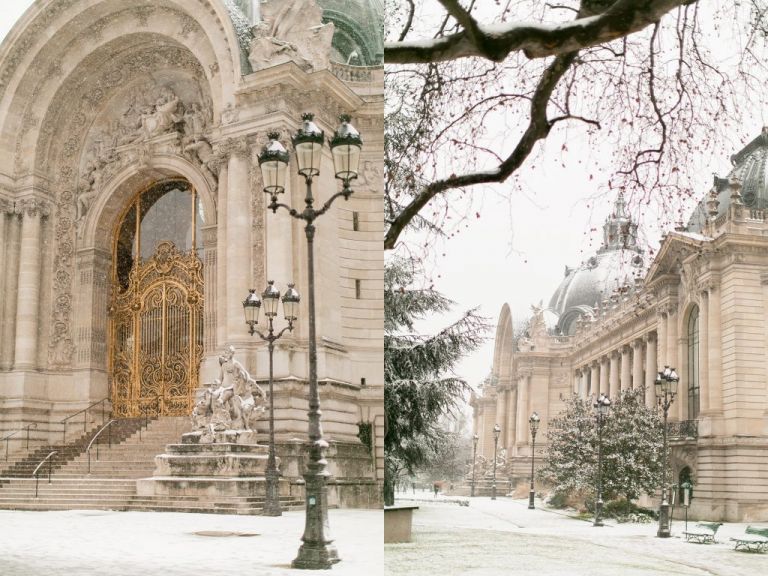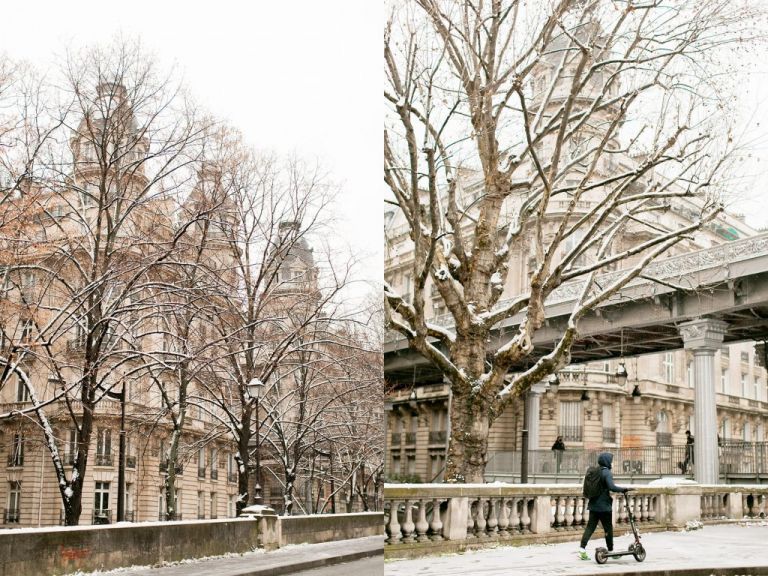 By the time I got off at my metro stop, it was indeed raining, so I think my time was well spent. However, next time we get snow, my first stop will indeed be Montmartre! We did have another couple hours of snow the other day, but without any accumulation.
I hope you enjoy escaping to Paris in the snow! We will be adding some of these images to the L'amour de Paris Gift Print Shop soon! Please tell me which images are your favorite!
There's a short video on our instagram reels of the snow too! Click to watch! I should have enough content to make a longer video soon too. 😉
Also — if you want to see more of Paris beyond our website – please check out our Pinterest page here and we also have a new Tiktok account (with 2 Snow Videos!), and we'll be adding more there as we go too.
Oh, and I almost forgot –we have a YouTube channel as well, with a lot of content already in Paris and France! We're trying to make sure we deliver Paris to you everywhere you want to see it!
Merci beaucoup! We hope to see you in Paris soon! One tiny favor, if you do have friends or family traveling to Paris once it's safe to travel again, would you kindly share our accounts with them? We'd be ever grateful! Looking forward to welcoming couples and families again soon!