There have been several occasions now during our time in Paris that we were lucky enough to photograph a couple together for their couple's session, and then a year or two later, we were able to also photograph their family pictures as they shared Paris with their kids. It's an incredibly humbling experience to have someone trust you multiple times with their special memories. I know how important our travel photos are from our own experiences with friends and family. The photos often help me to recount the memories themselves.
I reached out to one of my favorite families I've photographed in Paris, the Cook family for some family travel tips for Paris. Anna and her husband were actually featured in our behind the scenes Paris video that lives on our homepage! They returned last summer with their kids. They are an adorable family with such well-mannered children. I really enjoyed getting to see them again, and I'm thankful we've stayed connected on Facebook too.
Anna's response to my inquiry was pure GOLD! In fact, it's so great that I'm basically sharing everything she shared with me verbatim. I told her she would be my guest blogger for this post. 🙂 Read along below for some incredible tips for your time in Paris as a family.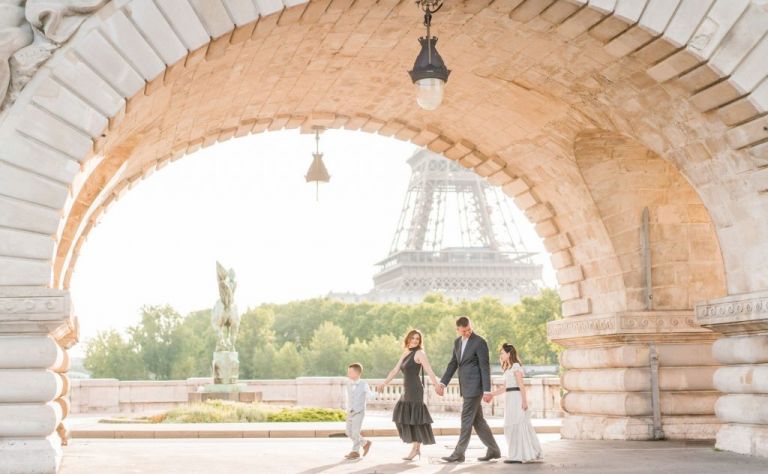 From Anna:
I'm happy to give some feedback for this, especially since it allows me to go down memory lane. 😉

One of the things we did the kids really enjoyed was a chocolate making class at the Choco Story (https://www.museeduchocolat.fr/?lang=en). This was really more for the kids that for the adults, but it was fun to do together, and the kids really enjoyed it. 

Of course I think a day trip to Versailles is a great place for kids. There's plenty of space for them to run around and get that energy out. We particularly enjoyed a restaurant in the back of the gardens called La Flottille. (http://en.chateauversailles.fr/plan-your-visit/facilities/flottille) It was very kid friendly. I recommend renting a golf cart to be able to explore more of the grounds or renting bikes if you have older children. The boats looked fun, but we ran out of time. Both times we've been we've only gotten to go for half of a day on our tours, but I really think a full day there would be nice, perhaps scheduled in the middle of the trip to give a little downtime. 

When it comes to Musee d'Orsay vs. Louvre, for kids I would say Orsay. (And, personally, David and I also prefer Orsay) There are some very recognizable impressionist pieces there, and it's not quite as large and overwhelming. And, children have free entry to the museum, so if they don't last long, at least their entry was free. There are also some great lookout spots at the museum on the top floor with gorgeous views our kids enjoyed. Their restaurant, Le Restaurant, has a great menu, and their kids fish and chips are so good David and I were snagging bites off of the kid's plates. It's bright, colorful, very Parisian, and a fun place to dine for lunch. Definitely stop by the Louvre to get pictures in front of the iconic pyramids though.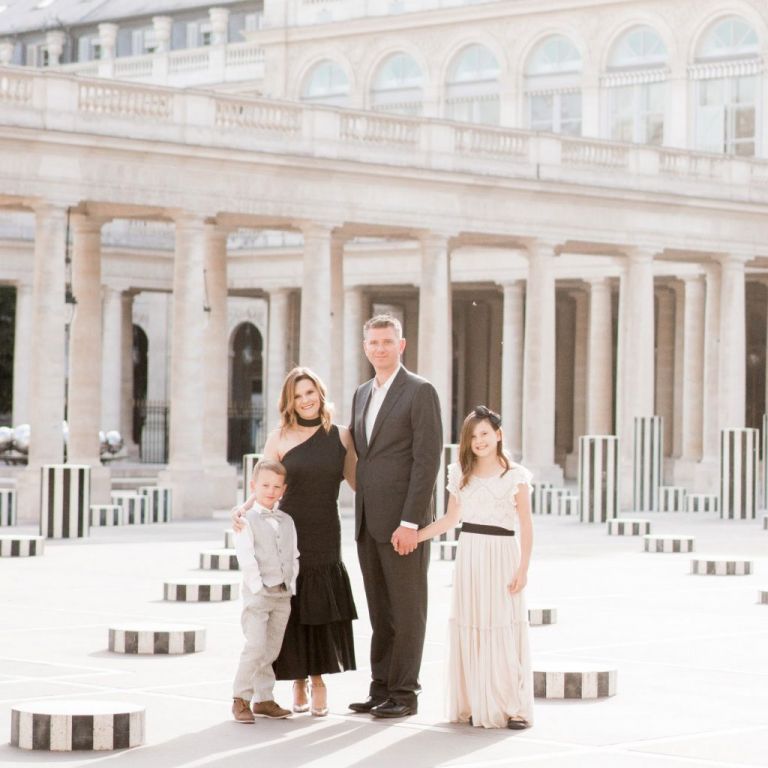 Another area our kids loved was Montmartre. They enjoyed picking out an art souvenir from the street artist, and there are lots who do quick portraits. Of course we had to stop for a crepe. Lots of great places to dine outside. 

Re: Disney, I highly recommend taking the train. The kids enjoyed that experience and it could not have been easier. 

Other fun activities: getting to pick some macarons at Laduree, seeing the tower sparkle from Trocadero, boat taxi, Sainte Chapelle (both of our kids were wowed by their stained glass), carousel ride in the park, and lots of fresh chocolate croissants. 😉

Tips for travel: don't push too hard, especially with little ones. You will never be able to see it all. You have to remember their legs are little and while they are excited to be there, some things are more exciting to them than others. If you go into it with the expectation that it will be a lot like a trip you and your spouse took, you will be frustrated. Instead, take it in at a slower pace. Intentionally plan at least one thing a day they will get excited about, even if it seems like a waste of time for you. Your goal is to cultivate a love for travel in them and to make sweet memories, not to make it to every museum. 

Last tip…on your first night there with kids, go to bed early and let them sleep in the next morning. (ie don't schedule anything early that morning) This pretty much cured all of us from jet lag, and made those first few days more enjoyable. 
BONUS: Of course some of these things we didn't realize until we got there, but, before we went on our trip, we found this YouTube channel where a couple travels all over the world with their young children.  https://www.youtube.com/user/travelwithkids (There are lots of them out there. This is just the one we landed on.) We watched these with our kids before we went to let them preview what was to come. This helped them get excited about the trip. We also learned a lot from the parents about expectations and patience.  It was a great resource.  Looking forward to everyone being able to travel again. I know you are too.  Seeing you guys out and about in your stories yesterday gave me hope it will be sooner rather than later.  
 ANNA!!! MERCI BEAUCOUP! We thank you for these amazing tips! I know those parents following in your footsteps will appreciate your advice! We look forward to the next time our paths will cross! Until then, stay happy and healthy!