Our series of carry-on only packing guides (warm weather guide here and cold weather guide here) has been hugely successful, garnering several thousand pins on Pinterest and hundreds of likes on Facebook! Clearly people are really struggling with how to pack, especially how to pack light, so we're going to continue to keep offering suggestions and updates. We've had a lot of requests for a guy's packing guide, which we are definitely working on.  In the meantime, I thought I would address what is, for me, a hidden space-stealer when packing: accessories. There have been so many times when I have judiciously selected the smallest possible selection of outfits for a trip, only to completely go overboard when it comes to the "everything else." Hopefully this guide will be useful for those of you who have mastered to art of weaning down your outfits but need a little extra help with all the leftover gadgets and gizmos!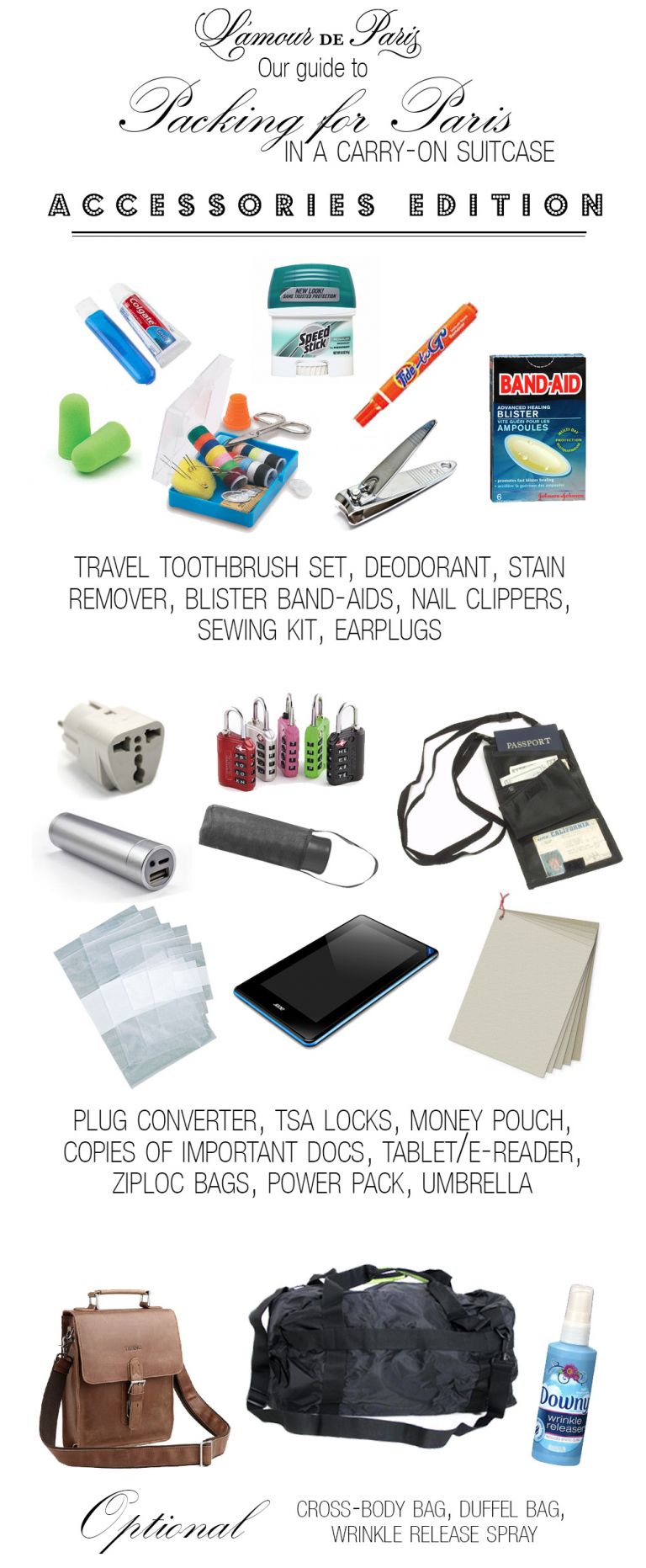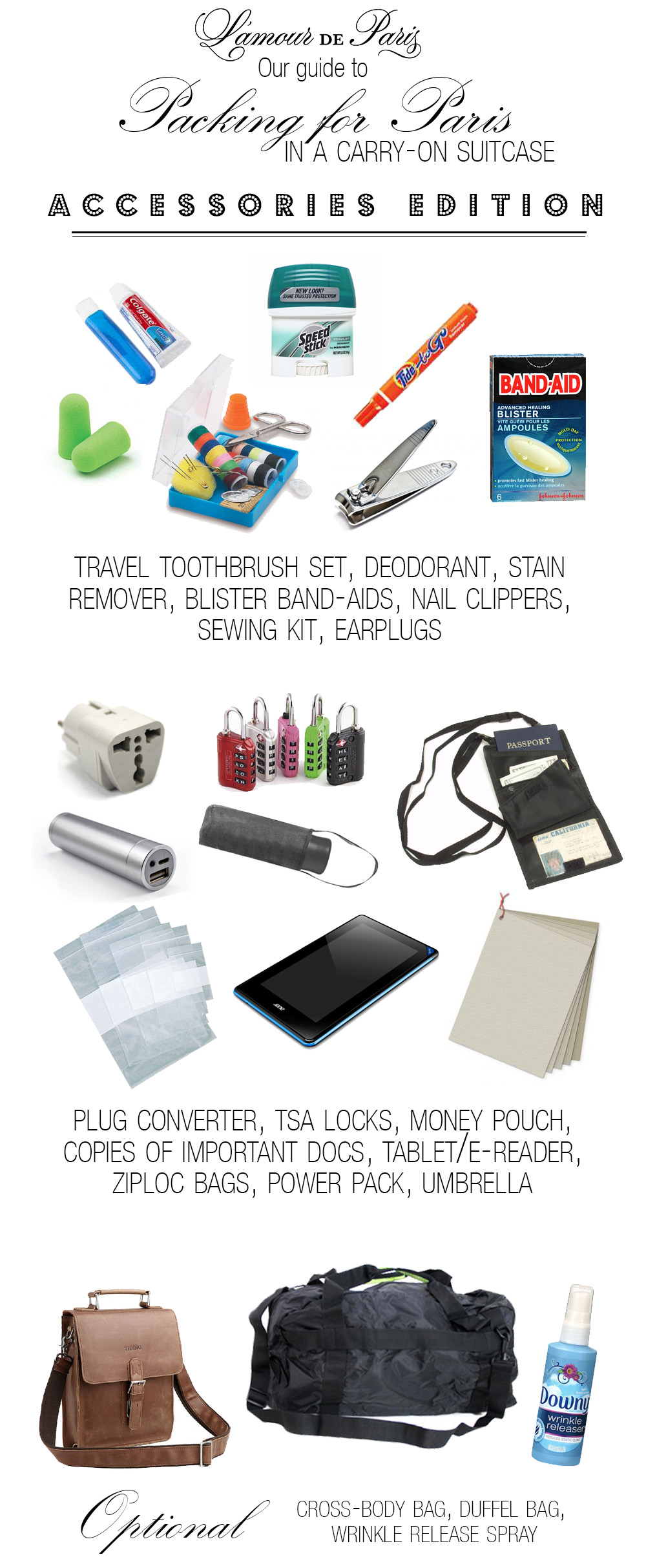 Follow the link below for a full writeup, including what NOT to bring!
The toiletries can take up a surprisingly large amount of space if you're not careful, so I have narrowed it down to just the essentials.  The first group of items is part of my "travel survival kit" which is packaged in a small bag that I can easily grab any time I am taking a trip somewhere.
Travel-sized toothbrush, toothpaste, and deodorant – Leave your normal-sized versions at home to avoid TSA restrictions.  Link, Link, Link, Link, Link
Stain remover sticks – A godsend for getting out errant spots when red wine or au jus jumps off the table and onto your white shirt.  Link, Link
Blister bandages – A MUST-HAVE item.  Trust me on this.  They are insanely expensive here, around $3 per bandage, so load up on these before leaving home (and bring me some refills!).  Link, Link
Nail clippers – Scissors are one of those items you always need when traveling, but because of TSA rules, they can be a no-go in a carry-on.  Nail clippers are a good substitute.  Link
Sewing kit – When traveling light, you can't afford to lose any items to missing buttons or ripped seams.   Traveling wears heavy on your clothes, so be prepared for some minor repairs. Link
Earplugs – These will help you sleep both on noisy flights as well as in thin-walled old European buildings.  Bring several pairs, as these little buggars tend to go missing often.  Link
Side note: You may need a few extra items here, such as makeup, hair gel, combs, etc.  Try to limit yourself to only the absolute necessities, and absolutely nothing more than one quart-sized ziploc bag.  No exceptions!  You know those huge hanging cosmetic bags with tons of pockets that can take up an entire suitcase on their own when rolled up?  JUST SAY NO!!!  Channel your inner French woman and try the no-fuss powder, mascara, and lipstick look for a week or two!
The next set of items may or may not apply to you, depending on where you are traveling and what type of traveler you are.
Plug converters – An adaptor for plugs only – NOT  a voltage converter.  More on that later.    Link
Small umbrella – If you've ever been to Europe, you understand the need for this.  See my post on great umbrella options here.
Money pouch – I'm sad to say that pickpockets are a real threat here.  They are everywhere, and they are very good at what they do.  Wallets and purses are prime targets (even in inside pockets), so wearing one of these pouches under your clothing is the only way to ensure your money stays put.  The minor embarrassment of having to pull it out when buying something is worth avoiding the hours of ruined vacation time you'll spend at the police station and embassy if your stuff goes missing.  Link
TSA locks – Useful if there is a chance you might check your bag, if you plan on traveling by train, or if you want to keep your items secure in your hotel room.  I prefer the ones that have a color-changing notification system that tells you if your lock has been opened and the re-locked.  Link, Link
Portable power pack – Great for adding an extra boost to your cell phone, camera, tablet, or e-reader during long flights.  Link
Ziploc bags – These can help you keep receipts, souvenirs, post cards, and even dirty laundry separated and organized, and will protect your clothing from liquid items, which can burst during flights.  Link
E-reader/tablet – Good for checking emails, uploading photos and social media updates, providing entertainment on long flights or trains, researching attractions and restaurants, and holding your e-guidebooks.  A smartphone can replace this for uber-light travelers, if you're okay with the smaller screen,
Xerox copies of important documents – Keep scanned printouts of your passport, credit cards, drivers license, entry/exit visas (if necessary), and health insurance card, which will be invaluable if you do fall prey to a pickpocket.  Keep these copies in your hotel room safe, away from the originals.  E-mail the scans to yourself and a trusted friend or family member back home, as well.


The last group of items is optional, but highly recommended regardless of destination.
Small, lightweight cross-body bag – I suggest a neutral brown or black leather, with a zipper or buckle to keep it securely closed.  Link
Lightweight duffel bag – I always use one of these as an inner lining for my carry-on suitcase.  When packed this way it doesn't take up any extra space, but if I make a ton of purchases while traveling, I can easily pull out the duffel, secure it with a TSA lock, and check it on the flight back home.  It can also help to separate clothing from other items that might soil them such as shoes or liquids.  Link, Link
Downy wrinkle-release spray – This stuff works wonders, and is available in a convenient travel size.  Although most hotels and vacation rentals will have irons available, if you're short on time or energy this spray can be a great alternative.  Link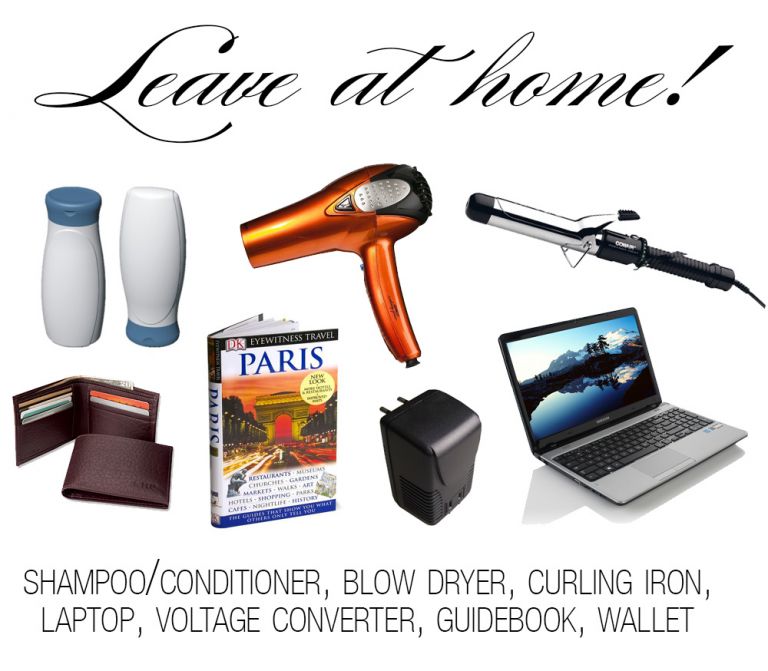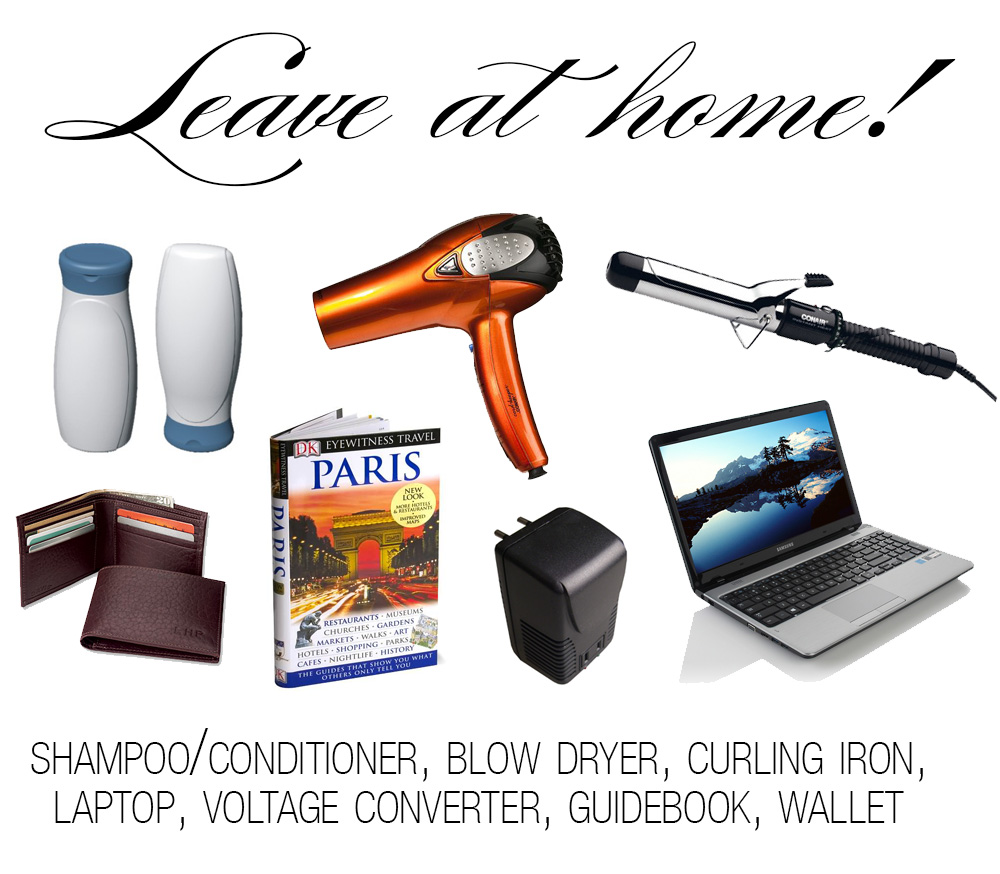 These are the items to leave at home!  Much as it may pain you to skip out on some of your creature comforts, these items are large, heavy, and/or bulky, and will likely go unused anyway.
Shampoo/conditioner – Even small travel-sized versions can be a pain, as they sometimes burst or leak during air travel, and most hotels and rental apartments provide them anyway.  It may not be your preferred brand, but your hair will survive two weeks outside of your normal regimen (and if you're like me, your hair always looks especially great when you switch it up a little!).
Blow dryer and curling iron – No matter what the tag on your plug says, appliances that heat up should never be used outside of their original voltage.  NEVER.  Never ever ever.  You will ruin your tools, fry your hair, and possibly damage the wiring in your building.  Instead, opt for some of the no-heat hairstyling tips in this post.  Most hotels and rental apartments will provide a blow dryer.
Laptop – Unless you know you will be doing hard-core work while traveling, skip the computer.  It's heavy, sensitive, requires extra cords and cases that take up a lot of space, and will just make you nervous about theft and damage.  The e-reader/tablet will be sufficient to keep you connected.
Guidebooks – I confess that I am a guidebook junkie, and usually end up taking 2-3 of these wherever I go (and usually end up dumping them in the hotel room trash can at the end of the trip because I don't want to lug them home).  With an e-reader or tablet, you can take the digital versions instead, saving you tons of space.  I love the Amazon Kindle system, which allows me to use access all my guidebooks (including my notes, bookmarks, and highlights) on my iPhone, iPad, Kindle, and computer, so they're with me no matter where I am!
Voltage converters – Those things are seriously hefty!  They're also mostly pointless.  Almost all electronics made today are dual voltage, so they only need a small plug adapter, and if they're not dual voltage, you should probably leave them at home anyway.
Wallet – Remember that time I terrified you by telling you how bad the pickpockets are here?  I wasn't joking.  Leave the wallet at home and go with the money pouch under your clothing instead.
Do you have any other suggestions on what to bring and what to leave at home?  Do you disagree with any of these tips?  Leave your thoughts in the comments – and don't forget to pin these images to Pinterest for easy reference on your next trip!
See our other packing guides for warm weather and cold weather here!