Whether you travel once in a blue moon or every chance you get, you know that the luggage you bring can either make or break your travel plans.  I used to be a big believer in buying cheap luggage (like the cutesy colorful polka-dotted variety you see at mall stores) and just replacing it before every trip.  Then I ended up hauling a carry-on around Europe in my arms for two weeks thanks to a mangled handle and a broken wheel, and I swore off cheap luggage for good.  Investing in some high quality luggage has been a great decision for me, as my bags often get heavily mistreated.  I've never been the type to treat anything I own gently – whether it's expensive or cheap I will toss, drop, yank, shove, overstuff, sit on, and generally put my baggage through the ringer.  I'm also an unapologetic bag lady – collecting bags and totes and duffels and suitcases is a guilty pleasure I just can't seem to stop.  With all of this in hand, I've compiled a list of some of my favorite luggage brands, all tested and reviewed either by myself or people whose opinions I trust.  Most travelers choose their bags based on one of two categories – function or looks.  I've covered each in separate groups, with suggestions for both men and women alike.
A side note: Most of the suitcases mentioned here are listed at carry-on size, because I'm a big big big advocate for packing light and never bringing more than one carry-on when you travel.  However, virtually all of the bags are available in full-size checked baggage dimensions as well. Also, none of the links provided are affiliate or sponsored links.  If I listed a bag here, it's because I love it, not because I am getting paid to promote it!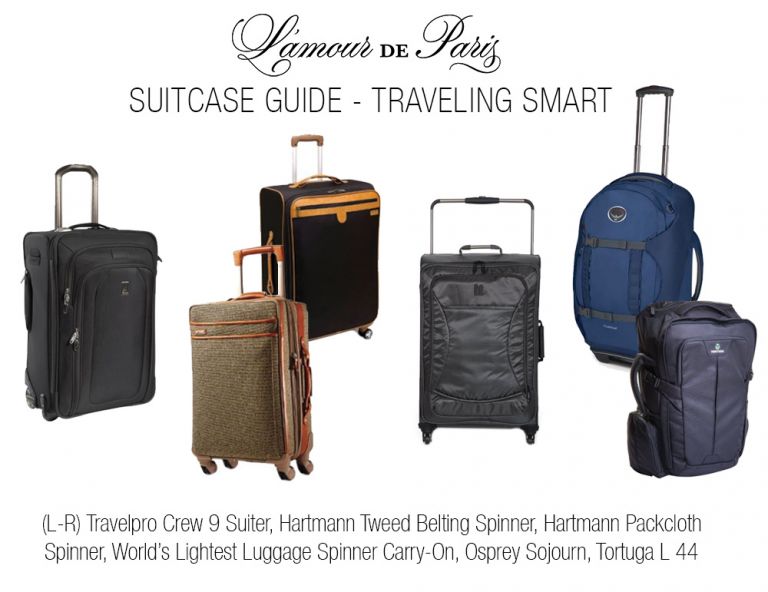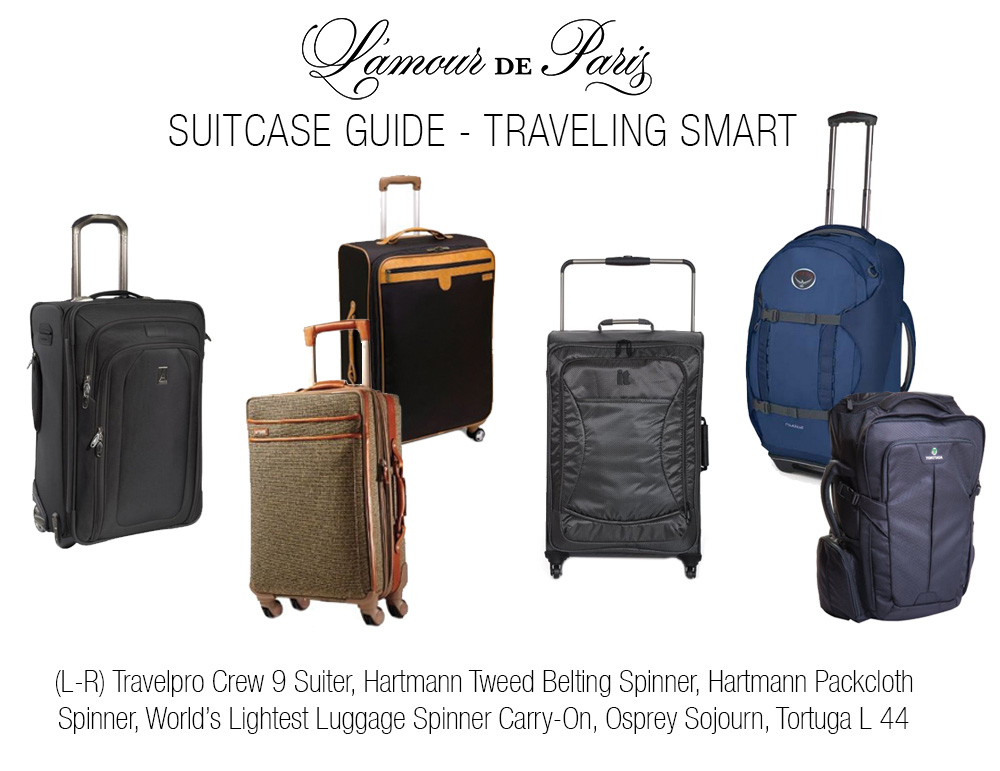 TRAVEL SMART
Travelpro is THE name in suitcases for frequent travelers, regularly voted the best carry-on option by flight attendants and pilots.  Their bags are extremely well made, as evidenced by the lifetime warranty that they offer for all of their luggage.  My husband owns a Travelpro carryon and absolutely loves it.  It's lightweight, sturdy, roomy, has lots of great pockets and organizing accessories, and has held up beautifully over many trips.  I recommend their Platinum Magna line, particularly the Expandable Spinner Suiter which has eight wheels for effortless rolling.  If you've never had a 4 or 8 wheeled suitcase before, I'll tell you now, it's impossible to go back to two-wheeled bags.  Being able to push my heavy suitcase through airport corridors with just a light push of the finger is a traveler's dream come true!  If you're on a budget, their Crew 9 Suiter was rated the best budget suitcase on the market, and comes in at just around $150 for the carry-on size.
For me, Hartmann is the perfect mix of traveling smart and traveling stylish.  They have been around for well over a century, and their classic designs have remain largely unchanged for decades – for good reason!  Their bags get high ratings by Consumer Reports and frequent flyer surveys (the harsh critics at FlyerTalk rave about their Hartmanns), but they still have the style and elegance of expensive designer brands.  I adore their two toned leather and tweed collection, but for the smartest travel, opt for the Packcloth Spinner.  This carryon has an outer lining of packcloth, a durable fabric that is resistant to both tears and moisture.  I had a Hartmann that I loved dearly and was sad to sell off when I moved abroad.  If you want well-made luggage that will handle frequent flying well, don't want to spend an arm and a leg, and still want to look trendy and elegant while traveling, Hartmann is a great option.
If you're a weakling like me, or just don't like to lug around heavy bags, World's Lightest Luggage is an aptly-named brand touting astonishingly light 3-5 pound suitcases.  Unfortunately what you get in lightness you sacrifice a little bit in aesthetics and build quality (personally I would not use these bags for checked luggage), but if you truly want to pack light, there's no better option.  Some airlines weigh carry-on bags (Air France is notoriously strict about this) and have absurdly low weight limits, some as low as 15 pounds, so if you are very adamant about not checking your bag then these pieces will help to achieve that.  They're also very affordable – the four wheel spinner clocks in at 4 pounds and only $70 on Amazon!
For those who prefer backpack-style bags, this post by Snarky Nomad lists a number of good options.  I especially like the Tortuga L 44, which has a lockable laptop sleeve, padded shoulder and hip belts, and a durable outer fabric that is resistant to cutting from pickpockets' knives.  And unlike most travel backpacks, this bag has a full zipper for all around access and lacks the dangly cords and straps that can snag or rip.  Adventurous Kate is a solo female traveler who makes her living backpacking across the globe, and she strongly recommends the Osprey Sojourn, a backpack/wheeled luggage hybrid.  Multiple reviews on luggage sites (virtually all glowing and positive) list the wheels as smooth and durable and the backpack feature as comfortable and secure, even over long distances, making it the best of both worlds.  The Osprey has a lot of extra features that make it ideal for long-term travelers, including a mesh back for ventilation, a small top pocket for carry-on liquid bags or items that need to be frequently accessible, a removable backpack and harness system, compression straps, foam siding for protection, and a waterproof rain cover.  For those who are traveling "backpacker-style" through buses and hostels, these are both good options.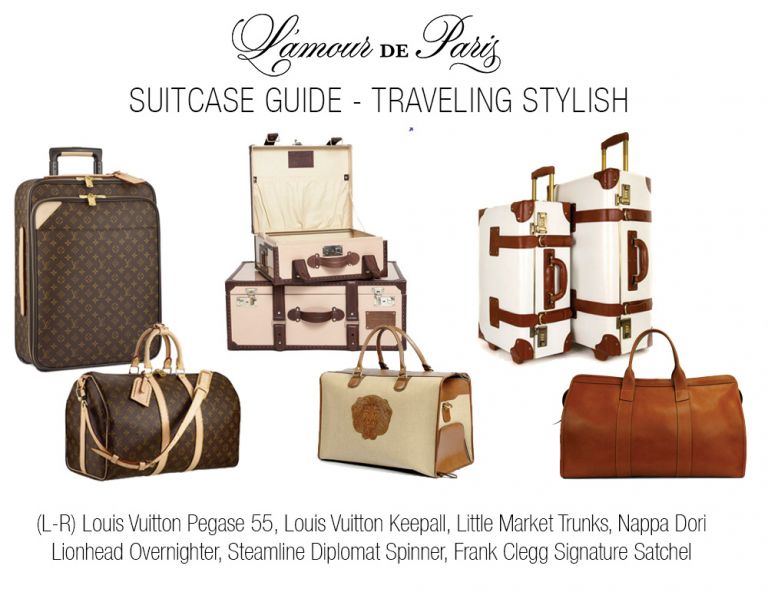 TRAVEL STYLISH
When it comes to good looking luggage, the discussion has to begin with Louis Vuitton, a brand that was built on travel bags and trunks.  LV got famous making travel gear, and today it still remains one of their signature items.  I personally own the Louis Vuitton Pegase 55 Business NM and I have mixed feelings about it.  Fashionwise, it's a head-turner.  Classic, elegant, and chic.  The craftsmanship, as expected with any LV item, is top of the line, and I love all the many accessories and features (all weather cover, garment bag with folding metal hanger, massive dust bag, personalized luggage tag, several interior pockets, and a sweet front pocket that has a perfect place for everything).  However, it is extremely heavy, and the tradeoff for the sturdy hardware is limited interior space.  The heaviness is the hardest part, as I have difficulty lifting it over my head when empty, let alone full, which poses a problem when I am flying by myself.  However it is a great investment in the sense that I have traveled all over the world with it, overstuffed it, and even knocked it all the way down an escalator, and it still looks brand new (and protected my laptop very well in the aforementioned escalator incident).  I know this is a bag that will last a very very long time.  I would never give this beauty up, but when traveling alone or traveling light, it sometimes (sadly) gets left behind.  If you prefer duffle-style luggage, the Keepall line is a great alternative.  I also have a Keepall and it is one of my favorite pieces for overnight or short weekend trips, and has stood up VERY well over a lot of hard use.  I have a friend who always uses a Keepall as her checked luggage, and despite all the many things that can destroy checked luggage, hers is still in perfect shape and has actually developed a beautiful weathered patina.
The Little Market trunks have been on my wish list for a long time.  Although trunks aren't the most convenient gear to travel with, these beauties make up for it in many ways.  They come in several colors, from trendy maroon to classic white and black to my personal favorite, the lovely feminine blush pink.  The hard-sided luggage will protect all of your belongings from damage during transit, and when you're not traveling, they can do double duty as a stylish home accent decor piece.  An added bonus – their backstory.  These trunks are made by Nappa Dori, an Indian fashion house that funds local female artisans with interest-free loans and also donates a portion of its profits to Harmony House, a community center for the women and children of the Delhi slums.  I also love Nappa Dori's leather overnight bags as well (how stunning is this ivory lionhead overnighter bag, with an umbrella clip and weather-resistant shoe compartment).  If you like the idea of a steamer trunk but need something a bit more functional, Steamline has a ton of colorful travel trunk options, including the gorgeous full leather Diplomat line with wheels and extendable handles, and at just under 10 pounds, they technically qualify as "lightweight luggage."  I'll be dreaming of that gorgeous blush pink beauty for weeks!
For those who are prefer leather goods, American artisan Frank Clegg is renowned for his timeless and high quality pieces.  Frank's commitment to workmanship and quality materials has earned him well-deserved recognition in the luggage world, and his bags have graced the arms of some of America's top celebrities and executives, been featured in men's magazines like GQ and Esquire, and shown up on multiple runways during New York Fashion Week.  His signature piece is his travel duffle, a no-frills staple that will appeal to men and women alike.  The leather is buttery smooth, the interior Sunbrella lining is both weather resistant and nearly tearproof, and the bag is available in a number of different color options.  The recently unveiled collaboration between Michael Bastian and Frank Clegg looks to be even more impressive.
———–
Do you have a favorite suitcase or baggage maker?  Do you own one of the bags above and have a lot to say about it?  Do you have a unique need that makes finding the right piece of luggage difficult?  If so, let me know in the comments below!  Check out the rest of our Travel Tips series by clicking here.