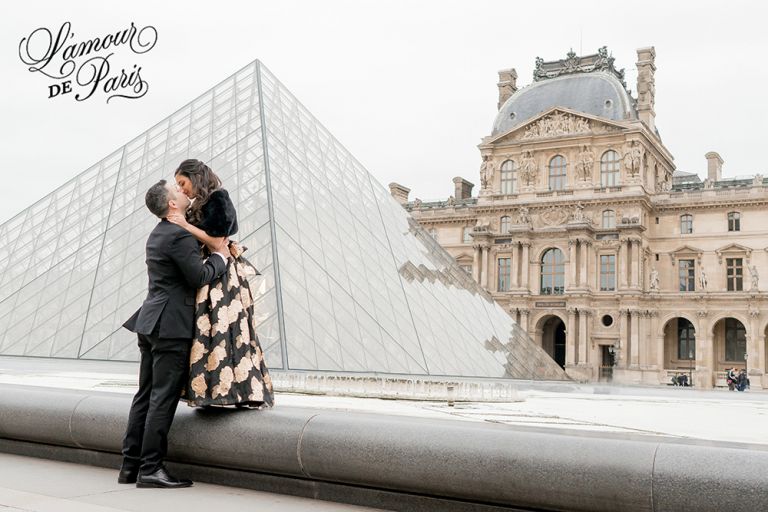 Paris engagement photos are an incredible way to announce your wedding and celebrate your love! What better city than the City of Love to do this? Ashley and Zac's Paris engagement photos are some of my favorites to date! Their whole session is quintessentially Paris, and these two ooze a Sunday kinda love and affection for one another. Plus, we all hit it off immediately, which always makes for a fun day.
Interestingly enough, Ashley made Doug and I feel like celebrities in the Dublin airport just a few days before their session. She walked up to us and asked if we were Doug and CheyAnne. We confirmed, and she was super excited. We weren't sure what was going on for a minute, but she quickly told us that they had their Paris engagement photos scheduled with us a few days later.
Our session started out at Trocadero, because Madame Eiffel has to have her moment in the spot light of course. Ashley's dress, from Eliza J Dresses was the perfect compliment to the Parisian creamy, golden colors of the Eiffel Tower, Place Vendome, and the Louvre. It was also January and quite freezing on this early morning, so her black furry shawl was a chic compliment to the dress to keep her from freezing to death!
I honestly have a hard time selecting a favorite image because initially when I pulled images for this post, I had 62! Wow! I could literally have shared most of their session with you. One of my favorites though is the one where they are sitting in front of the pyramid and Ashley's feet are kicked over Zac's lap and she's planting the best kiss on him. I love it all! I feel like it sums up their easy, simple, fun love that I described earlier.
After playing around at those first few locations, we stopped at Cafe Nemours for a snack and to allow them to change clothes. They both have such great style, as I enjoyed their second outfits as well. Ashley's white lace top and pink tulle skirt is from Bliss Tulle. Both of Zac's suits are from Men's Wearhouse — the blue one is custom suit by Joseph Abboud. And I'd be remiss to not mention her hair and make up was styled by one of our preferred vendors, Onorina of Onorina Jomir Beauty.
Once they had warmed up a bit we headed over to Place Dauphine for a few more casual, street oriented type of photos. And from there I went back to their room at Le Metropolitan hotel with them to capture a few snuggly photos in their bathrobes and their stunning view. I wanted to hang out there with them all day. It was so beautiful! Doug and I may have to do a staycation with this room someday!
Ashley and Zac, it was a joy to get to know you and capture your Paris engagement photos. Thank you for trusting us with these precious memories. I'm looking forward to keeping in touch. And hey, if the stars align, maybe we'll see you in San Diego next May! 😉
First the engagement, next the wedding or elopement! Thinking of planning an elopement in Paris? click HERE.