Navigate the Paris Metro – How to Buy Tickets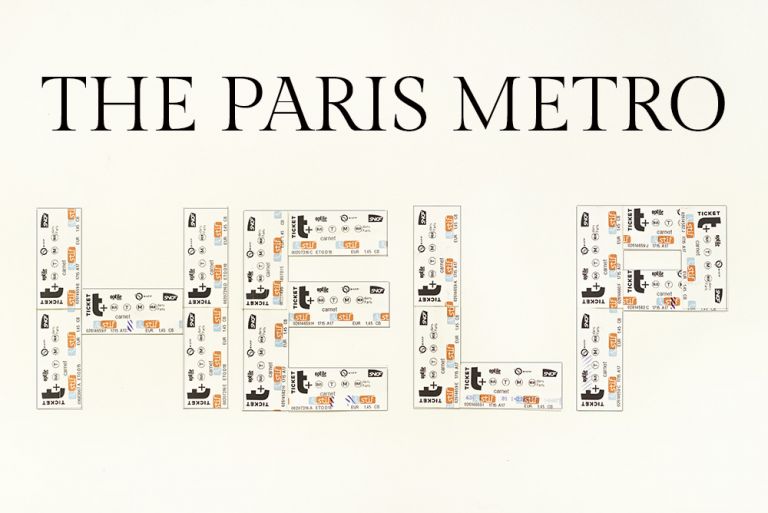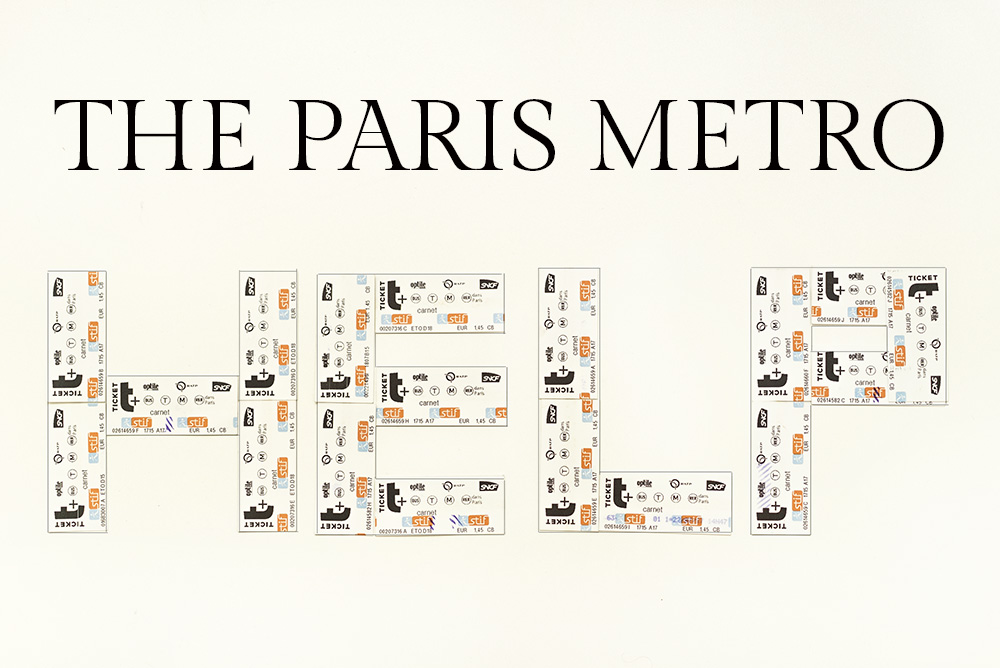 It can be stressful to find your way in an unfamiliar city, but add to it being a foreign city with a language you may not speak, and things can feel overwhelming pretty fast.  Getting from Point A to Point B has been what's caused hiccups in our own prior travels, as well as a couple arguments I can remember stemming from one person being hangry combined with feeling at a loss of how to get to our destination because we didn't understand the metro options.  Here we will help you navigate the Paris metro and buy tickets.
Fast forward a few years, and we finally feel we've got a good grasp on public transportation, even when we travel to other new cities because Paris has presented us with a great foundation.  We will be continuing a series of navigating Paris to give you our best tips and practices.  We'll include lessons we've learned the hard way in hopes that you won't make the same mistakes and can worry about one less thing during your trip.
The Paris Metro is one of the best and most efficient in the world.  It has 14 lines serving 303 stations, and that doesn't include the bus lines, trams, and RER trains! Most of the larger, tourist stations will have people stationed near the ticket kiosks to help answer any questions you may have. Typically they do speak English as well, so don't be afraid to ask for help if you feel lost.  They also have maps that they can give to you.  There is also generally a ticket window you can purchase your tickets from with a real live person.
Before you can pass through the turn styles and head to your destination, you need to purchase your tickets.  Our first time trying to look at the screen and figure out what we needed was a horrible experience!  And yes, it was one of those times that we had just departed a long train into Paris, needed a restroom break, and we were starving!  We thought we understood the options by reading a sign next to the ticket machine, but we still did not understand it when we started scrolling through the options on the screen in front of us.
If you are staying within the city, you likely only need Zone 1.  The main exceptions outside of Zone 1 are day trips to Disney, Chateau de Versailles,  and the Charles DeGaulle Airport.  You can find a zone map here: http://parisbytrain.com/paris-transportation-zone-map/
We've calculated the cost benefits on the different types of daily and monthly passes since we live here.  Unless you are going to be super ambitious, taking the metro (or bus/trams) an average of 5-7 times a day, your best bet is to purchase the book of 10 tickets, called a carnet.  This is the approach we still take on a regular basis for our own transportation needs.  Even on a busy weekend, the most tickets we may need in a day is 4-5 per person.  When you purchase a carnet, you receive a 25% discounted rate.  The individual tickets become 1,49 euro as opposed to 1,90 euro.  You're already saving money for more wine and croissants!  🙂
I'd start with only one book and gauge how fast you use your tickets.  If you are traveling as a couple you may go through one book quickly, but it's better to buy as you go than overspend and have too many tickets left at the end of your trip.  You will likely end up walking more than you expect, and you can also hop on a velib (bicycle) as well to help you get around more quickly.  We'll cover the velibs on another day though!
Step by Step Paris Metro Ticket Purchase
Okay, let's go through the images below step by step to learn how to purchase your tickets.  The first image below is what the ticket station looks like.  You'll see stations with the touch screen as shown here, or the ones with the roller option instead of a touch screen.  If you see the purple Navigo circle as seen here, that is for locals to refill their card.  If you only see the purple circle, without the credit card option, or if it says Navigo Rechargement above it, some stations are only for the refills.  I always look for the rollers myself.  (The roller is pictured towards the bottom of this post for reference.)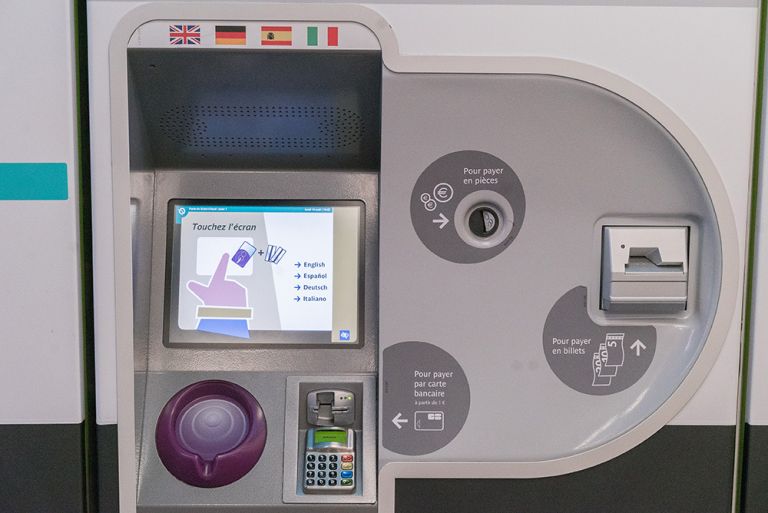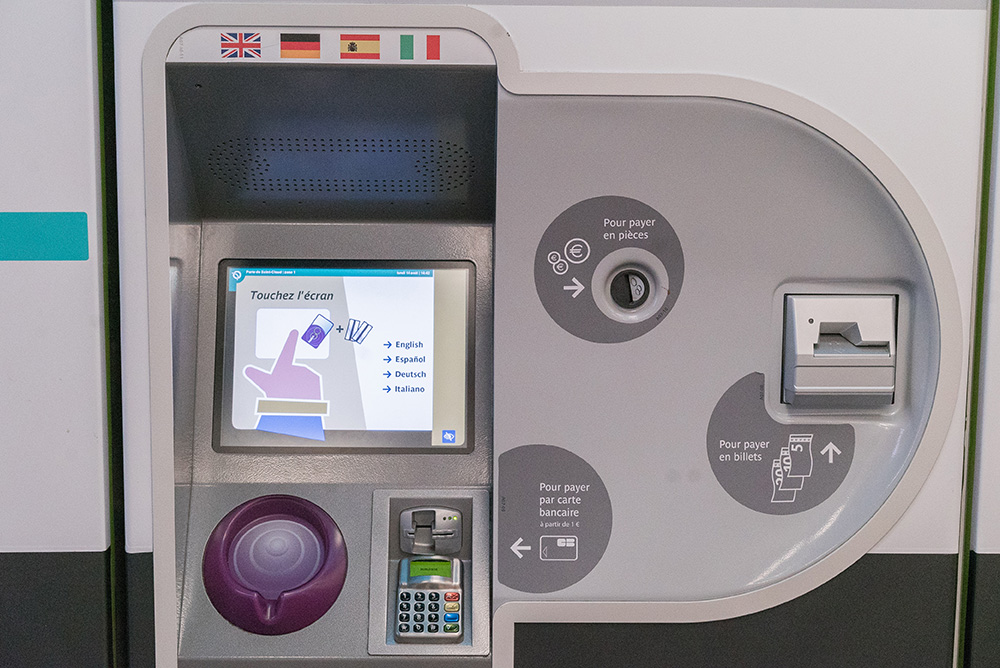 Select your preferred language first by touching the screen.  If you are using a roller machine, roll to English and then click the round validate button after each selection you wish to make.  (Touchez l'écran = Touch the screen)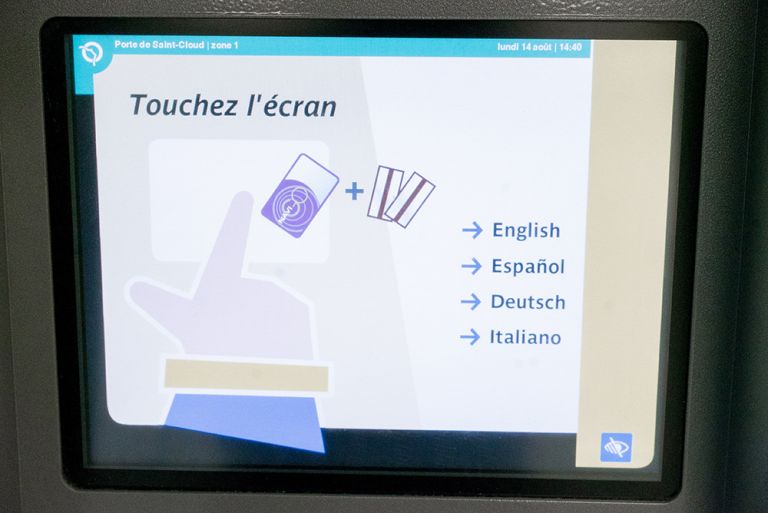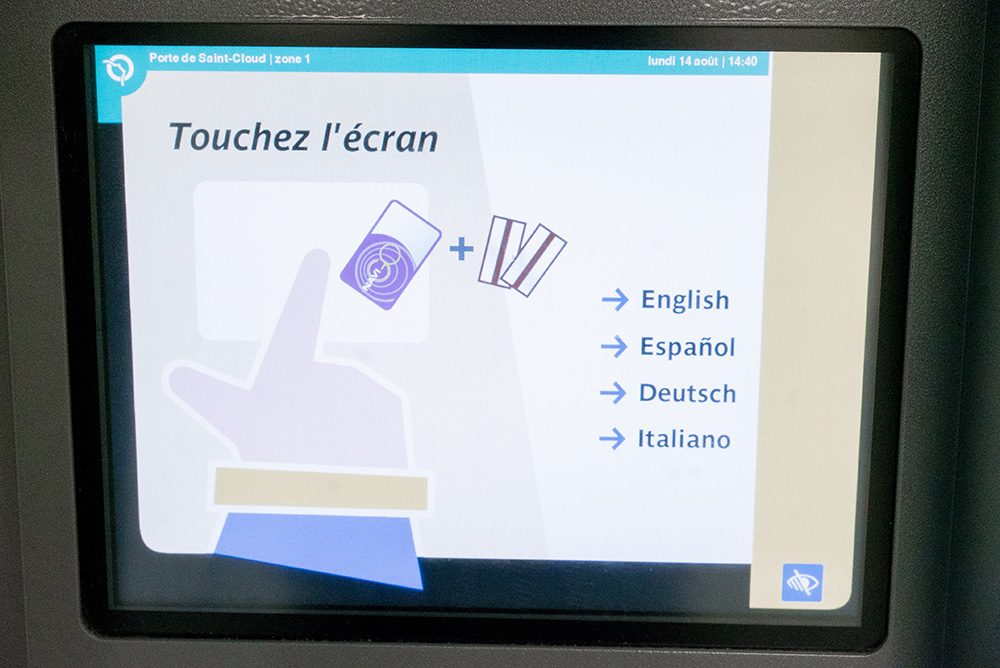 Next, touch (or roll and validate) here to buy tickets.  If you are an adult you'll select full fare tickets on the next screen.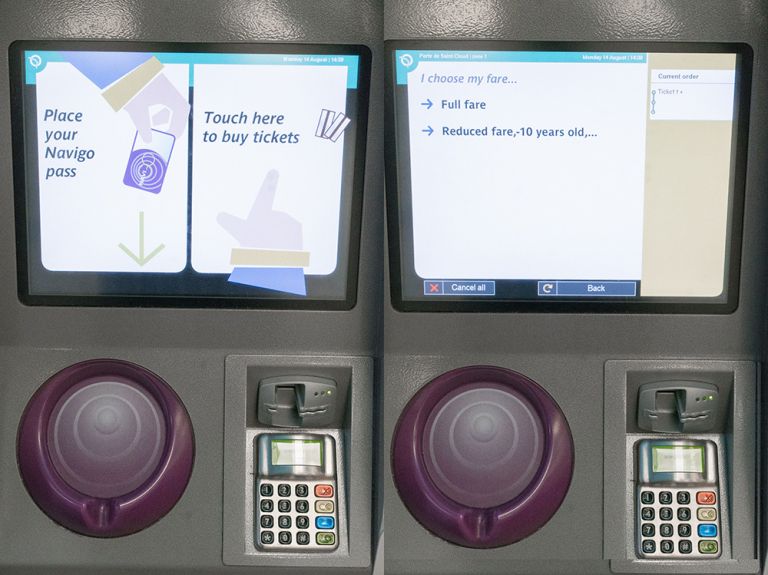 Then you select the Ticket t+ option.  (The t+ ticket is good on the metro, buses, and trams.  You may purchase individual tickets on the bus, but they are 2€ and you should try to have exact change.  Tickets purchased on the bus are not good for transfers.)
Next, you either select single journey tickets, or the book of ten tickets (carnet) as we suggested above.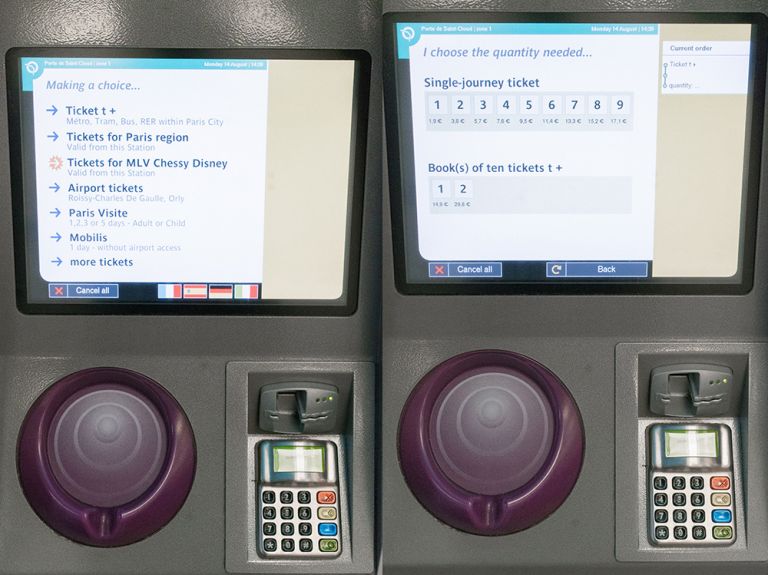 The next screen is simply to confirm and validate your purchase.  Then you will be guided to insert your bank card or your euros.  At this point, you put your credit card in the slot, and then, very important, start looking at the instructions on the key pad/credit card screen.  It will say Patienz first, then it will ask you to enter your pin if it's a debit card, and then wait until the screen says Retirez, which is to retrieve your card.  (Not pictured here is the screen that will ask if you would like a receipt – simply select yes or no.)  That's it!  Your tickets will print out below.  Voila!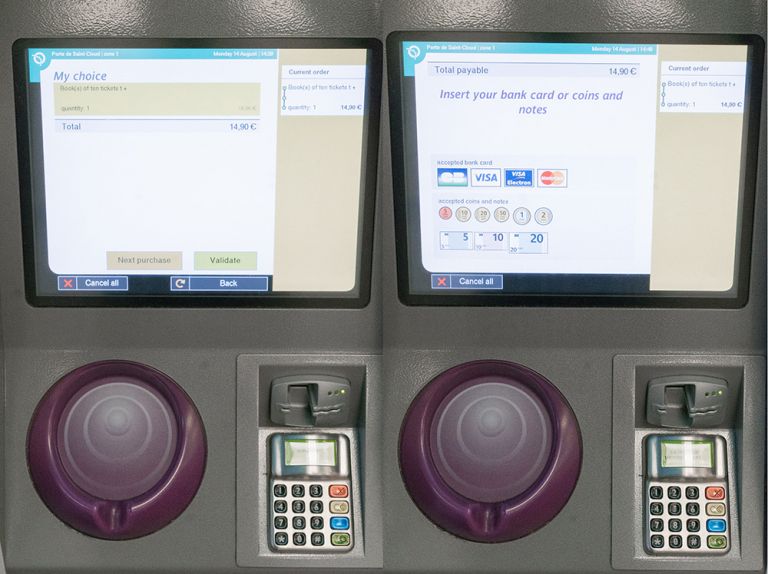 On the main entry screen above (the fourth image) for T+ tickets, Paris Region etc. you'll see that they saved you a step for Disney tickets. It's listed as "Tickets for MLV Chessy Disney."  You can skip straight to that option if you are headed out to Disney for the day and purchase the amount of tickets you'll need.  Disney Paris is really a ton of fun!!   (NOTE:  when you depart from an RER line, which you'll take to Disney, you do need your ticket to exit the station.)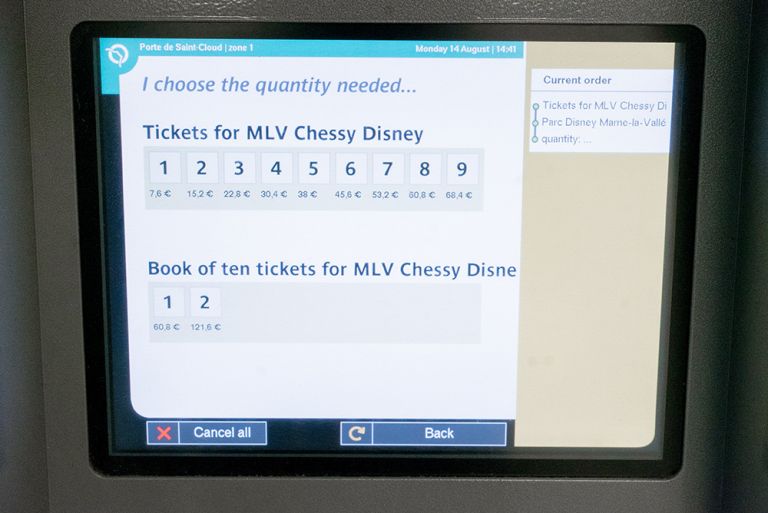 We highly recommend visiting Chateau de Versailles if your itinerary permits.  It does take a solid 1/2 to full day to go out there and explore the palace and the gardens.  If you're going to Versailles, select the option on the T+ screen that says "Tickets for the Paris Region" and begin typing the letters for your destination.  For Versailles, we typically take the train to Versailles-Rive Gauche, and it's a short walk to the chateau from there.  If you purchase a skip the line tour through Guidatours, their office and meeting point is directly across from the Versailles-Rive Gauche-Chateau station.  Several of our friends have used their tours and we're very pleased with their service.
The below image shows the roller bar you'll find on some of the machines in lieu of the touch screen functionality.  The sign to the right is a sample directory sign once inside a metro station.  This is for the 9 line.  If my stop is Trocadero for the Eiffel Tower, I would head towards Montreuil (named this because is is the final stop on this line) and depart at Trocadero.  The M6 that icon beside Trocadero simply means that the metro 6 line is also accessible from that station.  The same goes for RER AB and M3 at Havre-Caumartin station — the RER lines A and B, and the metro line 3 are all accessible at that station.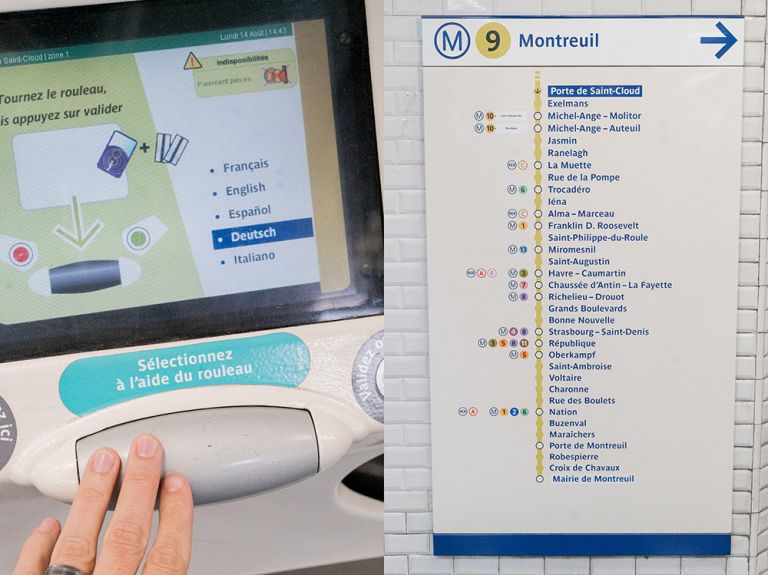 Below is the main map of the Metro, RER, and Trams within Paris courtesy of the RATP site. https://www.ratp.fr/plans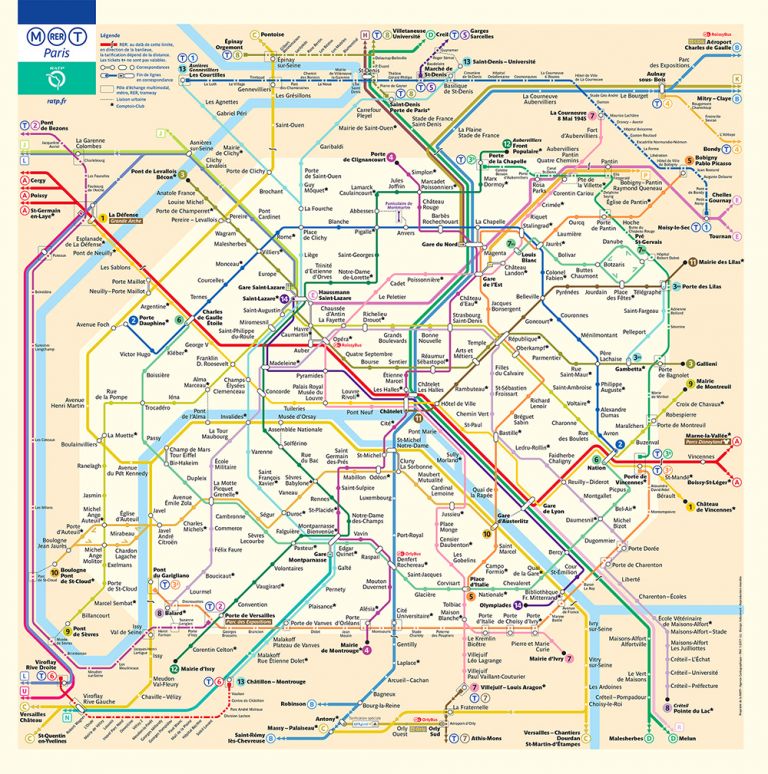 Paris Metro Tips
A few final tips about the metro.
Traffic is heaviest during rush hour.  It can be uncomfortably crowded if you aren't used to being in that environment, or especially if its summertime and hot!  The rush hour here differs from the United States.  I'd say it's busiest from about 8AM to 9:30AM and 5:30-7:30PM.
The metro runs from 5:30AM to about 1:15AM daily.  There are Noctilien buses that operate during the late night/early morning hours.  View the Noctilien, RER, and tram maps here:  https://www.ratp.fr/en/visite-paris/english/help-you-get-your-bearings-several-maps-are-your-disposal
Always hold onto your metro ticket until you have completed your journey and exited the station. Occasionally the RATP workers will be present to check and scan tickets for validity.  If you have already tossed your ticket you could be fined.  As mentioned above, if you take an RER train, it will be required to put your ticket into the turn style again to exit.  This ensures that you had purchased the correct ticket.  If your ticket doesn't allow you to pass through, you likely went beyond your zones. The first time we went to Disney this happened to us, which is how we realized we needed a different ticket option.
We have lived in Paris for awhile now, and luckily we have not been the victim of a pick pocket, but it does happen, and we have had it happen to people we know.  The most important advice is to be especially diligent when you are in crowded situations.  Keep your wallets or phones in an interior pocket or in between yourself and your significant other.  Do not leave backpack zippers turned out towards strangers.  Take your bag off and put it in front of you in a crowded metro car.  Keep an alert eye and you should be fine.  Recently some young girls boarded the metro, and shortly after we heard an announcement on the overhead speaker.  We were being warned about the possibility of theft. How the perpetrators are so obvious and still get away with it is a bit of a mystery, but if you're not paying attention you're an easy target.
The more popular metro stations have an extra set of doors at the point of entry onto each metro car. When you hear the loud horn sound, it means they are closing.  The double set of doors hurt more if you get caught in the doors in an attempt to run on board last minute, ask Doug, he knows from experience.  Ouch!  Make sure you have enough time to make it through the doors, or simply wait 3-5 more minutes for the next metro train.
We hope these tips will help make your experience run more smoothly while you're visiting us in Paris. We believe this is a very important topic; stay tuned!  We will be adding more helpful information on travel logistics in the upcoming months.  Please leave us any comments or feedback below.  Bon Voyage!
Also, if you're looking for things to do within Paris and France, and ready to use your new skills to navigate around, check out this article we think you'll find inspiring. https://www.your-rv-lifestyle.com/things-to-do-in-france.html 
(Finally, Below is a listing of the different prices for the other travel pass options for your review.)