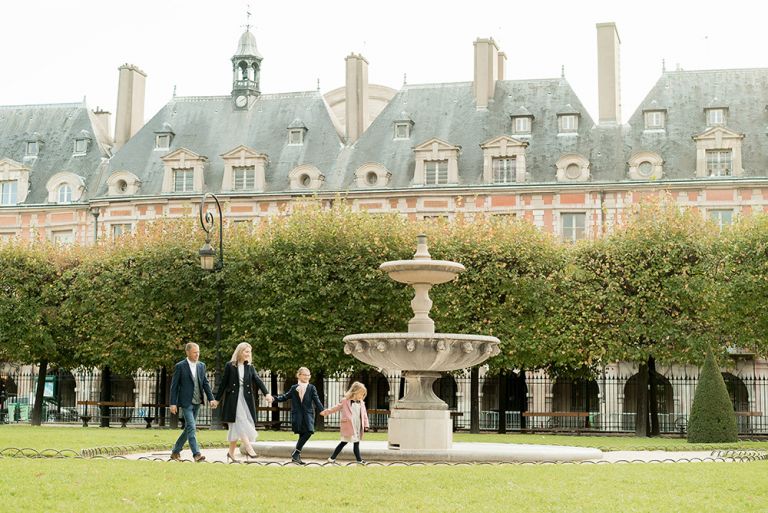 One of my favorite sayings is the one that goes something like, "people come into our lives for a reason, a season, or a lifetime."  As I get older I certainly begin to grasp this concept with more clarity.  I'm very much a people person.  I find it enjoyable to meet new people, especially here in Paris.  I was fortunate enough to spend a very quick 'blink' of a season with this lovely family for their family photos in Paris, on a gorgeous morning back in the fall.  The hardest part about our portrait sessions is that I often fall in love with a couple or a family, and then we quickly disappear from one another's lives, but somehow leaving a small mark, especially with the photos, that will last forever.  Thankfully, I get to keep up with some on social media afterwards.
This precious family certainly stole my heart from the moment they arrived with their happy smiles and perfectly coordinated outfits.  Charlotte and I hit it off pretty quickly as I had Happy Birthday queued up on my phone in French for her as she was celebrating her 9th birthday the day of our session.  Alexandra was a bit more bashful, but also began to get into the spirit of the session after a few minutes, especially after I asked her to be the leader in the first photo below.  😉
It was a lot of fun to see the girls see the Eiffel Tower for the first time.  I remember that I was also 9 my first trip to Paris.  To see their eyes bulge out of their heads and hear their squeals as we pulled up to Trocadero was priceless.  Thank you for allowing me to spend the morning with you and capture your family in this moment in time!
I think their session is precious…but you can be the judge!  If you have plans to travel to Paris with your family, we'd love to help you save those memories for a lifetime.