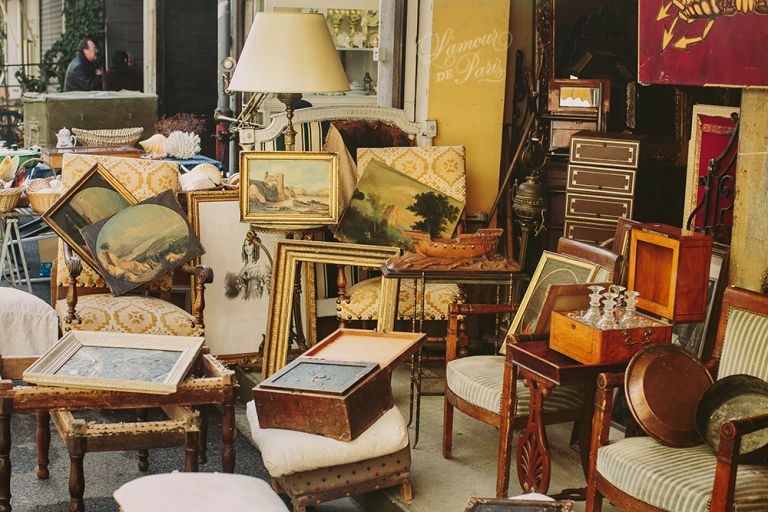 The Marché aux Puces de Saint-Ouen is a massive flea market/antique fair on the outskirts of Paris offering everything from high-end antique furniture to vintage jewelry to quirky art to total junk (and everything in-between).  Dating back to the 1880s, the market is even responsible for the origin of the term "flea market."  With 3,000 shops covering nearly eight hectares of space, you can spend all day wandering in and out of the various stalls searching for treasures.  The markets themselves are a bit confusing, so it helps to prepare in advance and do a little research before you go!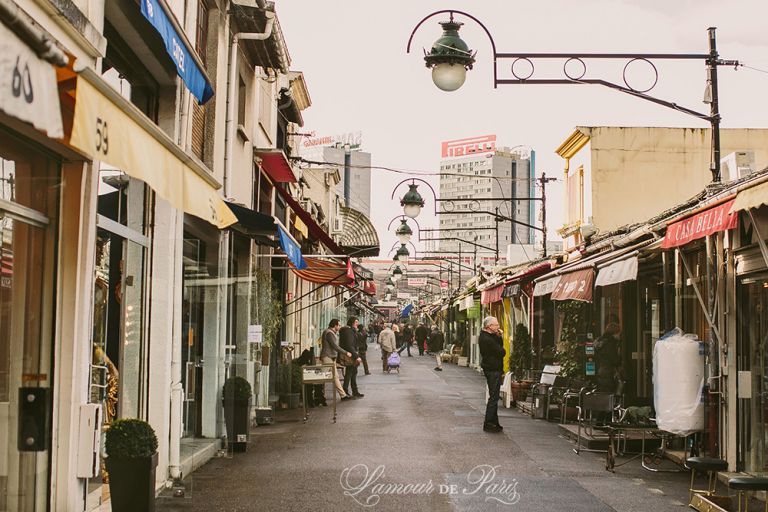 The markets are open from 9 AM to 7 PM every Saturday, Sunday, and Monday but each dealer keeps their own hours.  This being France, expect many of the shops to open late or close early, with long lunch breaks mid-day.  Some dealers also close on Sundays or Mondays as well, so if you want the best selection, plan to come on Saturday afternoon.  However the best deals can be found on Monday evenings, when dealers are packing up their shops for the week.  You can walk the entire market in an hour or two if you want to give it a quick once over first, but I recommend taking your time and weaving through each section at leisure, then circling back at the end of the day when you've decided on your favorite pieces.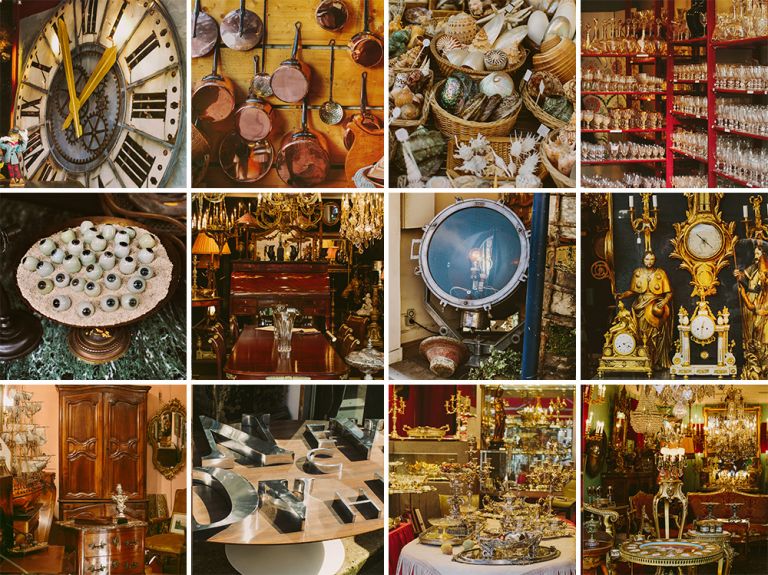 The entire neighborhood is full of great shopping, but the market itself is split up into 14 different sections, each with their own name and atmosphere.  The outdoor markets tend to be less expensive and more diverse, whereas the indoor markets usually have expensive furniture and high-end art.  The stalls are not organized by any particular order (with one exception, which I will mention later), so you may find a dealer specializing in antique Louis Vuitton steamer trunks sandwiched between a stall full of WWII memorabilia and a stall stacked with retro 70's pop art.  The only way to find what you're looking for is to just put your feet to work and walk!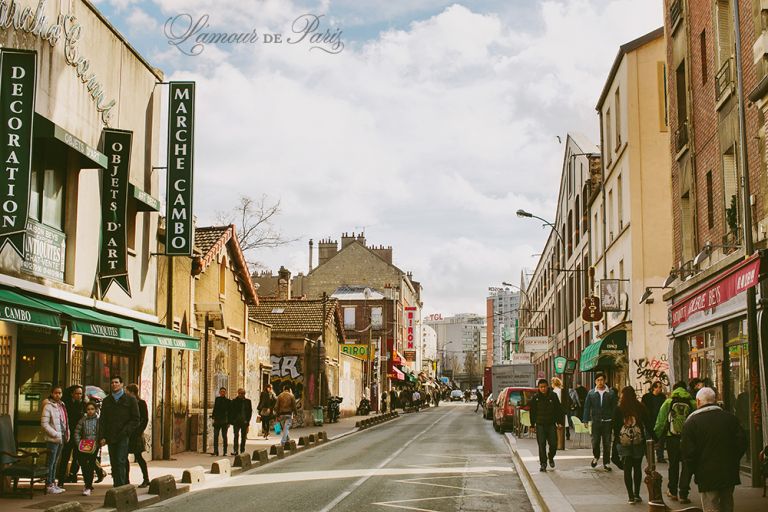 To get to the market, take the Metro to the Porte de Clignacourt stop and take the sortie for the Marché aux Puces.  Follow the signs for the market, which will take you under the peripherique overpass and across the street.  The area around the market is a bit sketchy, so if you're traveling alone you should try to avoid nighttime hours, but once inside the market area you're plenty safe (though, as always, guard your belongings against pickpockets, which are common in this area).  On your way you'll see a small market with booths of cheap clothing, iPhone covers, shoe stalls, and lots of street sellers with fake Louis Vuitton bags.  Skip this area and continue walking towards the highway.  After passing under the highway, to your left you'll see another long market with cheap clothes and other modern wares.  Skip this street and continue on to the next street, which is Rue de Rosiers.  This road (pictured above) is the primary street where you'll find the entrances to all of the major markets.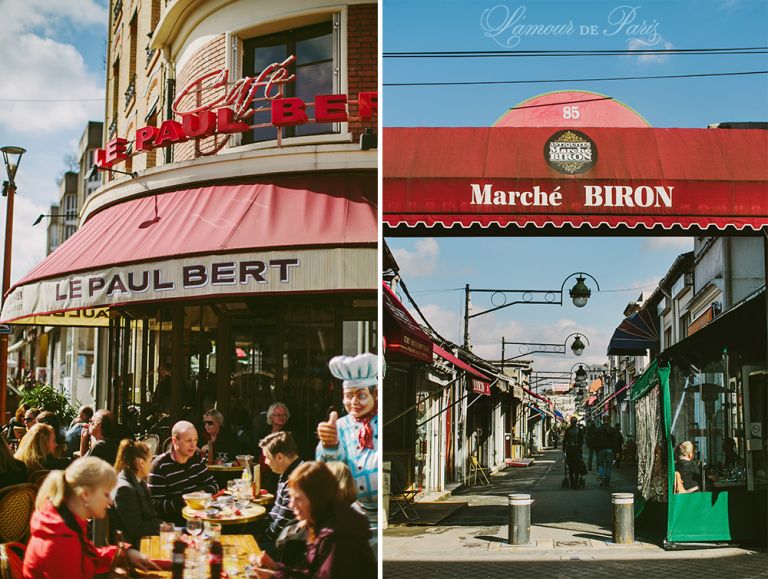 If you're hungry, I recommend Ma Cocotte or Le Paul Bert Café, both located near Marché Paul Bert.  Both restaurants have delicious food, good service, and beautiful interiors.  On a nice day, make sure you get an outdoor table so you can people watch and surreptitiously peek at some of the surrounding stalls.  There are lots of restaurants along Rue de Rosiers to choose from, as well.  You're going to do a lot of walking, so wear comfortable shoes and bring a light but sturdy bag to carry your items.  Not all dealers accept credit cards, and ATMs are hard to find here, so get cash in advance.  If you're looking for high-end pieces, consider dressing up a bit – how you come off to a dealer with affect how willing they are to negotiate with you.  If you speak French, even a little, put it to good use here and strike up friendly conversations with dealers whose pieces you're interested in.  Dealers love to talk about their items and the history behind them, so don't be afraid to ask questions.  If you're an expert in a certain area, offer your own expertise – dealers are more willing to negotiate with people who know the value of what they are buying.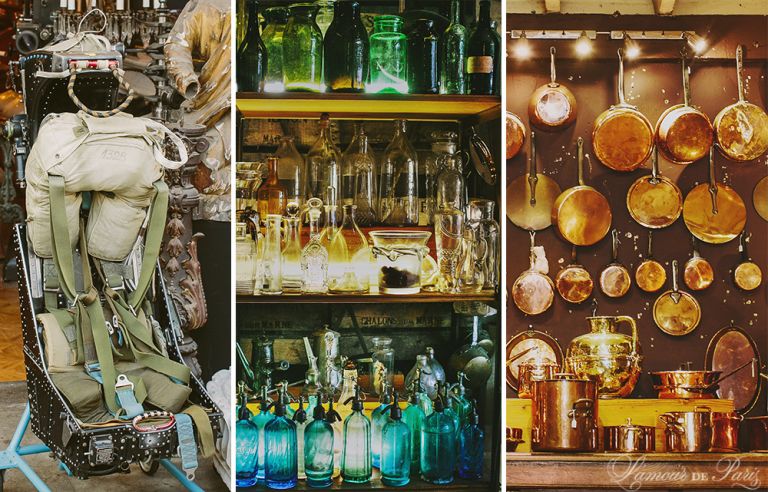 Some of my favorite finds from this past weekend:  an unused military plane ejection seat, a collection of beautiful colored glass bottles, and stunning handmade copper cookware.  I was dying to take home some cast iron skillets and ceramic baking dishes, and I drooled over a number of pre-owned Chanel handbags and Hermes scarves, but ultimately it was the art that really caught my eye.  Everywhere you turned there were beautiful sculptures, paintings, sketches, and framed prints from some of the top names in the art world (as well as plenty of affordable pieces from lesser-known artists).  If you're looking for unique souvenirs for friends and family who all have diverse tastes, this is a wonderful place to pick up items that will please everyone.  If you're a hard-core shopper and you're looking to pick up some large items, stop by the offices of one of the various shipping companies in the markets and set up an account in advance.  These companies will go around and collect the items you purchase, pack them up carefully, and ship them to you back home.  However, you will pay handsomely for this service, so factor that in to your prices when negotiating.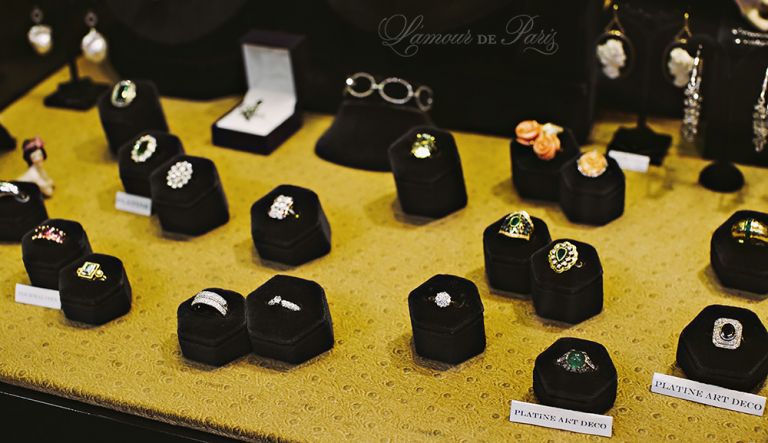 If you or your beloved is a fan of antique engagement rings, this is a perfect spot to pick out something unique and memorable.  What could be more romantic and special than having a beautiful one-of-a-kind antique sparkler on your hand that you bought in Paris?  There are tons and tons of jewelry dealers here, so bring your fiancee-to-be and give them free reign to shop around and try on pieces.  If you want to make it really special, wake up early on Saturday morning and head to the steps of Sacre Couer in nearby Montmartre.  With the city aglow, drop down to one knee and pop the question with an empty ring box.  When she asks where the ring is, tell her that you've got a full day of ring shopping planned for her, and she's going to have to help you find the perfect piece herself!  Once you're all shopped out and the ring of her dreams is on her hand, you can celebrate with a Seine dinner cruise beneath a sparkling Eiffel Tower.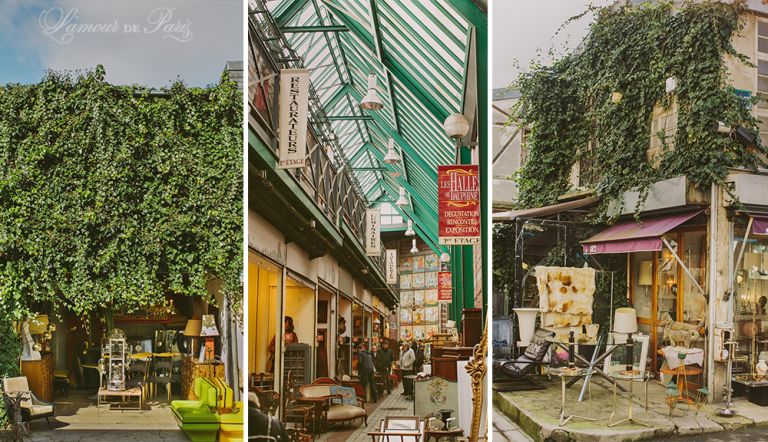 If you have any questions or advice about navigating the famous Parisian flea markets, leave a comment below.  Happy shopping!