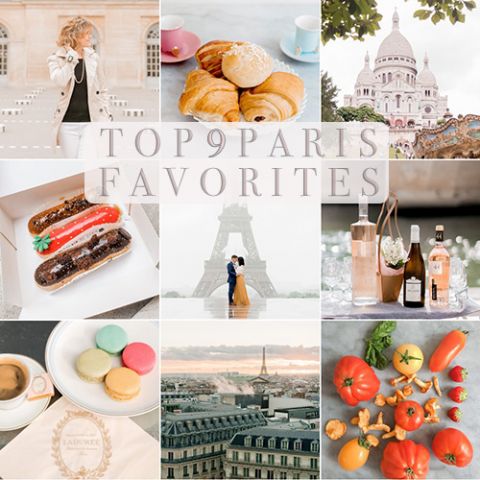 Our first edition of our Paris Favorites Top 9 won't have ALL of the obvious things you might expect! Honestly, this list was created awhile back. I probably already have another new top 20 list! I'll certainly have to create a few more Paris favorites lists. 🙂 For now though, let's get started!
1. Eiffel Tower
But of course! This is the obvious one. Whether you decide to actually go up the Tower, you have to at least see it when you visit Paris. Madame Eiffel is truly a beautiful one of a kind. My recommendation is to get out at the Trocadero metro stop and view the Eiffel Tower from there. Then once you've had your fill of photos, head straight down the hill and enjoy the fountains. Cross the bridge at the foot (make note of the bridge to your right as you cross the Seine River), and go closer to the base of the Tower. If you're not pressed for time, make a circle around the base and appreciate it from all angles. And then, if you still have time, head over to the bridge I mentioned above – Pont Bir Hakeim. It's a very unique bridge in itself, and another great spot to view the Tower, especially if you time all this to catch it twinkling when you get there. **If you decide not to go to the top, I actually prefer the top of the Arc de Triomphe because it's closer in height to the rooftops.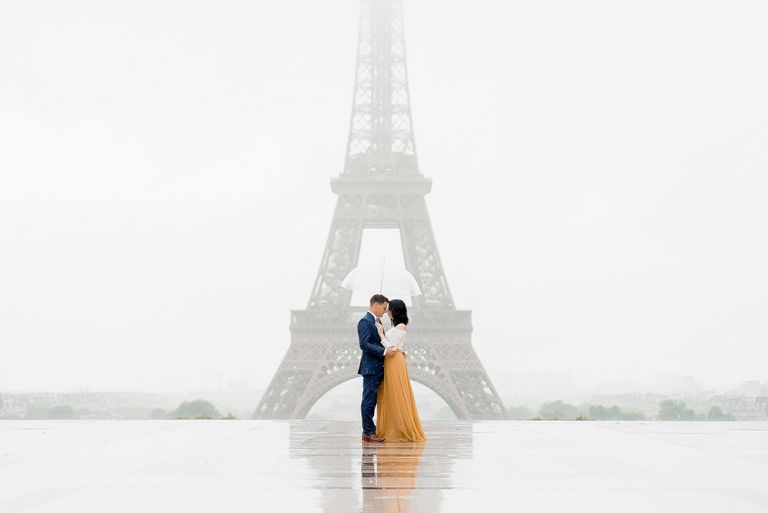 2. Ladurée
There are about 11 locations in Paris,(even one in New York, for those from NYC) but my favorite is the one on the Champs-Elysees. You'll enter at the pretty green door on the corner if you plan to peruse the delicatessen counter and take goodies and macaroons to go. Don't be surprised, there is often a line. If you'd like to have a snack there, we love the bar area that is straight behind the delightful patisserie counter. You can bypass the line and head straight back there. It's not often that we've seen very many people in the bar area. You can order macaroons there along with other menu items, coffee, milkshakes, etc. The bar room is so pretty and a bit eclectic really. It doesn't necessarily fit the scheme of the rest of the building, but it's thrilling nonetheless. I also recommend a trip upstairs to the restroom because the upstairs is quite pretty as well. As for other locations, the one on Rue Cler is quaint too. (The picture of the cart below is actually from that location.) Rue Cler is a wonderful street to visit as well! If you also fall in love with Ladurée, good news, they also have one in the Charles De Gaulle Airport in Terminal 2E.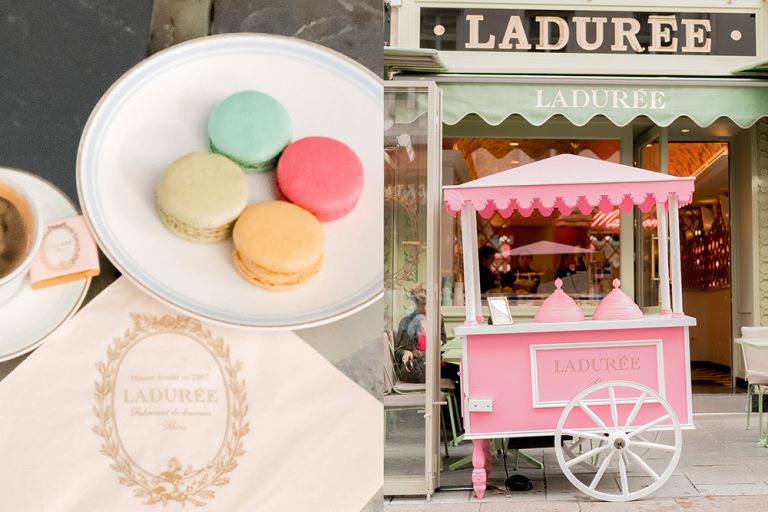 3. Montmartre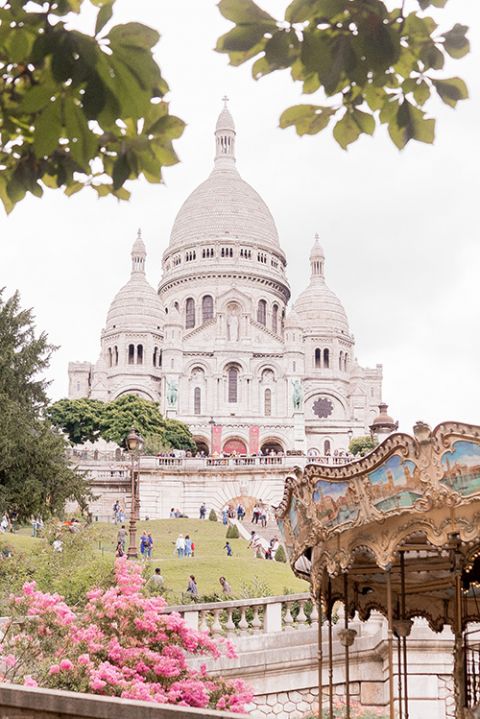 Next on our Paris favorites list is Montmartre. This area is likely one of my favorite areas because the quaint streets full of artists and cafés remind me of our hometown of New Orleans. Head up to the top to Sacre Coeur first to enjoy the gorgeous views out over the city. There is a funicular that will easily take you to the top if you wish to avoid the numerous steps and steep uphill climb. Your T+ metro tickets will work for the 1.5 minute ride to the top.
Once you've admired the view and Sacre Coeur, while facing the front of the church, take the alley that runs along the left side of the church. You'll pass a lovely red door with stairs, and you'll start to appreciate the architecture of the back corner of the church as you approach the next street on your left. Take the left, go to the end of this small street, and take another left. At that point you'll be facing Au Clairon, a blue and white café. This particular spot is one of my favorites for people watching. And just to the right of the café is Place du Terte or Painter's Square. There are many artists packed into a small area that has a wait list that is several years long!
Many of the artists can take credit card payment and ship your selections home, so don't be afraid to fall in love with something special. The art here is quite beautiful. I always find myself wanting to buy most of it, but living in a small Parisian apartment doesn't leave much room for wall space. Before we lived in Paris, during a trip here, we had our silhouettes done in Montmartre by the sweetest, elderly Asian man. I still saw him around recently, so if you can find him, get him to make yours. He is incredibly talented! No detail was missed from my earring, neclace, and headband! It made a wonderful souvenir of our trip when I framed them together.

4. L'Eclair de Genie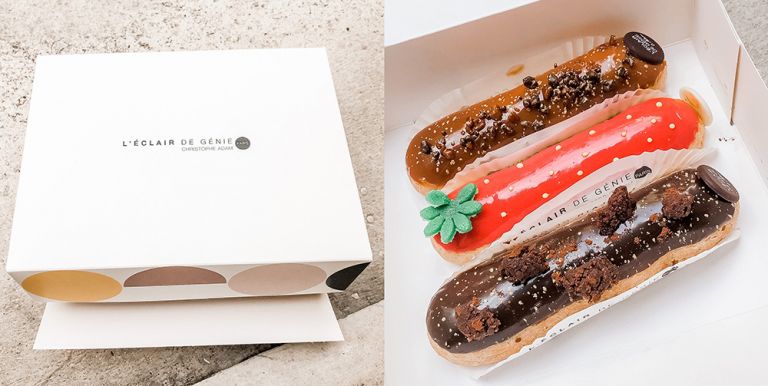 Oh boy! L'Eclair de Genie! Where to start? These are amazing eclairs that you would think you wished straight out of a genie bottle because they are to die for! Though genie in French means genius — and they are certainly genius as well!! They are a little pricey at 5ish € a pop, but you only live once! The caramel beurre sale is our absolute favorite! There's more than one location, but when I take our guests to the view from the rooftop of Galeries Lafayette, I like stop in the Maison Gourmet part of Galeries Lafayette across the street and buy the eclairs there to take up to the rooftop and enjoy.
5. How to Be Parisian in One Hour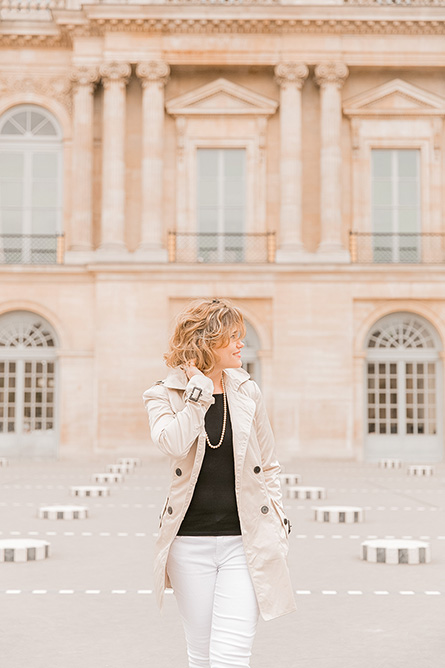 This photo still makes me laugh a little. I had not been living here very long when this was taken, and I was doing my best to look Parisian — rocking the neutrals and my very French trench coat. (I'd actually still wear this outfit today, minus the pearls if I were trying to look Parisian, but if I were being true to myself I may keep the pearls on.) However, this idea of "How to be Parisian" has actually been morphed into a comedy skit by a brilliant comedian, Olivier Giraud. He hosts "How to Be Parisian in One Hour" nightly. Should you have more than just a few days in Paris, or if this kind of outing suits you, I recommend going at the start of your trip so you'll have time to appreciate the references he makes within the show. He is hysterical! And we've certainly encountered most of what he jokes about, so we couldn't stop laughing! Now that I've lived here longer, I'd love to see it again, because I'm sure even more applies at this point! Don't forget to take a selfie with him on the way out making your best Parisian pout face!
6. Picnics in Paris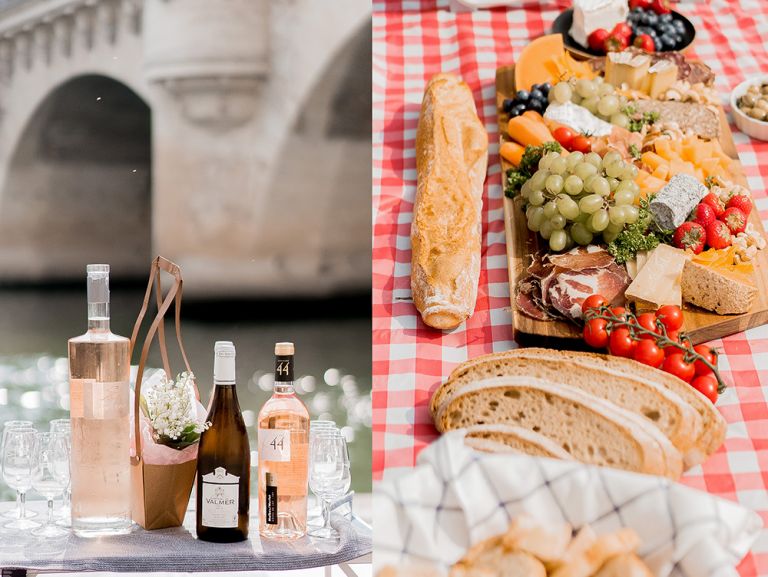 Picnics in Paris are one of my absolute FAVORITE ways to spend my time. When you take a trip to Paris, chances are you're running around trying to cram everything in and see it all. But if you take one piece of my advice, take this one. If you're here during the nicer weather months, make time for a picnic!! Rosé all day as they say! It's perfect for a hot summer day, but bubbles and white wine also work just as well. Pick up a baguette from a boulangerie, some cheese from a frommagerie (at least one hard and one soft — our favorite soft is Brillat Savarin – a triple cream cheese! Comté is a great classic French hard cheese — the more aged the better, and the green label as opposed to brown is better), some fruit and meat from the market and you're all set! You could actually get everything, minus the wine at the market. If you want to picnic around the Eiffel Tower, the Avenue President Wilson market is open on Wednesdays and Saturdays from early in the morning until about 1pm, when it starts to wind down. There's about a gazillion tips I want to give you! We've been wanting to do a picnic post forever! Hopefully very soon!!! My favorite places to picnic are the Trocadero gardens, the Tuileries (the concrete benches serve as a nice table, pull up the green chairs around one), and Parc Monceau (a more local park). I also love Jardin du Luxembourg, but it's a bit further out of the way for us.
7. Rooftop View from Galeries Lafayette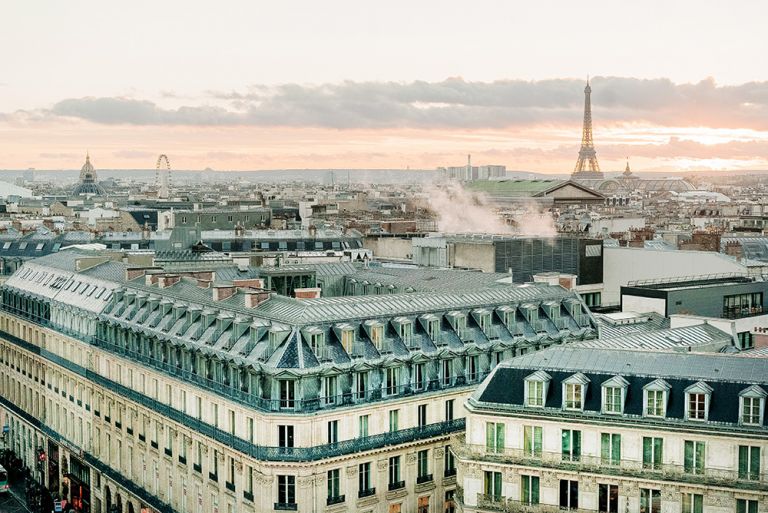 Galeries Lafayette is actually a very beautiful shopping center near the Opera Garnier. If you find yourself in the area, head into the building and make a beeline for the center area full of makeup counters, and then look up for the most fantastic treat!! It's gorgeous! You'll forget you're in a "mall". Leave it to Paris! Next, head up the escalators all the way to the rooftop. Once you're there, walk around and explore and enjoy the views! Bonus points if you spot Sacre Couer and Montmartre!
8. Croissants, Cafés, and Crepes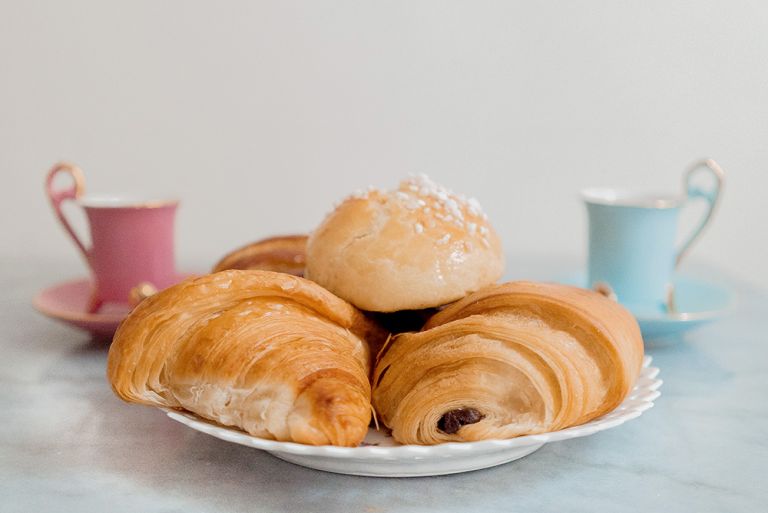 This one is a bit like seeing the Eiffel Tower, it is an obvious, but so delicious! We're fortunate to have a great bakery just across the street from us for our fix of croissants and pain au chocolates. They are definitely better at a legit boulangerie than say the grocery store. Still on my own quest for the best bakeries in Paris, I'll share with you a link that I've been exploring by Conde Nast.
Regarding crepes, whether you go savory or sweet, you can't go wrong! These are often dinner for my husband and I. We love the crepe stand at Trocadero — if you're by the Trocadero traffic circle curb, facing the tower, it's the crepe stand to your right just beside the souvenir shop. Our go to is usually ham, egg, and cheese, but recently we tried their mozza, tomato, and pesto one and that was great too. When it's for dessert we like the banana and nutella, or lemon and sugar if you want something lighter.
Coffee…..well, I'm not a whole lot of help on this one, but with all the cafés around, it only makes sense to stop, relax, watch the world go by and have a coffee — or a chocolat chaud as my husband always orders since he does not like coffee. I've come to like it alright, but I'm still exploring. I definitely don't enjoy espresso still, but I'm usually okay with the café noisette or a café creme, or cappuccino. Le Caféothéque is a great spot for a cup of coffee or tea. It's near Hotel de Ville. Also, one of my favorite Paris books is The Sweet Life in Paris by David Lebovitz. I recall that there's a section in the book where he does a great job decoding ordering a cup of coffee in Paris.
9. Avenue President Wilson Market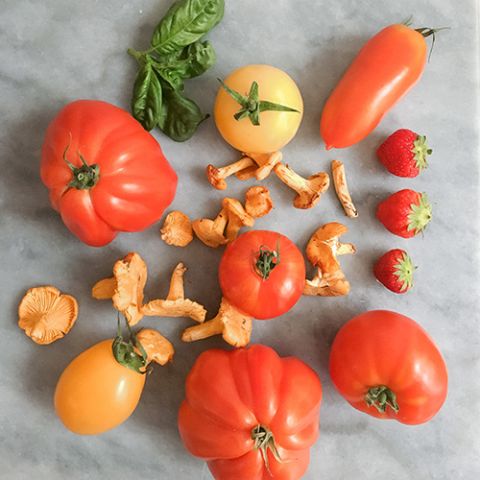 Our final Paris favorites spot is the Avenue President Wilson Market is one of the more revered markets in Paris. It's near the Eiffel Tower (opposite bank, not far from Trocadero), so it's convenient for tourists, but it happens to be one of the best around. It's open on Wednesdays and Saturdays. It starts early in the morning and wraps sometime after 1pm generally. You can find all kinds of fresh produce, meats, seafood, cheeses, baguettes, scarves, shoes, foie gras, food ready to eat on the spot, fresh flowers….the list goes on! It's quite the sensory experience to walk down the long aisle and take in the colors, the smells, and the buzz of the people around you. This link includes several of the MARCHES (markets).


For more food recommendations click HERE!