Every year in Paris, thousands of well connected people dressed head-to-toe in white descend upon one (or two) of Paris' most famous landmarks for what has become the world's largest flash mob.  "Diner en blanc" (translation: dinner in white) started 25 years ago in Paris when a group of friends decided to get together for an impromptu picnic.  The leader of the group suggested they all wear white in order to be able to find each other more easily.  Over the years, the diner en blanc became an annual tradition, with thousands of friends gathering together, dressed entirely in white, for a spontaneous night out.  Membership is available by invitation only, and has grown to over 15,000 people.  However, only a very small handful of "heads of tables" know the location in advance.  Members gather at various meeting points, oblivious to their final destination until they arrive.  There are no permits, no blockades, no security lines, and no prior planning.  The members simply show up, set up their tables as quickly as possible, and hope that the police leave them be (and so far, they always have!).  The strictest rule of diner en blanc is that all members pack up and leave at midnight, leaving no trash and no trace of their presence.  Previous locations have included Notre Dame, Champs-Elysees, Versailles, the Tuileries, Les Invalides, Place des Vosges, and Place de la Concorde.  This year featured two locations, one at the Louvre and one at Trocadero.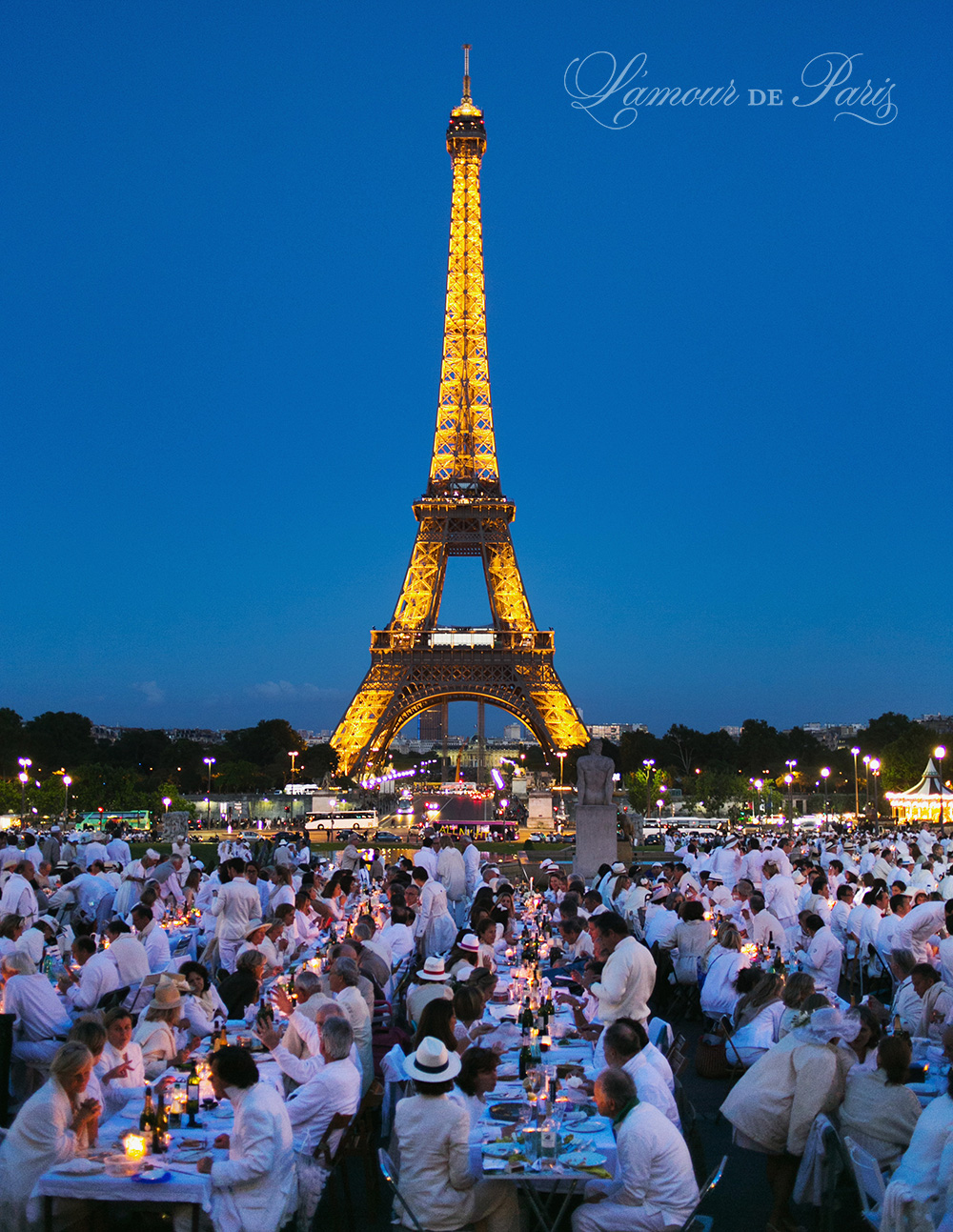 This year I had the immense pleasure of being a part of the 2013 Paris Diner en Blanc, and it was a night to remember!  For those who have not had the chance to attend, I put together a video with clips from throughout the night to give you a taste of what this epic dinner party is like.

For more photos and information on how you can get involved, click "View full post" below!

The entire day had been rainy and dreary, and although there is an old saying that it never rains for Diner en Blanc, everyone was buzzing about how this might be the first year that the dinner was rained out.  I gathered with a small group at the Tuileries garden, and as the numbers grew larger and larger, we all began to get suspicious that perhaps the nearby Louvre would be our final destination.  If only we could get rid of the rain!  Sure enough, with only minutes to spare, the clouds opened up and revealed the most beautiful sunset and most perfect breezy summer night you could hope for.  The legend continues!   At 9 PM on the dot, the heads of tables turned and began to walk into the courtyard and everyone let out a huge cheer as the location was finally revealed!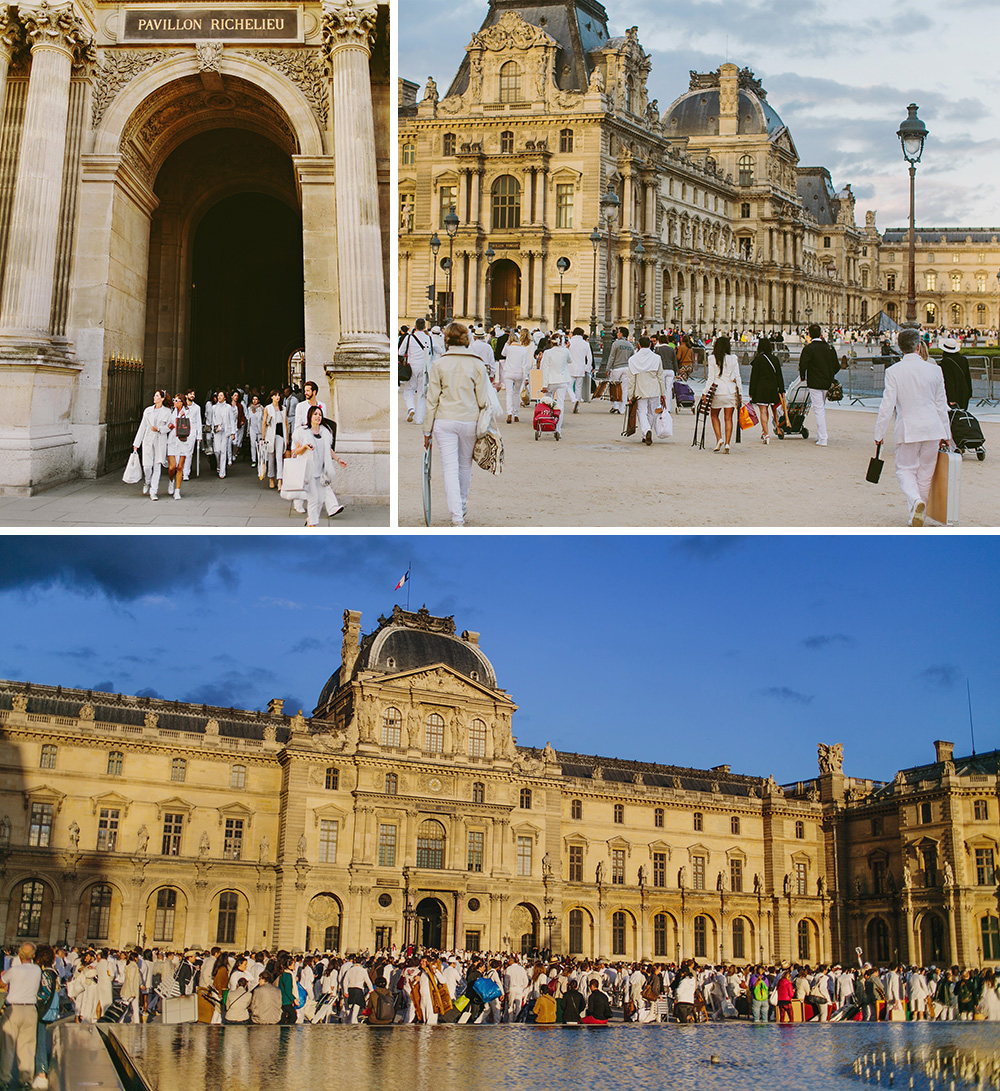 I had a blast walking through the tables and looking at everyone's amazing attire and decor.  Several tables had themes and accoutrements to set themselves apart, from red flower boutonnières to vintage Gatsby-era clothing to white afro wigs to bedazzled masks.  I was amazed at how everyone had gone all out with their setups.  There were no paper plates or red Solo cups here.  Virtually every table was decked out in fine china, flower filled vases, cloth table linens, and lots and lots of champagne. One table even had their own chef cooking up meals to order on a gas-powered grill!
Although the excitement at the Louvre was electric, when I caught wind that the second location was at the Eiffel Tower, I knew that was something I had to see for myself.  I have an unending love affair with Mademoiselle Eiffel, and I knew that as the sun set and the lights of the tower came on, the view from dinner would be spectacular.  A quick Metro ride later, I pushed past the wall of gaping awestruck tourists to see an endless sea of white sprawled out below.
This crowd was a bit older – mostly in their 50s and 60s, whereas the Louvre attendees had been largely in their 30s and 40s – but they had gone above and beyond in both attire and decor.  There were massive crystal candelabras, phenomenal hats that glittered with battery-operated lights, elegant lace-covered tablecloths, and even more champagne!
At 11 PM, the moment I had fantasized about finally came.  As the Eiffel Tower began its nightly sparkle, thousands of cheering revelers lit their sparklers, dancing and waving their arms in unison.  Paris is known as the City of Light, but this took it to an entirely new level!
As the sparklers died out, the volume of the music cranked up, and everyone lept to their feet.  Strangers danced and kicked and sang arm in arm while music poured from retro jazz quartets, alt-rock bands, and DJs spinning American classics like "R.E.S.P.E.C.T." and "Celebrate."  The energy was electric, and there wasn't a soul in sight who wasn't grinning from ear to ear.  The entire Trocadero garden became a massive high energy dance party.
Diner en Blanc was a bit emotional for me, to be honest.  My road to Paris has been long and at times difficult, but moments like this remind me of why I'm here and how incredibly lucky I am to be here.  I say quite often that there is just something magical about this city, and Diner en Blanc is the perfect example of that.  There are very few places in the world where you can get away with a spontaneous, secret, perfectly coordinated 15,000-person dinner party on a centuries-old landmark with music and fireworks and a huge dance party!  It was by far the most amazing and fun night I have ever had in Paris, and I was so sad to gather up my belongings and head home at midnight, but I am already planning ways to set the bar even higher next year.  If you're going to be in Paris in mid-June 2014, make sure to put Diner en Blanc on your calendar!
As for how to get an invitation, I can only offer the words that were shared with me by a group of newfound white-clad friends we met on the Metro on the way to the event who have been attending for years:  "Invitation?  It's far too big for that.  You just get your table and chairs and follow the crowd!"