The wonderful thing about Europe is that there are so many different countries, each with their own culture, architecture, language, food, and lifestyle.  As much as I adore Paris, it's so wonderful to hop on a quick, inexpensive train ride and visit some place completely different.  This is the first in a series of posts exploring other cities in Europe that make wonderful additions to your Parisian vacation!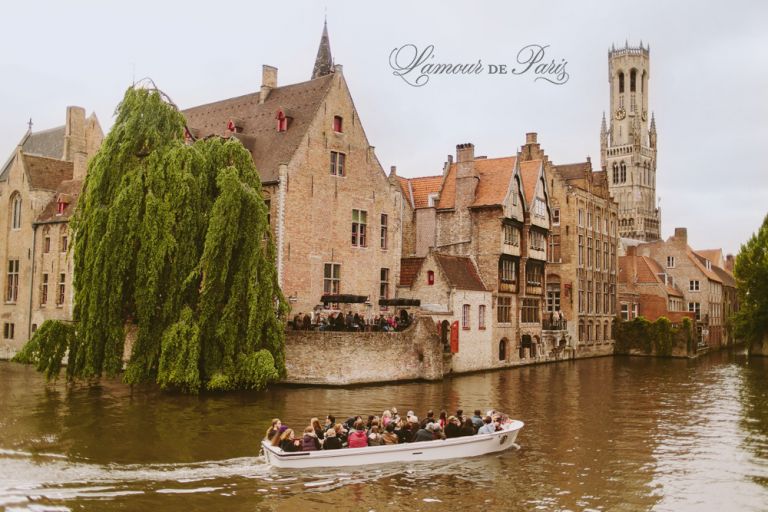 Recently some friends and I made the short drive to Belgium (From Paris it's three hours by car, 90 minutes by train) to visit two cities I had heard so much about:  Brussels and Bruges (also known as Bruxelles and Brugge).  I'm the type of person who enjoys traveling with my eyes and my mouth, meaning I like to see beautiful things and taste delicious foods.  Belgium is the capital of chocolate, waffles, and fries, three of my very favorite things, and its small, quaint cobblestoned towns and winding canals are quintessentially old European, making for beautiful views no matter where you turn.  Basically, it is the perfect place for me!  Belgium is not chock-ful of attractions in the same way that it's neighbor France is, so it's a great place for a short overnight trip or a weekend stopover.
To see a full breakdown of our trip to Belgium and TONS of photos, click "View full post" below!
Our first stop was Brussels.  Brussels is the headquarters of the European Union, which makes it the de facto capital of Europe.  As a result, it is home to a very diverse citizenship and atmosphere and it feels like a truly international city.  The main tourist area is in an area called Grand Place (pronounced with a long a, as in plahss), which is a large public square.  The square is lined with cafes, bars, museums, and the stunning beautiful gothic architectural masterpiece, Brussels' Town Hall.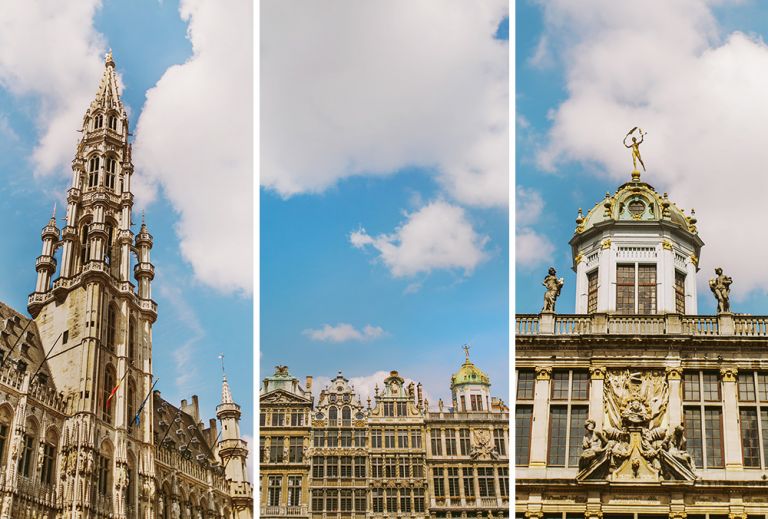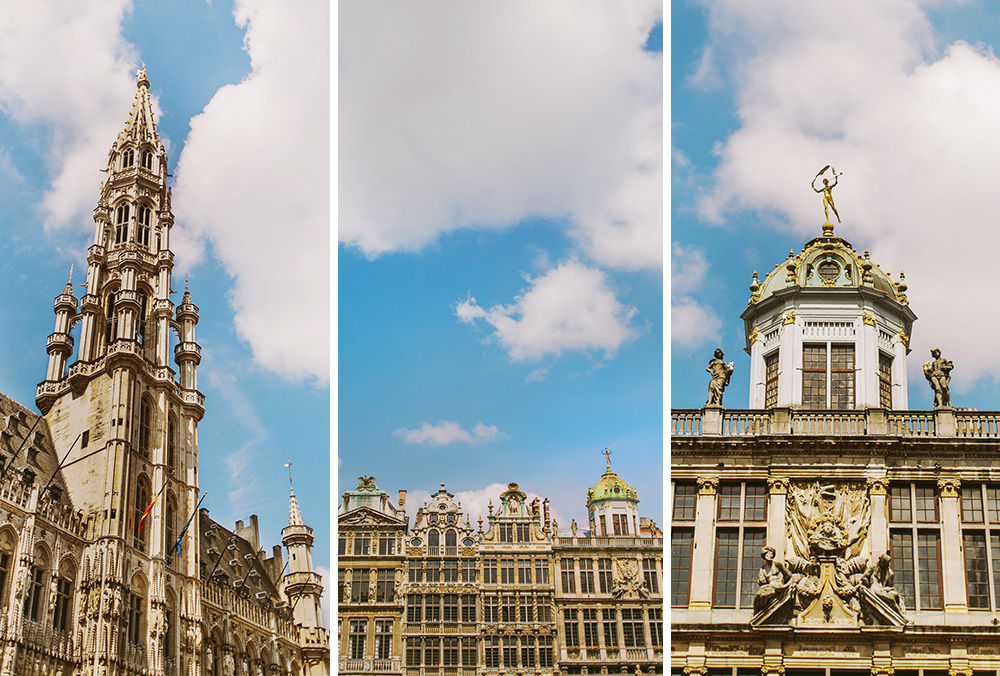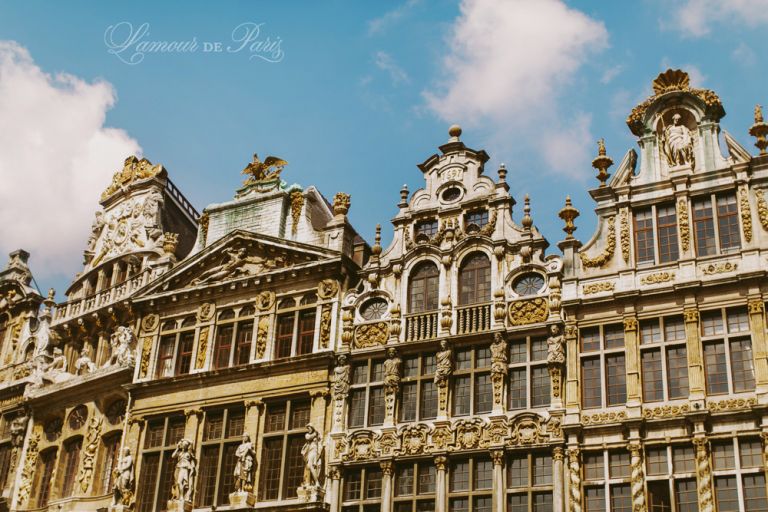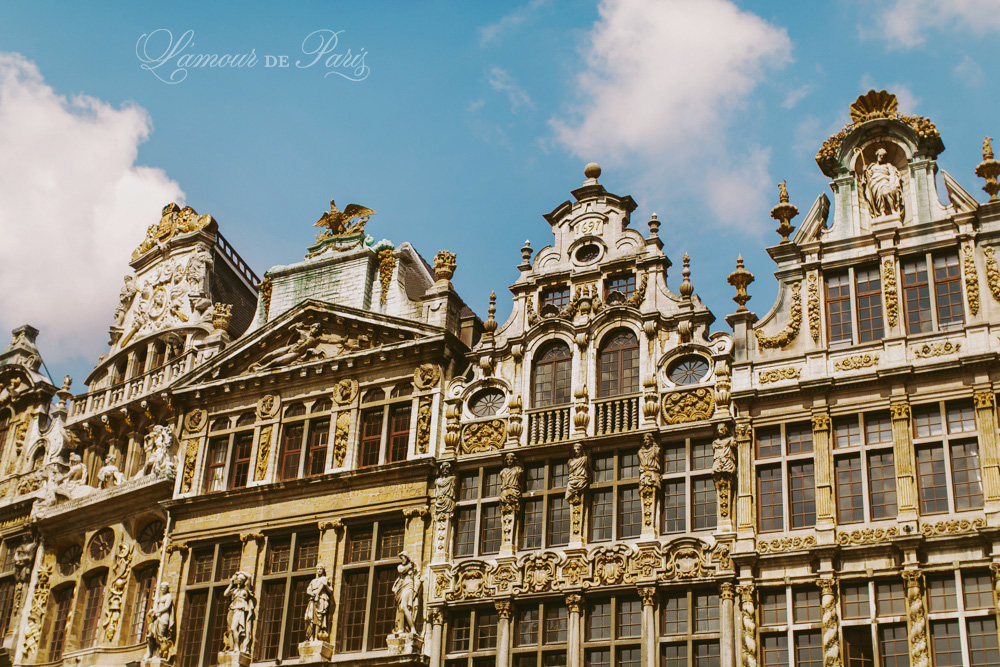 The Grand Place is decorated in different ways throughout the year to celebrate different occasions and holidays.  The most well-known is the Flower Carpet, a huge display of flowers which covers the square every year in mid-August, as well as the beautiful Christmas light and tree displays during the holidays.  During our visit, Brussels was having its annual jazz festival, so tables and chairs were scattered for free public use in front of a huge stage that kept performers on around the clock.  There were vendors selling huge mugs of cold local beer and piping hot fries, which made for a lovely way to spend an afternoon.  There was also a flower market on Sunday morning,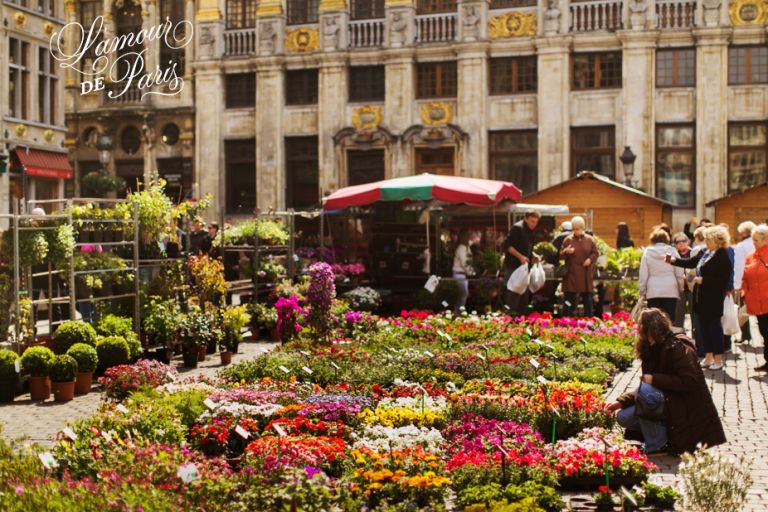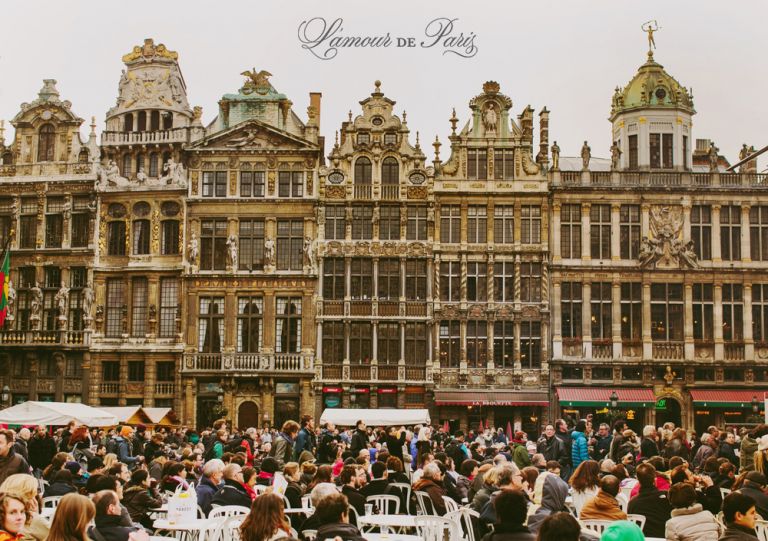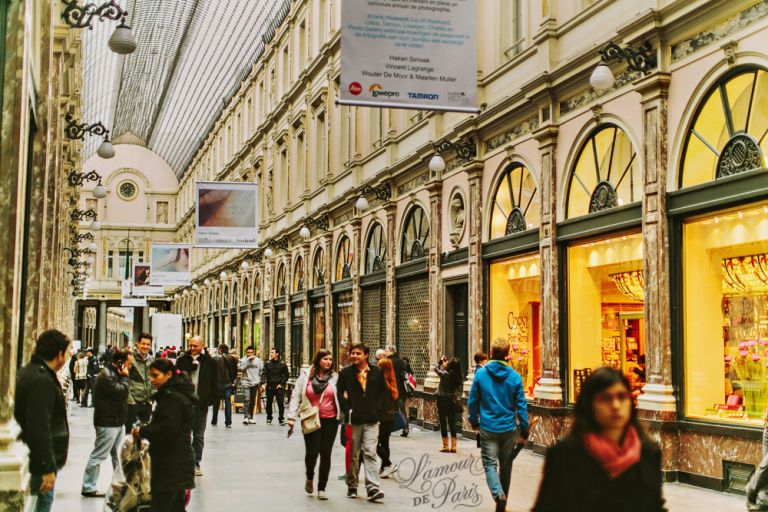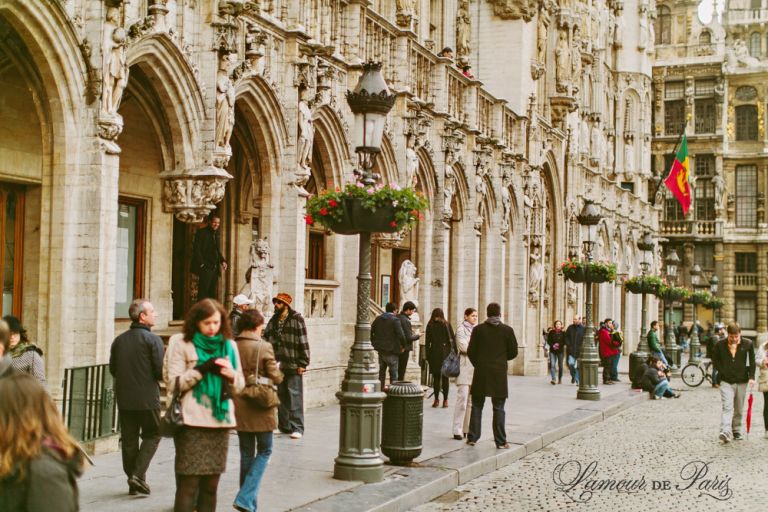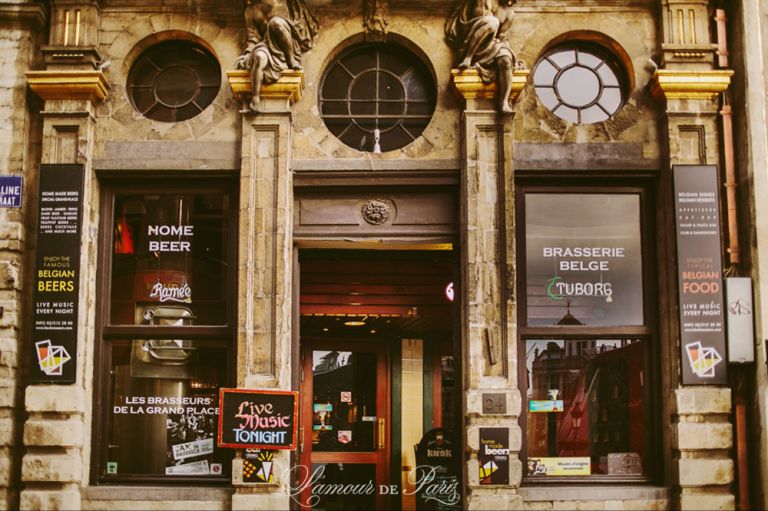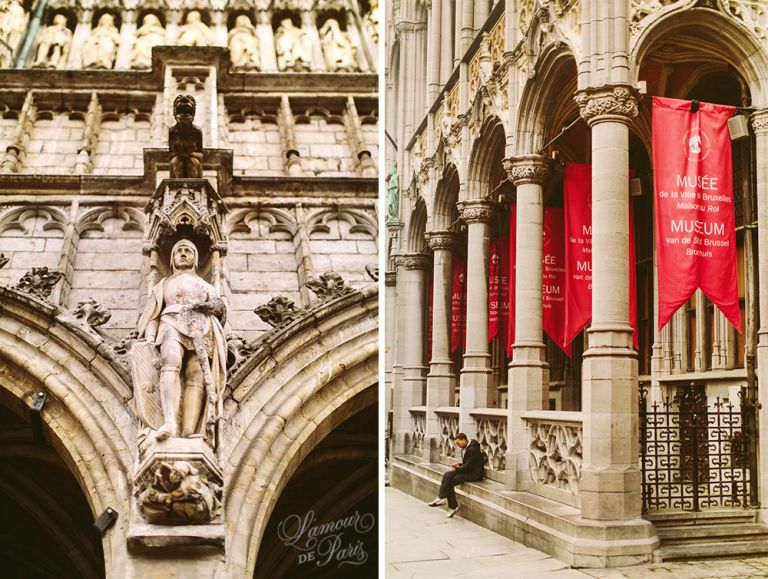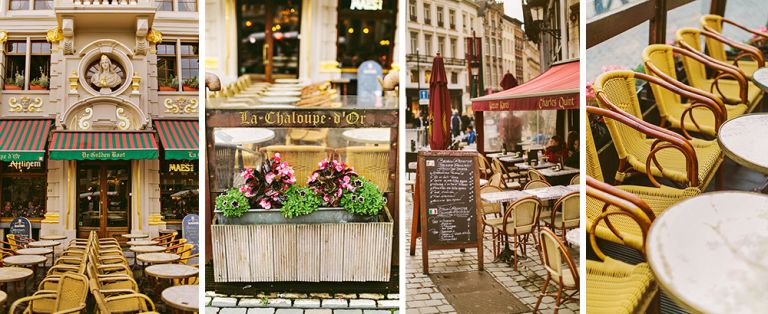 The two major attractions in Brussels are the Town Hall (which we did not go inside, upon the advice of friends of ours who found it underwhelming) and the Mannekin Pis, an embarrassingly popular fountain of a child peeing.  I have no idea why this tiny fountain, tucked into a nondescript alley, has become such a Belgian sensation, but you see reproductions of it all over the city.  I even picked up a teeny tiny silver version for my travel charm bracelet.  While the Town Hall is a sight to behold (particularly at night), I'd advise skipping Mannekin Pis unless you have some time to kill.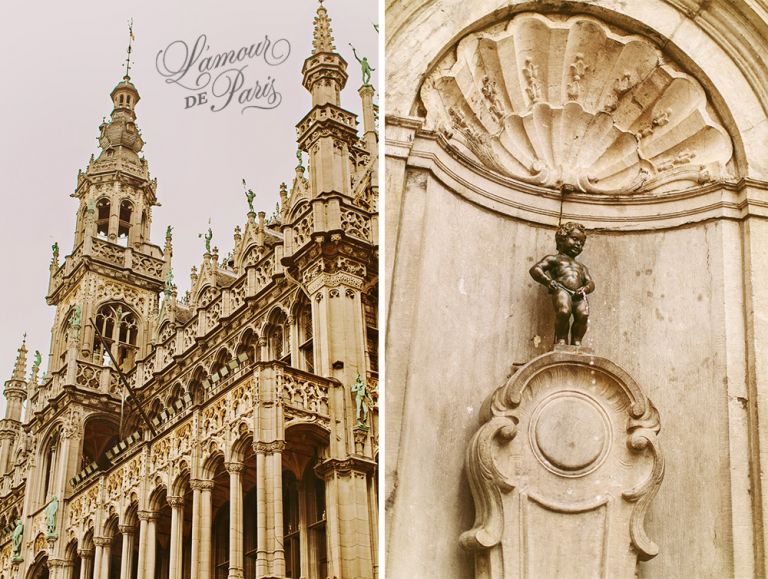 Though almost everyone speaks English, most signs are in French and Dutch, which looks similar to German.  The public transportation system is inexpensive and well run, but it's easy enough to navigate the central part of the city by foot – though I recommend keeping a map on you, as it is easy to get lost in the mazy of tiny streets and alleys.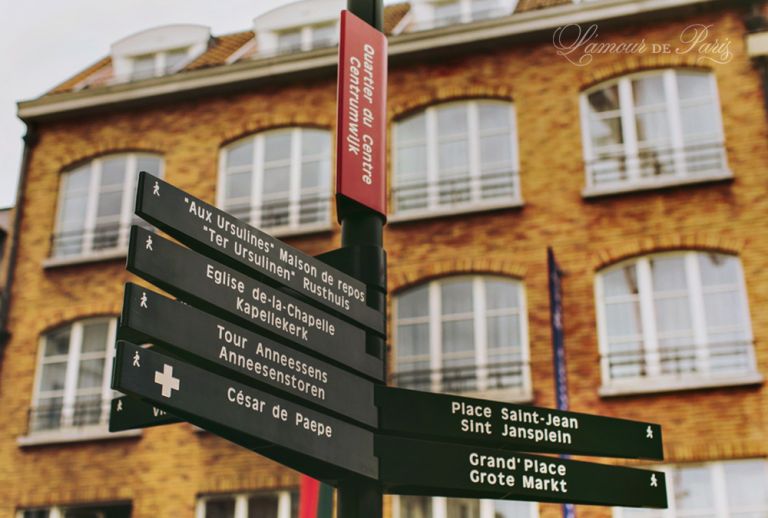 Naturally, the thing I recommend most in Brussels is the FOOD!  Belgium is known worldwide for their chocolate, and there are lots of options available.  Chocolatiers are available on virtually every street.  Surprisingly, our favorite version came from the shop pictured below.  It's part of a chain of otherwise unremarkable, tourist-heavy stores, but in it we discovered the most delicious truffle I have ever had – a Cupido cappucino truffle.  These things are phenomenal!  Smooth, sweet, with just a hint of coffee.  If you find yourself in Brussels, you must try one!  They are available in small, inexpensive boxes that are perfect for bringing home, either for yourself or as a gift for family and friends!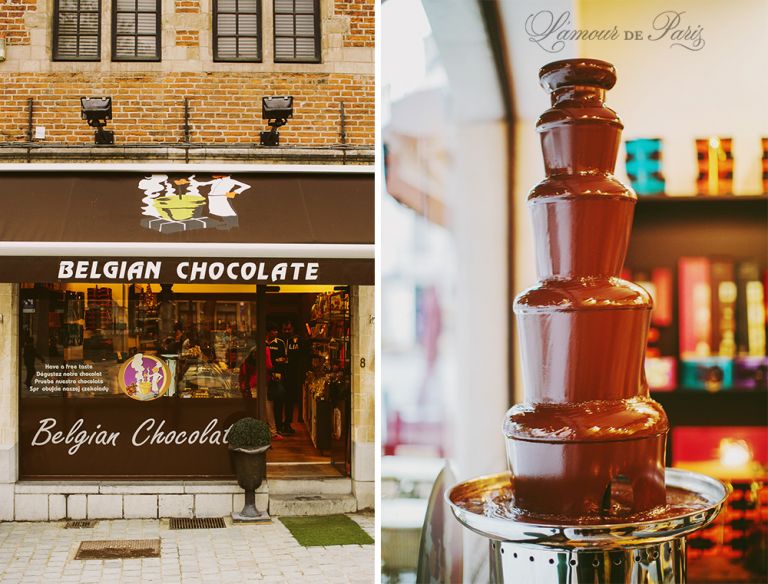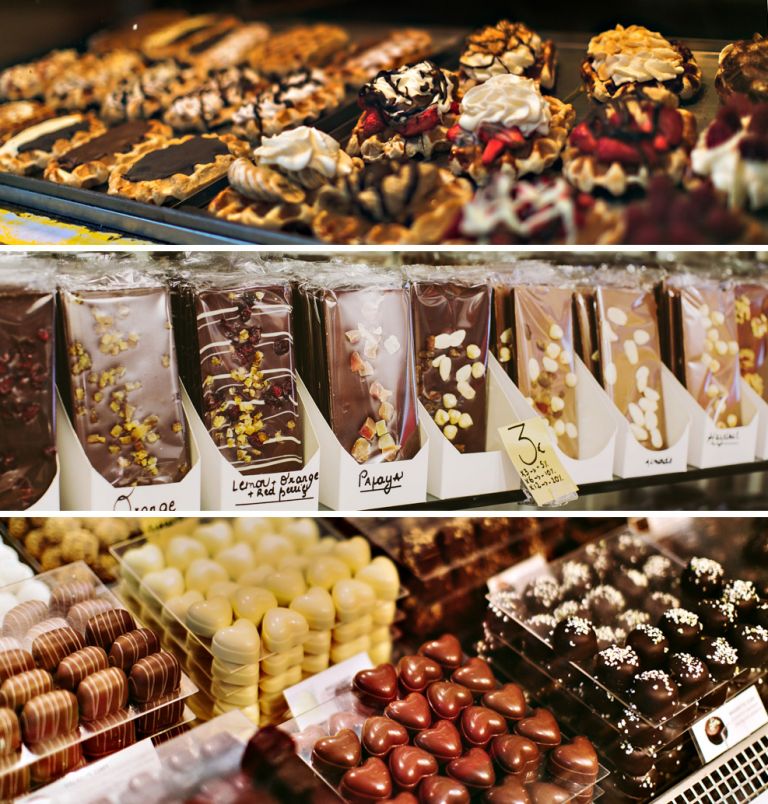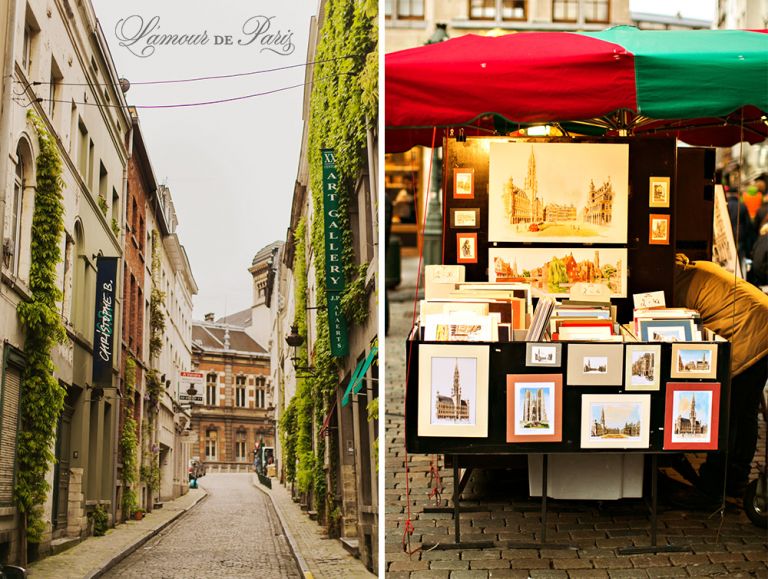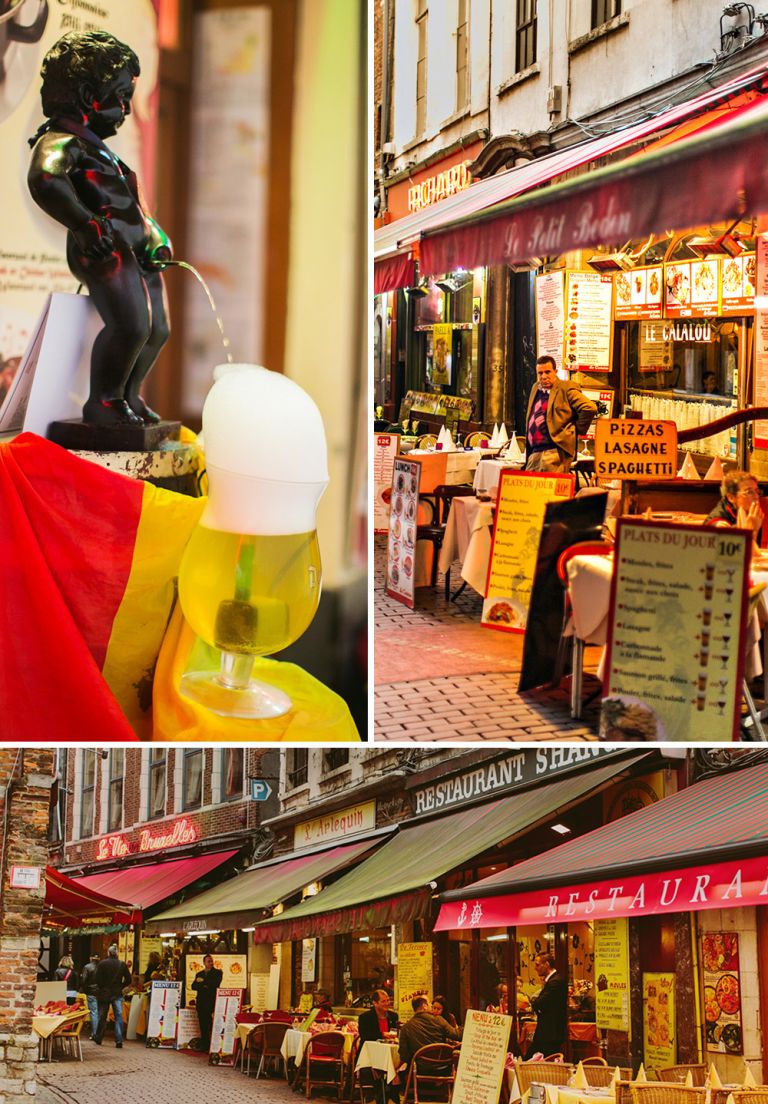 The one thing I really didn't enjoy about Brussels was Rue de Bouchers (pictured above), otherwise known as Restaurant Row, a small web of streets lined with back-to-back restaurants.  Waiters stand outside and harass every single passerby, shoving menus in your face and following you down the street, begging for your business.  It's aggressive and uncomfortable, and the food is not good enough to be worth the experience.  Chez Leon is considered to be the best of the options, but our meal there was mediocre and forgettable.  Instead, head to the opposite side of Grand Place and find Abrussel restaurant (pictured below).  The food is fresh, organic, flavorful, creative, and best of all – super inexpensive!  Only 22 Euro for three courses.  I highly recommend it!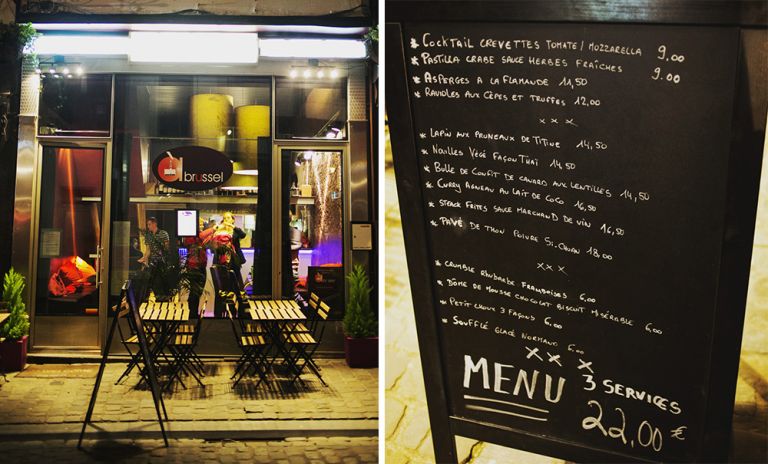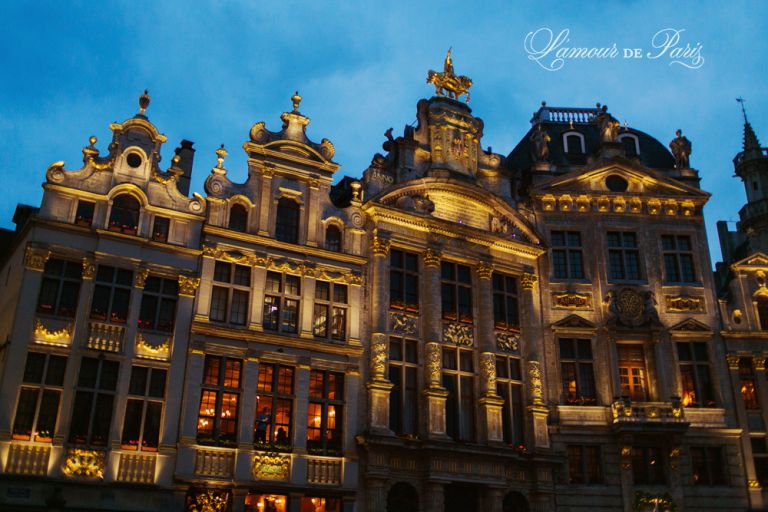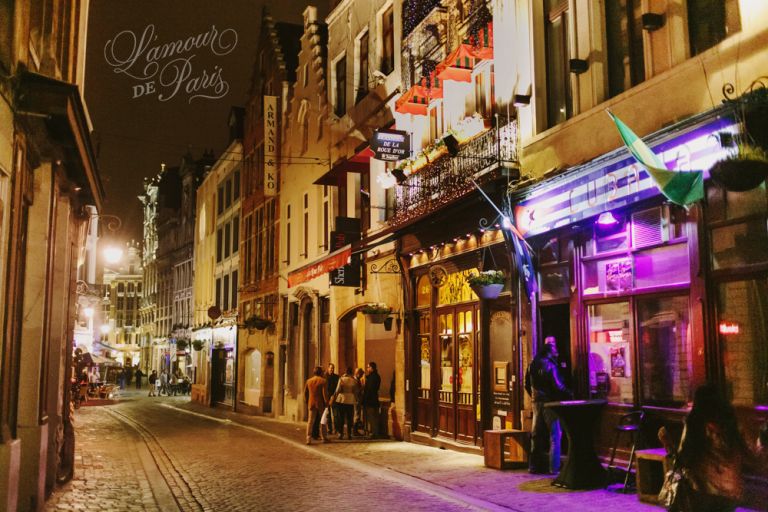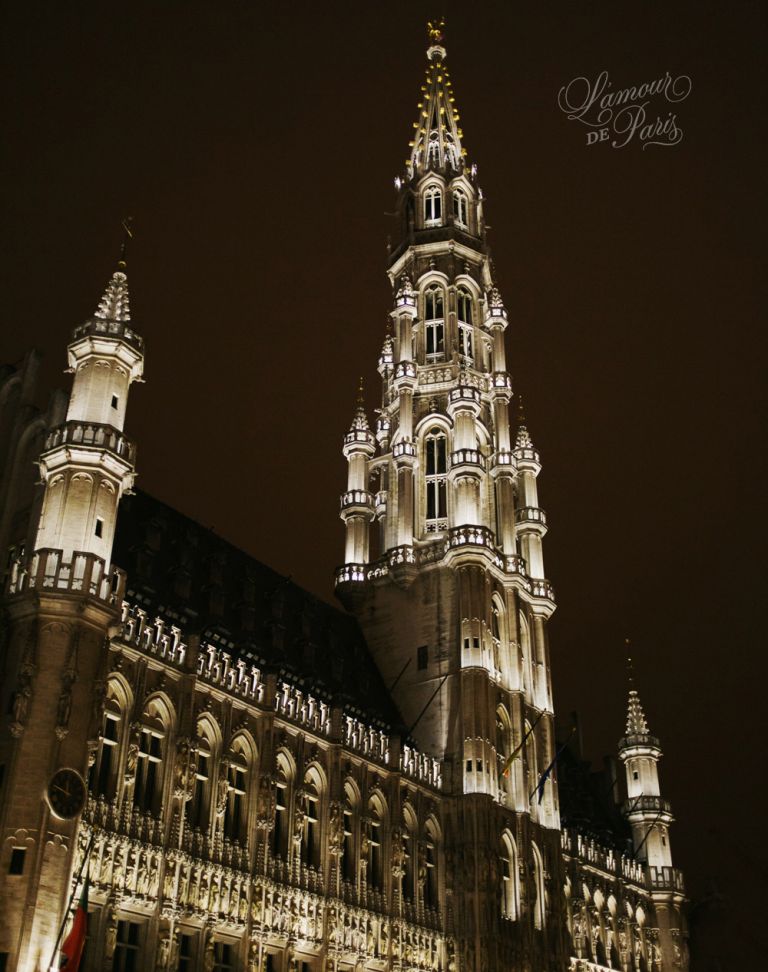 After an evening stroll around town, we headed to the famous Delirium Bar & Cafe.  Delirium is famous for having thousands of beers – literally, thousands – on the menu, including quite a few that cycle seasonally.  It's split up into three sections.  The lower level is a simple bar, and it's often jam packed.  It took us 45 minutes to get a beer down there, and we just didn't have the patience for that.  The ground level is a cafe serving cheese plates and other bar food, but since we had just eaten, we opted for the upstairs area, called the Hoppy Loft.  This area has larger tables (great for big parties), a smaller crowd, and in my opinion, a more interesting menu.  They serve a limited variety of local, craft, and seasonal beers and ciders.  We set here playing card games and rotating through the beer menu for several hours and had a blast!  I'm not a beer drinker so I stuck with the ciders, which were absolutely delicious.  Delirium also makes its own beer, called Delirium Tremens, which won the title of Best Beer in the World in 2011!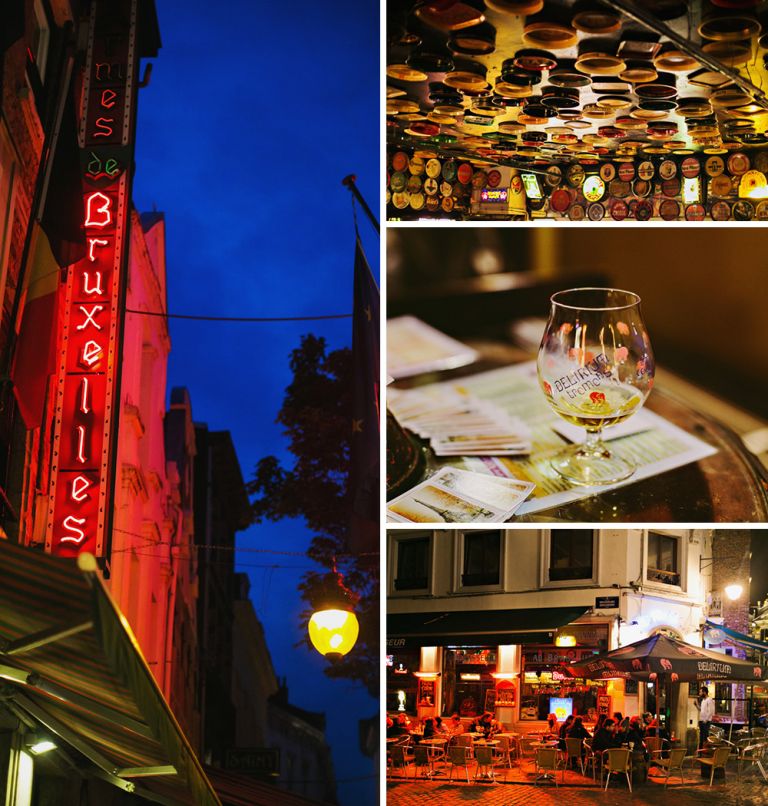 Brussels was a fun city, and I'm sad we didn't get to spend an extra day there.  I would have loved to check out the gorgeous Brussels Public Park and the Musical Instrument Museum ,which apparently has a super cool audio guide that allows you to hear each instrument being played as well as a great rooftap view of the city.  I definitely plan to come back sometime this winter to see the Christmas displays!
After Brussels we took the quick one hour drive north to Bruges, Belgium.  This city was made famous by the movie In Bruges, where Colin Farrel famously jumped from the belltower into the canals (not recommended).  I fell in love with this quaint, quiet town pretty much instantly.  There is a small canal that runs through the city, so as you walk down the old cobblestoned streets every now and then you will stumble onto a bridge and an adorably picturesque view.  I've been told Bruges is prettiest at night, which unfortunately we didn't get to see.  Another reason to return soon!
The best way to see Bruges is undoubtedly by bicycle.  We rented a bike from a local shop in the morning and spent all day cruising through the city.  The bikes come with baskets and locks, so it's easy to tote your souvenirs around as well as tuck them away if you want to stop for a meal or do some sightseeing.  There are thousands of bikes in Bruges, so you'll feel right at home on two wheels!  The city is mostly flat, so even if you're out of shape or haven't biked in awhile, you'll have no problem getting around.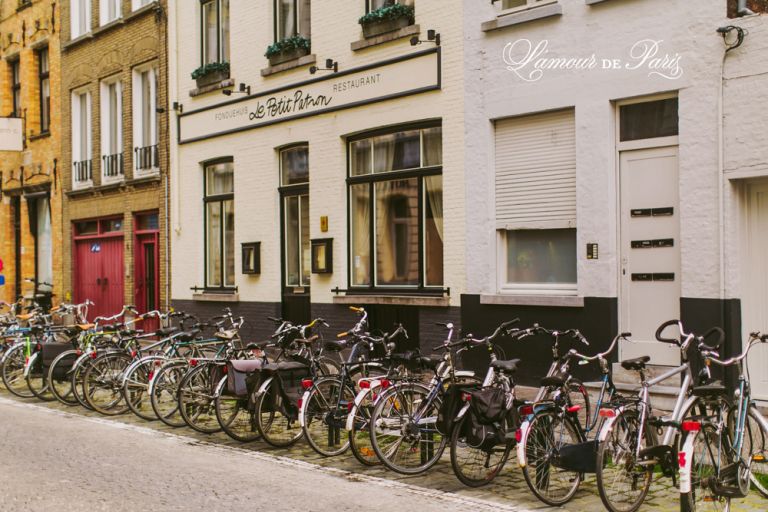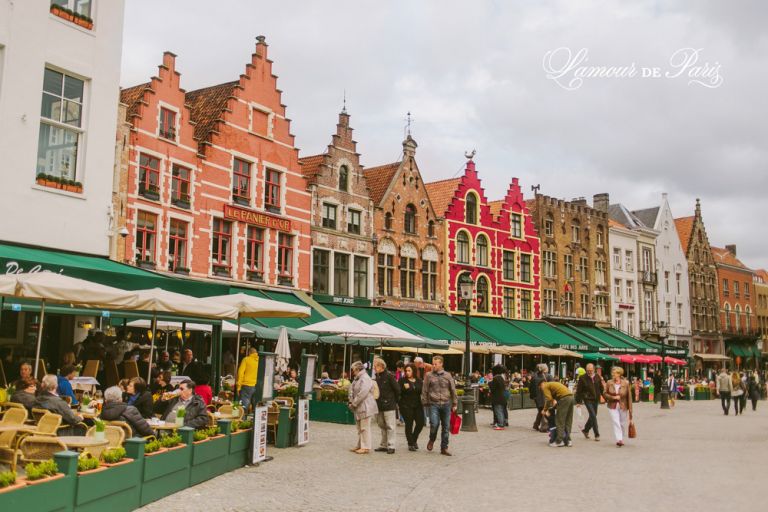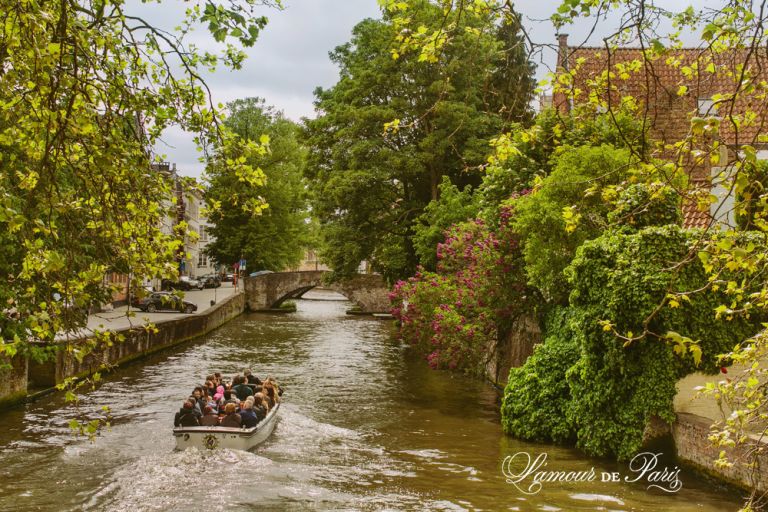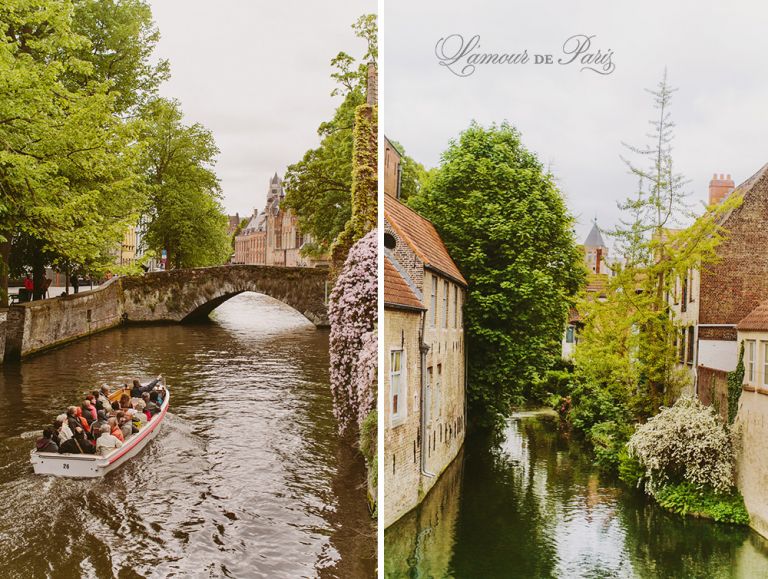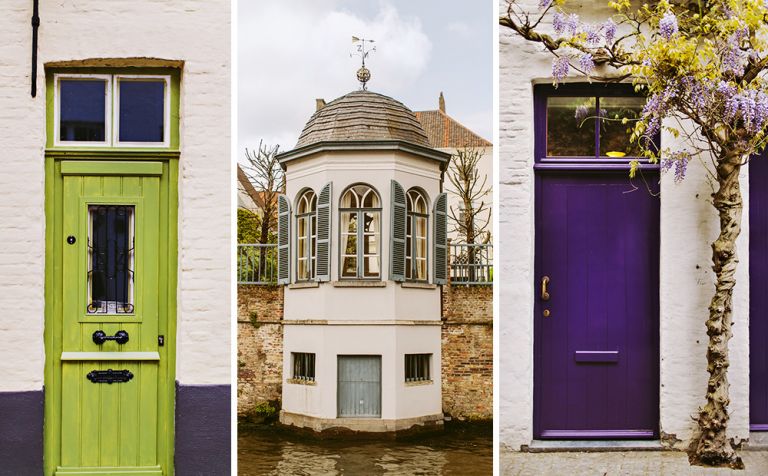 There is a tourist sightseeing boat that takes you around the canal and points out several Bruges landmarks.  We didn't have time to do this, but it looks like a really fun way to see the city from a different perspective.  The line was long, but there are a lot of boats so it moves pretty quickly.  I would suggest taking a boat ride in the morning, before the crowds hit, and then taking a bike around to the sights that looked and sounded most interesting.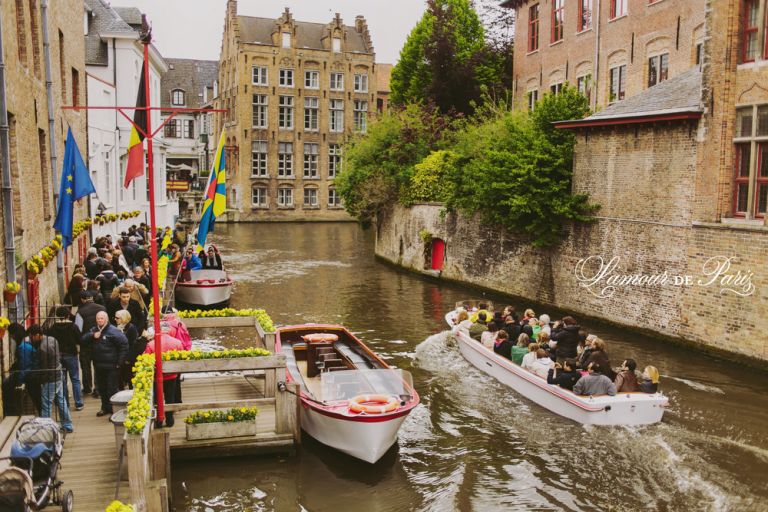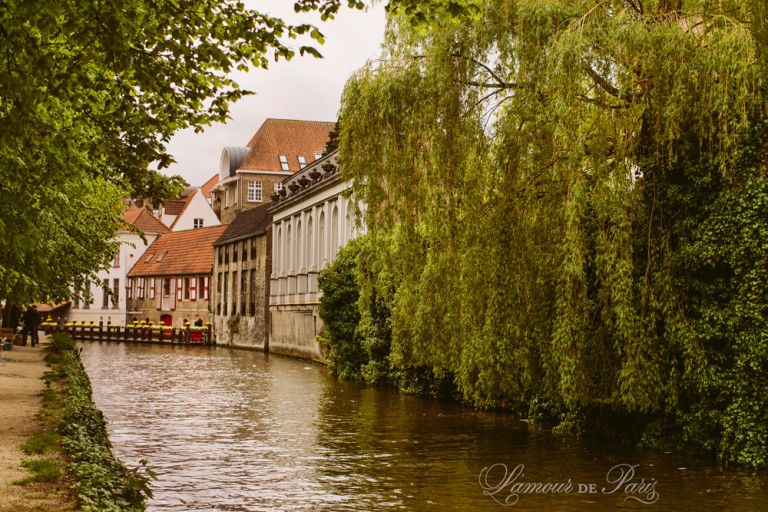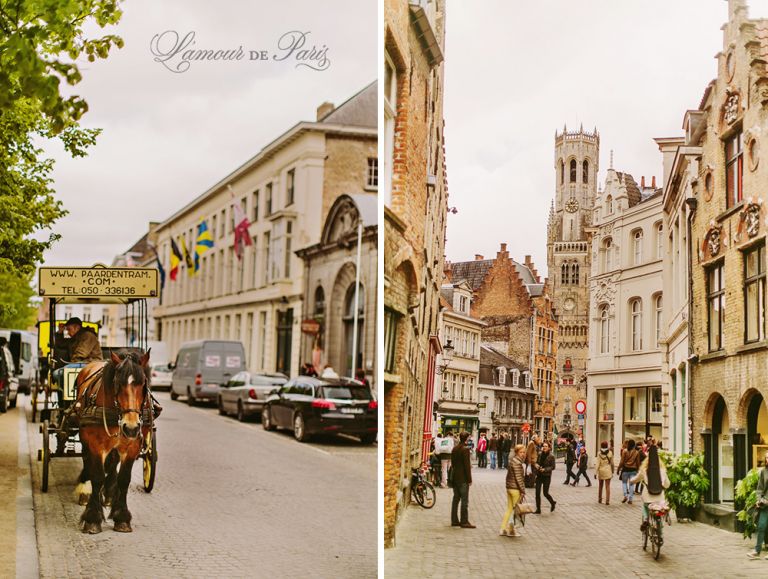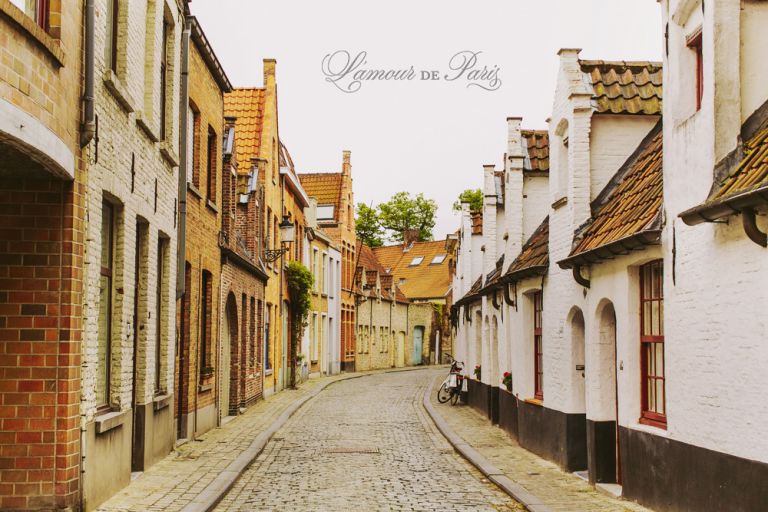 We chose to skip all the traditional attractions in Bruges and just have a relaxing day biking around, taking photos, and eating lots of fries!  We stayed primarily inside the peripherique, but just outside the city center are gorgeous old city gates, windmills, and beautiful countryside.  If you have more than a day to spend in Bruges, make sure you venture outside of the main tourist area.  Be advised that parking in Bruges is very difficult, so if you have a car with you, I suggest parking outside of the city and coming in via foot, bike, or bus, rather than trying to park in city center.  We killed two hours of our day getting in (and out) of the parking garages in the city, which is the last thing you want to do on vacation!
Although my trip to Belgium was short, I was quickly enamored with the country and its culture, architecture, and did I mention the FOOD?  Those who enjoy attraction-hopping may find Belgium a bit too slow for their tastes, but if you're the type of traveler who loves wandering through small towns and just enjoying the scenery, you'll adore Belgium and all of its lovely cities.