Recently some friends and I attended the Grand Masked Ball, an annual masquerade ball held in the gardens of the Versailles palace.   Just hearing the words "Masquerade Ball at Versailles" is enough to know it's going to be an incredible, once-in-a-lifetime experience, but it was truly ten times more amazing than I ever expected.  The ticket to the ball (ranging in price from 60 Euro for a basic entrance-only group ticket to 300 Euro for a single VIP ticket including parking and food and champagne throughout the night) gets you into the Versailles gardens at 9 PM, just in time to watch the sunset over the Grand Canal.  It's especially unique because from 9 until 11, the costumed ball attendees are mixing with the regular visitors, making for quite a scene!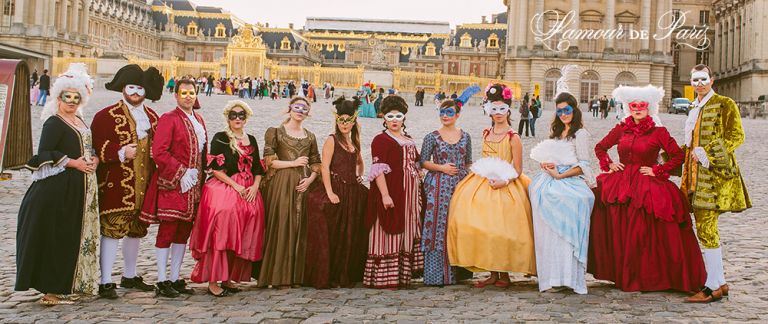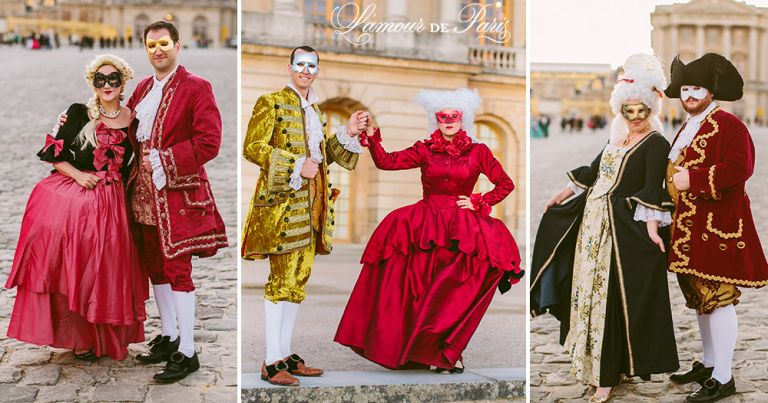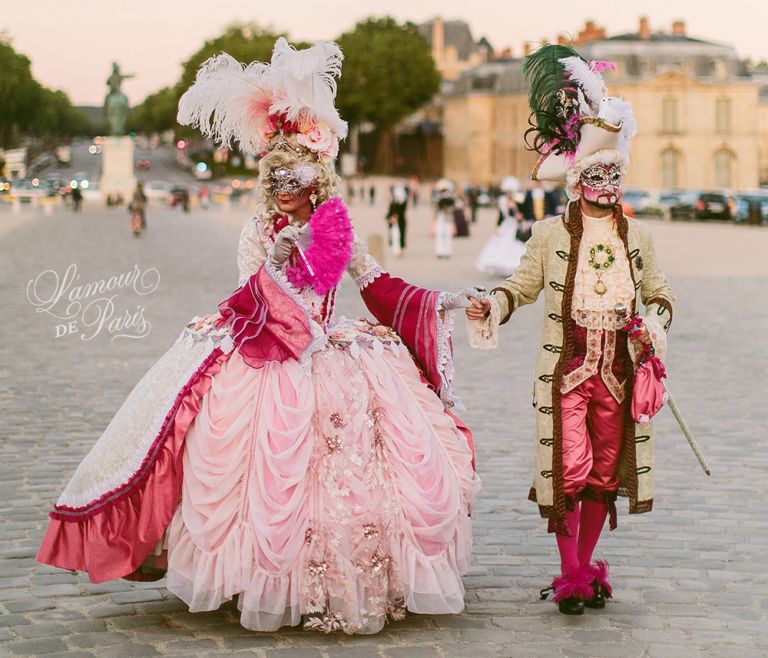 The couple above was by far the most extravagantly dressed, and everywhere they went people flocked to them for photos.  The craziest part – not only is this two guys, but they made their own costumes!  Incredible!  I can't imagine how many hours of work went into that skirt alone.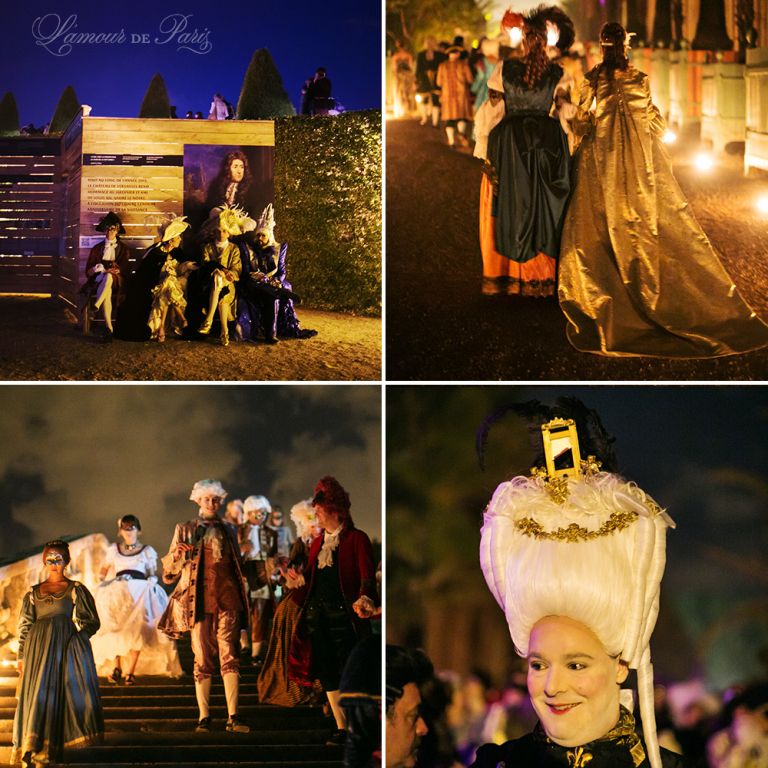 At 11 PM, the fireworks show was held as part of the yearly Versailles musical fountain and fireworks spectacle.  On certain nights in June, July, and August, the fountains of the Versailles gardens are coordinated to classical music, and after sunset there is a huge fireworks show over the Grand Canal.  If you're lucky enough to be in Paris during the summer, this is a really special event that is definitely worth seeing.  The show includes pyrotechnics, dancing plumes of fire, and a massive grand finale, all synchronized with the music.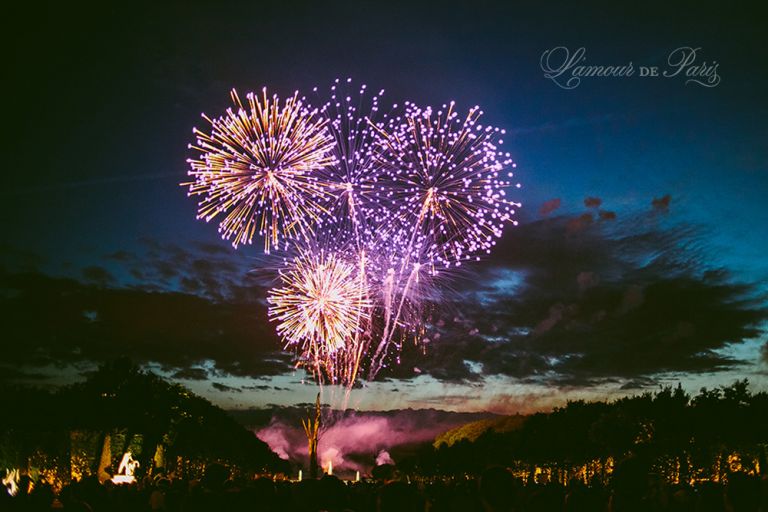 After the fireworks show, the regular visitors left and the ball attendees made their way down into the Orangerie, a specific area of the gardens where the ball would be held.  As we descended down the candlelit staircase and through the garden, we were entertained by various performers in over the top costumes.  It felt like walking into a club from an SNL Stefon skit – "This club has everything: albino tigers, a dance troupe dressed as S&M horses, a naked mermaid in a hot tub reading a book over a microphone…"  Random performers were scattered throughout the event space, and they rotated out as the night went on.  It felt like every time you turned around, there was some new, bizarre, beautiful display going on that made no sense at all, but was stunning to watch.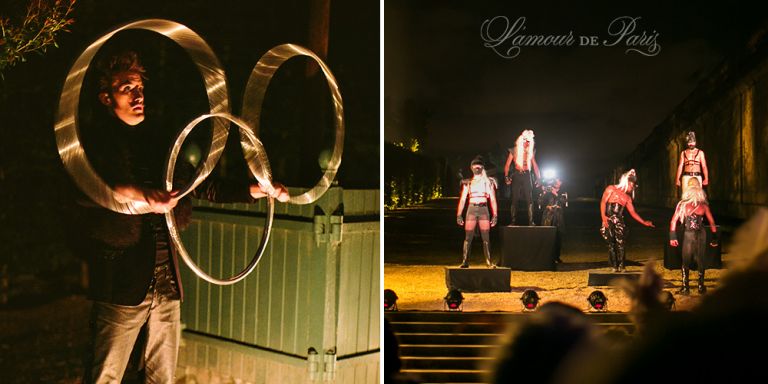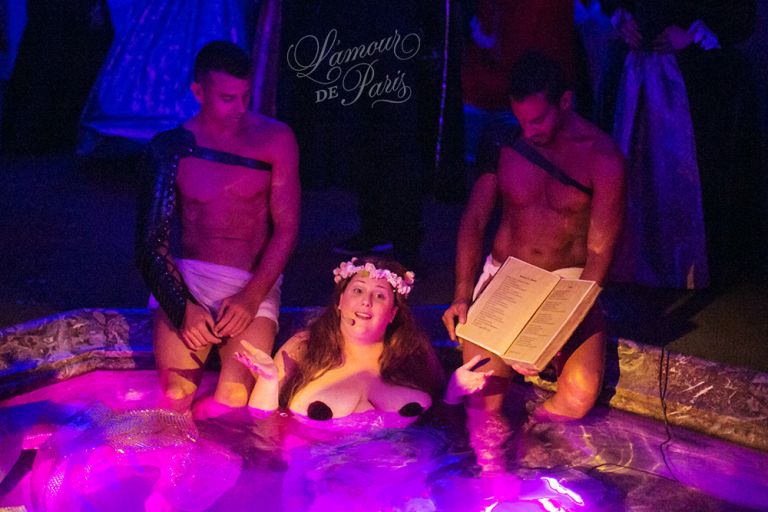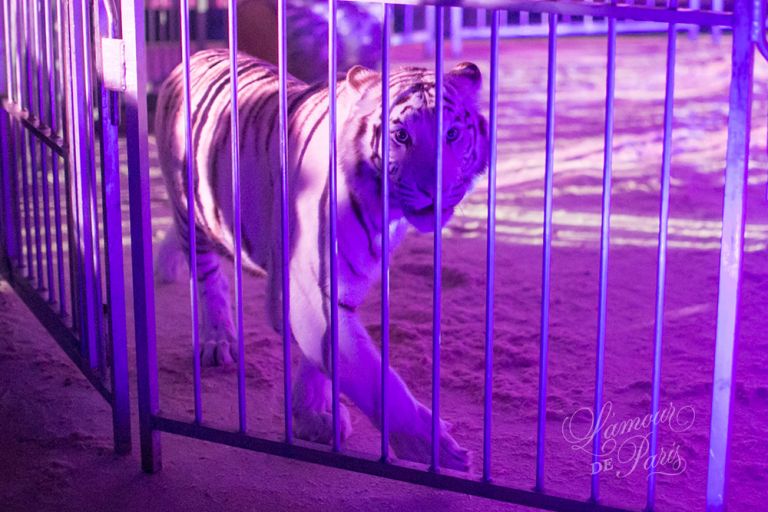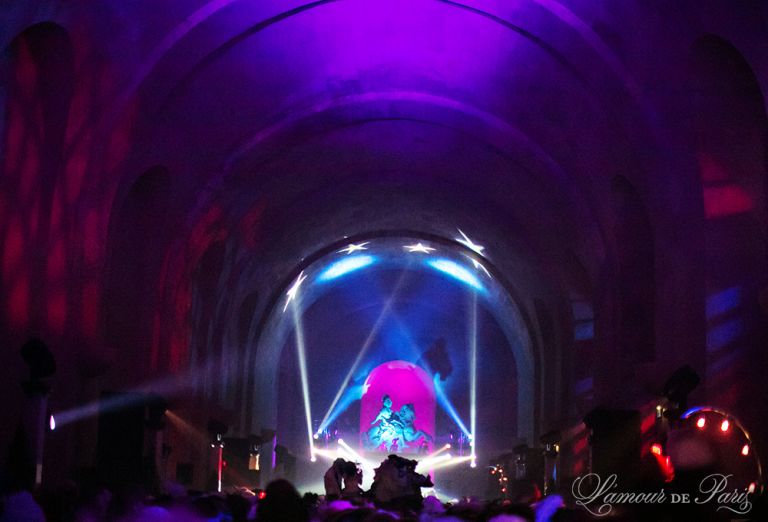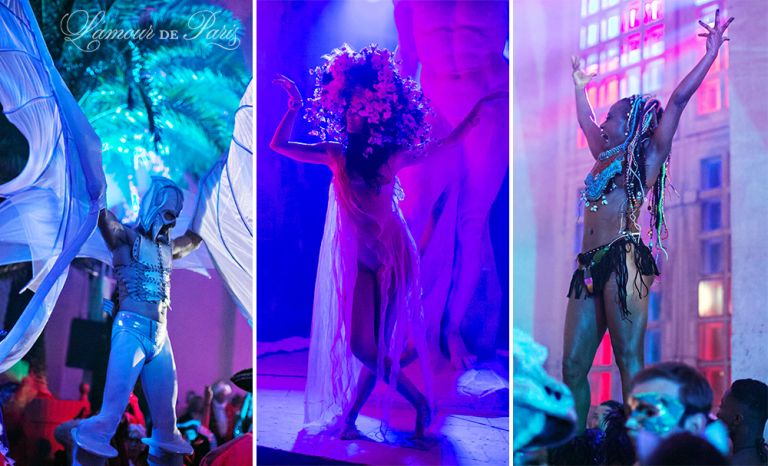 There was a large stage in the center of the room with new shows happening every 30-45 minutes.   The shows consisted primarily of Cirque-de-Soleil-style gymnasts and live singers with amazing backup dancers.  There was a waterfall above the stage that would turn on during certain acts, which was so fun to watch.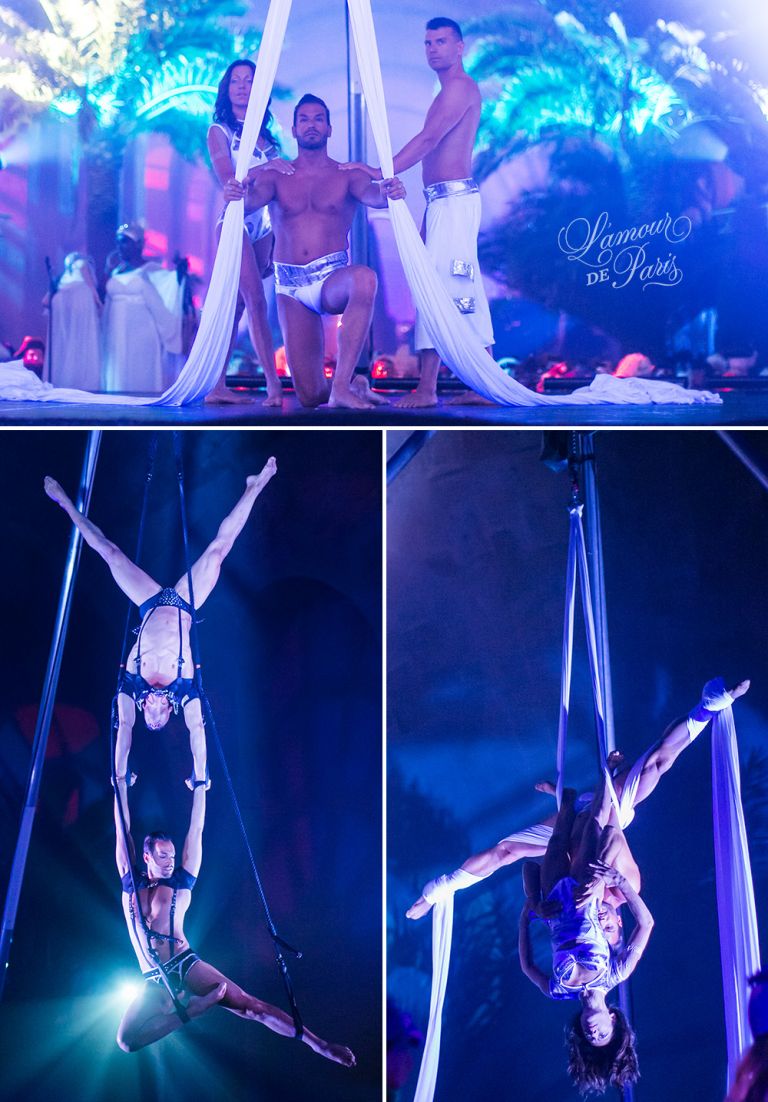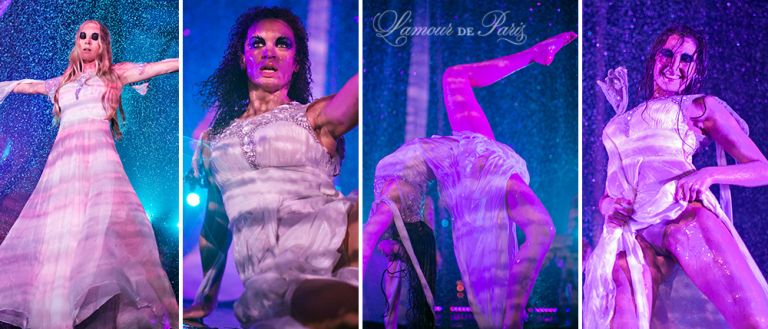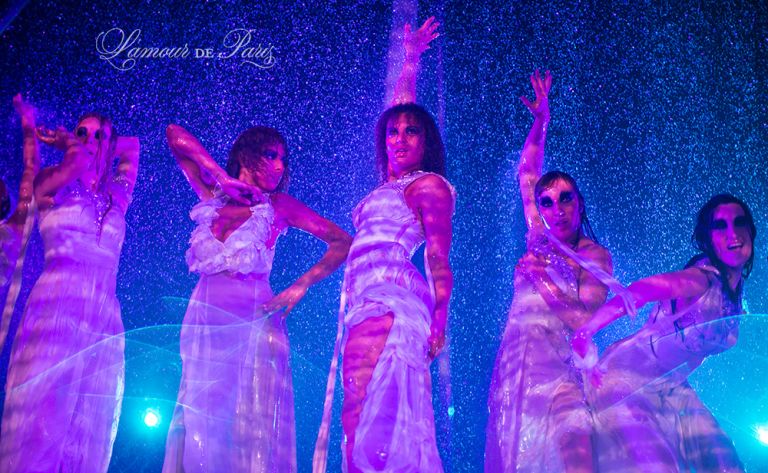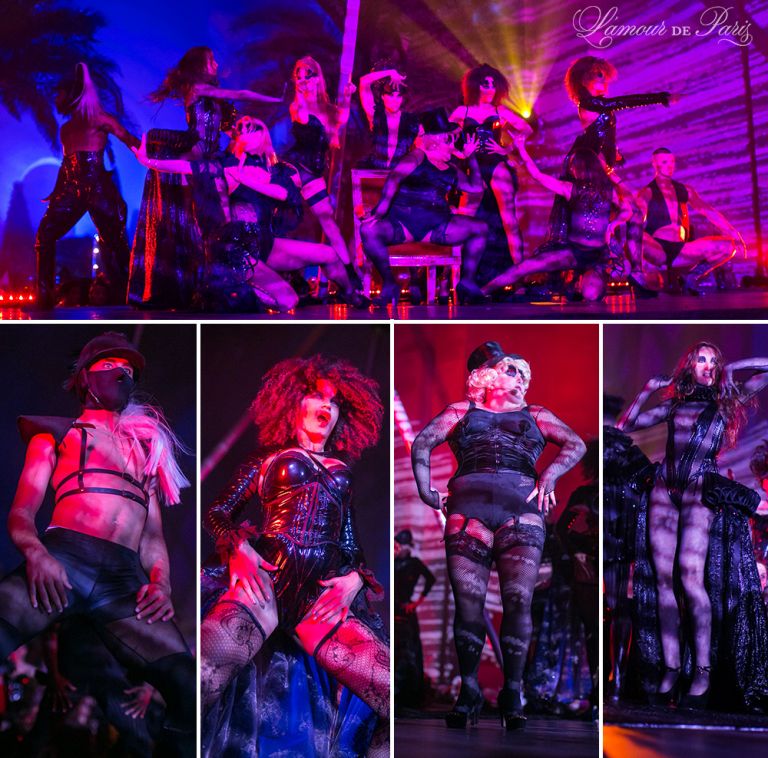 The night largely consisted of dancing, with music provided by a DJ at one end of the hall.  The DJ did a great job of keeping the energy up all night long and playing remixed versions of pop songs (mostly American, with a few French hits thrown in as well).  It was absolutely surreal to watch people in extravagant costumes dancing to lights and music, and so fun!  I couldn't stop taking photos of all of the creative masks, hairstyles, and outfits!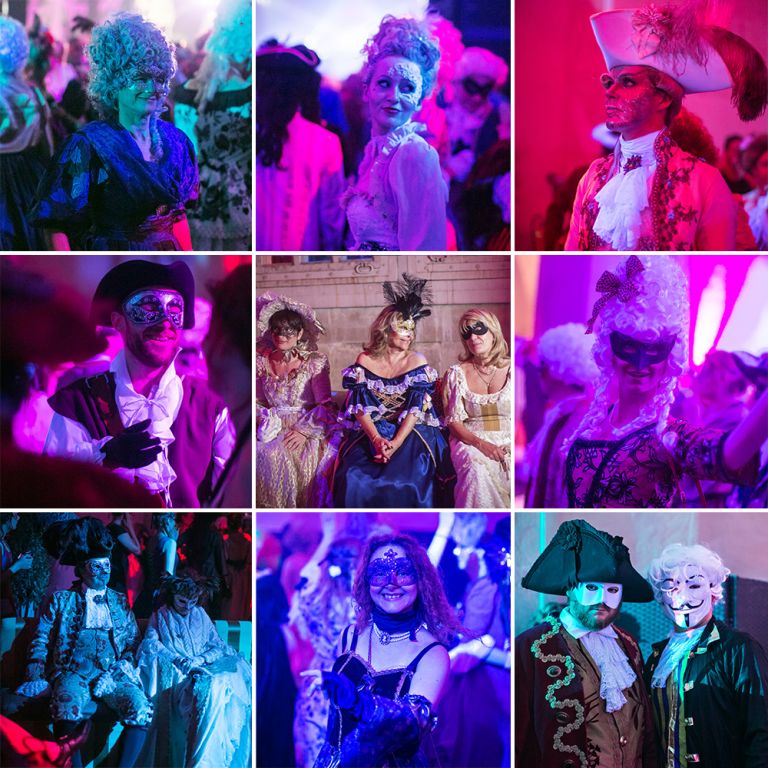 In another section of the hall, they had set up a faux-forest of potted trees and hedges.  Inside the trees there were couches and beds where partygoers could sit and relax and chat.  After six hours of dancing, it was so nice to curl up on a bed with a glass of champagne and relax my feet while people-watching and listening to the music from the DJ.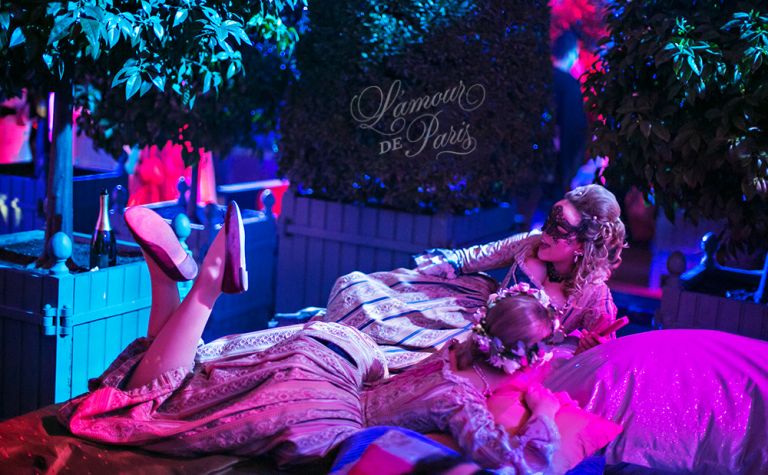 Outside of the hall in the Orangerie, they had a big bonfire set up with a photobooth and an area for smokers.  Walking through the candlelit gardens at night was really surreal.  At times it felt like I had been transported back to the days of Louis XIV as a guest at one of Marie Antoinette's all night parties.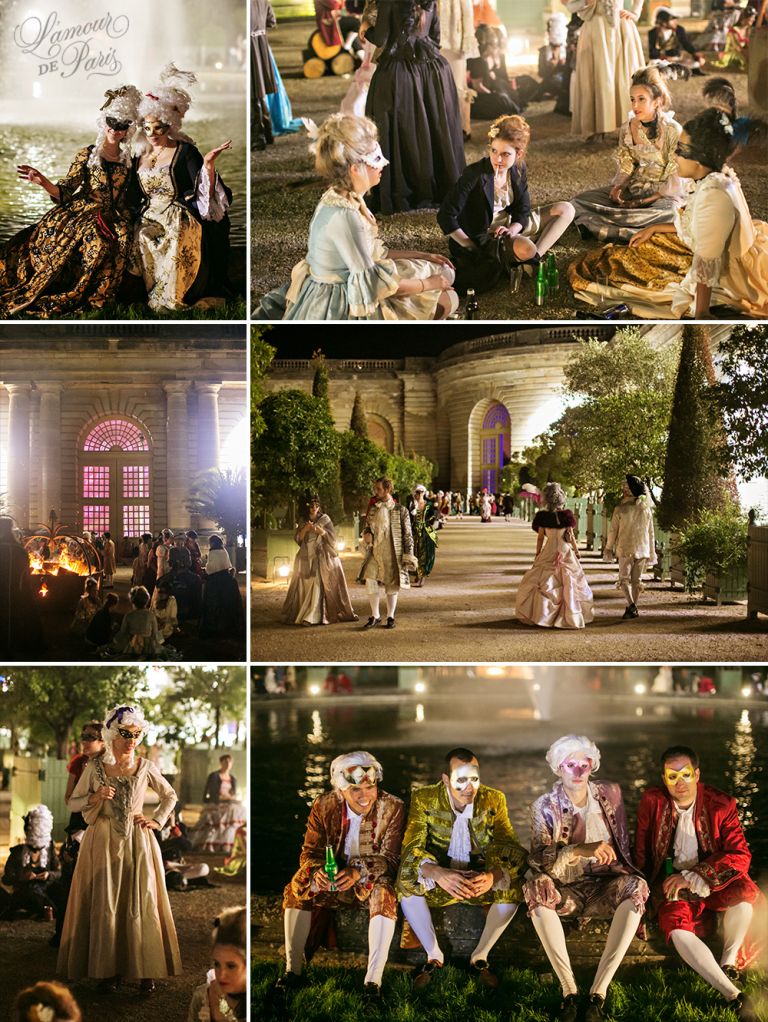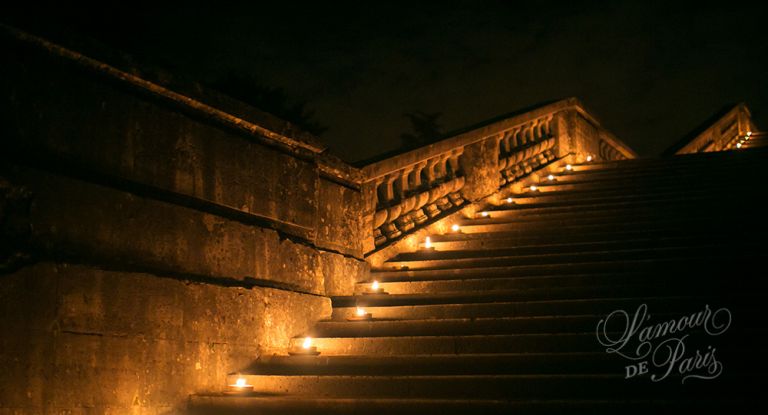 The party goes all night and ends with breakfast in the garden at sunrise.  Sadly, I have left my hard-partying days behind me, so I only made it to 3 AM before I had to throw in the towel, but I saw photos from the sunrise dance party just outside of the Hall of Mirrors, and it looked amazing.  Next year, I am definitely smuggling in some 5 Hour Energy drinks and staying until the end!  This is definitely an event I plan on attending every year for the foreseeable future, although I learned a lot about what worked and what didn't and how to improve my experience in future years.  Here are some tips for those of you who want to attend, as well!
VERSAILLES MASQUERADE BALL TIPS
1.  Go with a group, if you can.  It's so much more fun when you have a lot of people to party with, plus it keeps the ticket price down.  If you can't bring friends, come early and find some people who speak the same language (this is a very international party, so you'll be able to find people from every country here) and make friends.  Even if you can only come alone or as a couple, you're still going to have a great time!
2.  Rent your costume from Sommier.  This Paris costumer has thousands of elaborate, authentic, movie-quality period costumes.  People really go over the top for this event, so if you show up in a cheap "Sexy Marie Antoinette" costume you picked up at a Halloween store, you're going to feel a bit embarrassed.  It's best to get your costume early if possible, but if you're only coming to Paris a few days in advance, Sommier will still have options for you.  Our group picked up our costumes the week before the ball, and there was still a huge selection.  Prices aren't cheap, but they're worth it for the experience, and you get to keep your outfits all weekend so you can wear them out to visit other chateaus and take some amazing photos all over Paris (I'll even give you a discount on my romantic portrait sessions if you do them in costume!).
3.  Go out to Versailles early.  It's so fun to walk the grounds in costume, and you'll want to secure your spot for the fireworks show.  It also takes quite awhile to get from the train station to the chateau and then down to the gardens (at least 30-45 minutes), and you're going to want to stop to take photos along the way, so plan for that and come out early.
4.  Smuggle in food and wine.  We had elaborate plans to tie wine bottles and baguettes to the petticoats in our dresses, but this year they didn't even check bags, so we were able to get everything in without a problem.  You'll want to have a backup plan just in case they do check next year, but it's fairly easy to get picnic supplies in.  We had several friends bring backpacks full of wine and snacks, and without those I don't think we would have made it as long as we did.  There is food and wine for purchase there, but the lines are long and everything is expensive, so bring your own if you can.  You can also opt for the VIP ticket, which will give you access to food and wine all night.  I may consider that for future years, as carrying around a heavy backpack of wine was quite a hassle.  We're also planning to transfer the wine to those water storage bags they have at outdoor and sporting goods stores to lighten the load.
5.  Stay all night.  I know, I know, the idea of staying up and dancing for eight hours sounds daunting, but this is a once in a lifetime chance, and once you've paid all of the money to get here and get your costume and get in, you might as well make the most of it!  If you have to, curl up on one of the beds or couches in the hall or find a grassy spot in the gardens and take a short power nap.  Plenty of people did it!  Lots of people do rent hotel rooms in the city of Versailles, but if you do make it all night, you can just hop on the RER in the morning and head back to Paris easily.  Plus it's kinda fun riding the Metro in costume 🙂  If you do leave early, they will send you out the back entrance, where you'll have a mile and a half walk back to the train station, so don't wait until you're bone-tired to cut out.
6.  Pace yourself.  Don't drink all your wine and eat all your food early, or you're going to end up sleepy, sober, and hungry.  Take regular breaks to rest your feet, or even a short nap if you have to.
7.  Wear comfortable shoes.  Most of the female dresses will be long enough to cover your feet, so you can easily wear sneakers, and guys generally will wear normal black leather slip on shoes (male costumes come with a bow or buckle that slip over their shoes).  Eight to ten hours of walking, climbing, standing, and dancing can wear your feet out, so do what you can to keep them rested and supported.
8.  Don't plan anything the next day, except for sleep!  
They haven't set the date for 2014 yet but I expect that it will be in mid-June again.  That is a great time to come to Paris – if you plan it right, you can also attend Fete de la Musique and Diner en Blanc in one 10-day trip!  More info on the ball here.  If you have any other questions about the Masked Ball at Versailles, ask away in the comments!