(We're breathing life into an older post that still holds true!  The basic premise is the same for the guide of what to pack, but you'll find many of the specific pieces have sold out since it's older.  Classics never go out of style though, and you should still be able to find items along these lines easily.)
Our last guide to packing for a European vacation in a carry-on suitcase only was insanely popular (over 6500 pins on Pinterest!), but lately we've had a lot of feedback from fans asking if those tips are still applicable for packing for Paris in summer.  The truth is, it really depends on where you're going.  In certain areas of Europe (namely coastal cities), it's still pretty chilly, so the suggestions in our previous post still stand.  However in London, Paris, Barcelona, Madrid, Amsterdam, and other cities, we're in the midst of a bona-fide heat wave.  In Paris it has been around 85-90 degrees Fahrenheit for the past several weeks, and since air conditioners are rare, it makes for a pretty hot and muggy city both indoors and out.  If you come with long sleeved shirts, dark leggings, and heavy sweaters or jackets, you're going to be very miserable, so it was definitely time for an update!

The hard part about designing a summer packing guide is that, because summer clothes are smaller and lighter, you have a LOT more options and flexibility.  I could have created this same guide with a thousand different combinations of shorts, skirts, tops, and dresses.  What I chose to do was pick some very basic pieces that are currently on trend and easy to find in stores, and below I will offer some tips on how to customize these options to fit your own personal style.
Click "View full post" below to see a full breakdown and outfit ideas!

For bottoms, you have a ton of great options, but instead of loading up on every skirt or pair of shorts you own, I suggest picking four to five choices with a mix of patterns, colors, and fabrics.  First, you'll need some classic black shorts.  I like flutter shorts, which are looser and breezy and have the appearance of a skirt without leaving you worried about a gust of wind showing off your private bits.  Opt for a more formal linen or polyester fabric, rather than casual cotton or denim.  Second, a black and white striped skirt.  These are super trendy at the moment and are easy to find and even easier to make yourself, if you're the sewing type.  I prefer skirts with bolder stripes and in a stiff or starched fabric, to resist wind gusts.  Third, a pair of leopard print shorts (or a skirt, if you prefer).  I just adore leopard prints, which effectively work as a neutral without being too boring.  I know not everyone is on board with the leopard trend, in which case you can switch these out for some caramel or cognac-colored shorts.  Finally, add a touch of dressy femininity with a pair of lace shorts (or a skirt, if you prefer).  It seems I can't go into a single store without running into an adorable pair of lace shorts, and I see them everywhere on the streets of Paris.  If possible, opt for a cream-colored pair rather than a bright white pair, which will help to hide dirt while traveling.
For tops, I've gone with simple, classic, and comfortable pieces that will travel well and keep you cool.  I've started with two statement pieces, a short-sleeved Breton stripe top and a cream lace blouse. Almost any H&M, Zara, Target, or department store will have inexpensive versions of both of these items, or you can splurge on a gorgeous designer piece that will last you for years.  I got both of mine at Ann Taylor Loft, and I get compliments every time I wear them!  My next two pieces are items every girl should already have in her wardrobe – lightweight cotton V-neck tees in black and white.  Normally I wouldn't advocate such casual pieces, but when paired with dressy items like lace shorts or a striped skirt, and accessorized with a statement necklace, they can actually be very dressy and sophisticated.  I prefer J Crew Tissue tees, which are thinner and have a more stylish cut than cheaper options.
Dresses are my weak point, and when traveling during warmer months it takes everything I've got to avoid just throwing every single dress in my closet into a bag.  It's so easy to just throw a great dress on with a pair of sandals and hit the road!  The other great thing about dresses is that they can sometimes double as skirts when paired with certain tops, giving you double the wardrobe options!  I've suggested three basic dresses here, but I've also included a few other possibilities in the "optional items" below.  First, you of course need a little black dress.  I've chosen a relaxed cotton version that can be styled both casually and formally, but any comfortable, short-sleeved (or sleeveless) version will do.  Second, a navy lace dress.  I chose navy because it goes well with both black and brown accents and because the darker color holds up better while traveling.  If you don't like navy you can go with a maroon, cream, or pale pink instead.  Third, a white or cream belted shirt dress.  The shirt dress is one of those classic items that is sophisticated while still being relaxed. Rachel McAdams wore almost exclusively shirt dresses during Midnight in Paris, and she always looked amazing and über-comfortable.
For accessories, I've narrowed it down to three shoe options that should cover any outfit and any occasion: nude wedges, black sandals, and gold boat shoes.  If you can't handle heels (don't be ashamed, I can't either!), you can trade out the nude wedges for some simple ballet flats.  For the sandals, beware of anything too flat that will leave your feet hurting very quickly.  Try to find something with some support, and add a little black ribbon bow to class them up.  Bring one nude bra and one black bra, and one pair of underwear for every 1-2 days you'll be traveling.
Finally, don't forget to bring a thick brown belt and a simple straw fedora to block the sun from your face on sunny days.  If you're worried about crushing your hat during transit, you can pick one up at almost any boutique or department store in Paris, but you will pay substantially more for it than you would at Target or Old Navy back at home.  The guys out at the Eiffel Tower always have sun hats too.  You should be able to find one for less than 20€.
Things I purposely left out of my list (again):
1) Denim.  Thick denim takes up lots of space in your suitcase, it takes forever to dry after washing, and they're almost synonymous with "tourist."
2) Scarves.  As popular as scarves are here, it is just way too hot for those right now!  If you absolutely must bring a scarf, stick with one or two small, square, sheer or lightweight scarves that you can tie onto your purse if you get too hot to wear them around your neck.
3) Jewelry.  While jewelry is a great way to add your own twist to these outfits, don't go overboard.  I recommend taking one statement necklace (a white, black, or pale pink bubble necklace would be a good choice), one long gold pendant necklace, one dainty chain necklace, and a strand of pearls.  For earrings, I suggest three pairs of studs: diamond, gold, and pearl (add in a pair of gold hoops if you want).  Choose an inexpensive tortoise watch (gold ones are trendy but get hot under the sun and can attract attention from thieves), and leave the bracelets and rings at home (you'll silently thank me every time you have to go through a metal detector at a museum or airport).
Below I have included 14 different outfit combinations using the items listed above.  Some are very casual, some are very formal, and most are somewhere in between.  There are certainly more than 14 different ways to combine pieces, but these are my favorite choices.


If you've got room left over in your suitcase and want to add a bit more variety, I recommend adding one or two pieces similar to the ones above. Don't go overboard and stuff your suitcase to the brim – the whole point of this is to pack light so that your bag is easy to transport and you've got room left for souvenirs!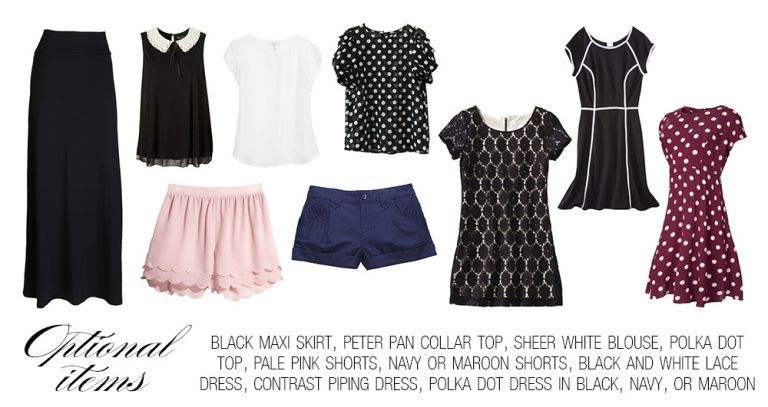 This is the place where you can really mix in some of your own personality and style. If you're more fashion forward, you may like to go with a romper or some leather shortalls. If you're girly you may prefer some simple chiffon skirts or cotton sundresses. If you're classic you might like to add another shirtdress or wrap dress. If you're very active, perhaps some jeans or chino shorts would be a good add. Whatever you choose, remember that the goal is to choose items that can either stand alone or mix and match with other items. Stick with neutral colors, classic prints, and fabrics that don't wrinkle or stain easily.  Here are a few items that I think would make a good addition to your basic Paris travel kit:
Always remember that worst case scenario, there is an H&M and Monoprix on every corner in Paris. Inexpensive clothing and shoes are very easy to find, so don't overpack "just in case."
Hair appliances can also fill up your suitcase pretty quickly.  The good and bad news is that US hair appliances won't work in France – even with plug or voltage converters, your blowdryers and curling irons will quickly fry here.  Heating appliances and dual voltage don't mix!!  Instead of ruining your favorite Chi, consider no-heat curling methods suck as the braid, the sock bun or the Gibson roll (see our how-to post on no heat hairstyling here), or pick up an inexpensive curling iron once you get into town (Monoprix and BHV will have plenty to choose from).  Almost all hotels and rental apartments will provide hair dryers for you, as well.
So there you have it!  A full trip to Europe in one carry on suitcase.  Try out these tips next time you come abroad, and enjoy life with less.  You'll be a happier traveler, guaranteed, and you may end up saving a lot of money in the process!
See also:  Packing for Paris – Cold weather guide and Packing for Paris – Accessories edition