French lingerie is one of Paris' greatest gifts to the world.  French women are known for being confident, impossibly chic, and sexy at any age, and I have to believe that at least a little of that is brought on by the gorgeous garments they wear beneath their designer duds.  Wherever you go in Paris, you'll find a wealth of options at every price range, so going out for some negligee shopping can be a bit overwhelming.  Hopefully this guide can help you narrow down your focus to a handful of brands – and inspire you to bring home some sexy souvenirs on your next trip.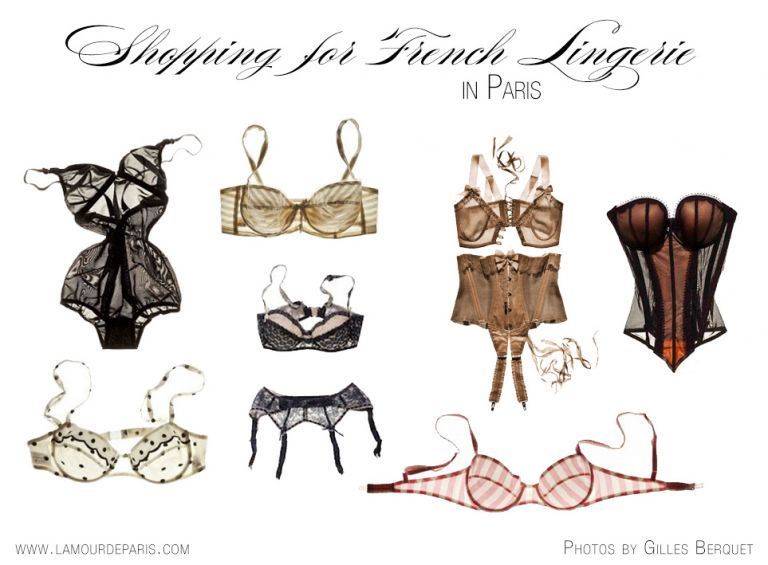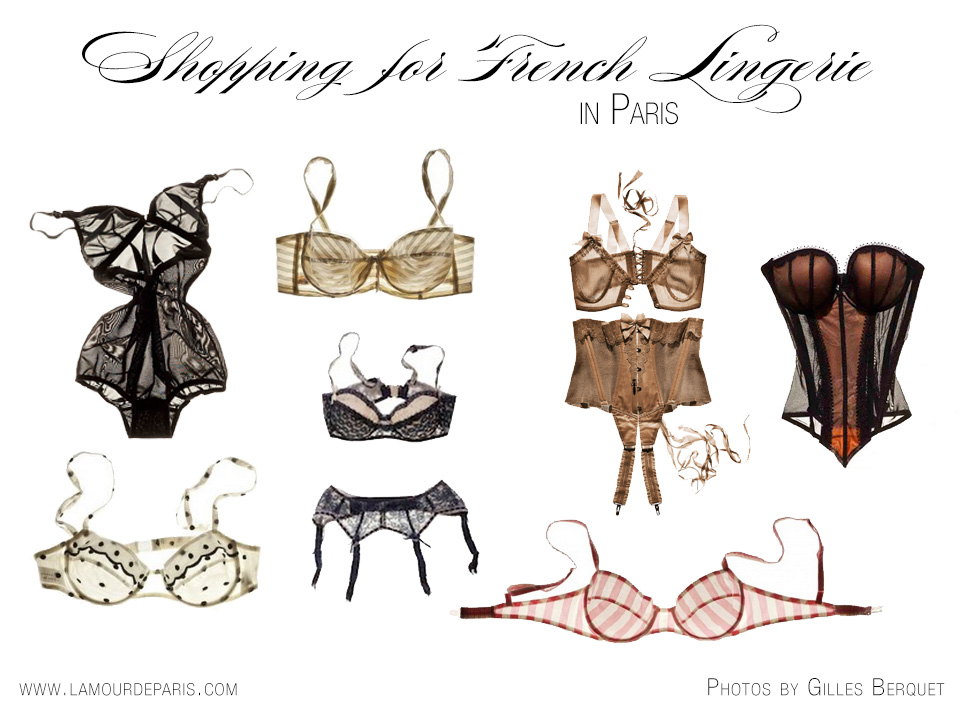 HIGH END
Agent Provacateur – One of the most famous lingerie brands in the world.  Also one of the raciest – their naughty line will get anyone's heart racing.  Although they do have some affordable underwear sets, their lingerie tends to be on the pricey end.  They also have incredible swimwear.  Their work is impeccable, and I guarantee you that if you wander into their boutique, you'll fall in love with something that you absolutely have to have.  You've been warned.
La Perla – Not a French line but worth mentioning regardless, La Perla is another of the top brands in the world and they have a heavy presence in French department stores.  Their work is sleek and fashion-forward, often looking like it belongs as much on the runway as in the bedroom.  I could spend hours flipping through their sexy lookbooks.
Louise Feuillere – If you want something truly unique, this is the best (and most fun) choice.  Madame Feuillere does lingerie sur mesure, meaning her pieces are custom made to fit your body.  Stop by her workshop to see her pre-made pieces and get inspired, then work together with her to design something personalized to your taste.
MID RANGE
Chantal Thomass – One of my favorites, Thomass' designs are feminine and romantic while still being seductive.  I love her super-soft tulle Capricieuse line for a sweet look, and her lacy Coup de Foudre line for something a bit racier.  It's worth stopping in to a Chantal Thomass boutique for the atmosphere alone, not to mention all the pretty eye candy.
Simone Perele – Glamorous, sexy, and well-made – everything you expect French lingerie to be.
BUDGET
H&M – Though technically not French, H&M actually offers a lot of beautiful pieces in their French stores at a very reasonable price.
Etam – One of the better-known French lingerie stores, with boutiques on every major shopping street.
Princesse Tam Tam – Another one of my favorites.  Great pieces at great prices, with tons of stores throughout the city.
There are countless other options – Eres, Chantelle, Laure Sokol, Aubade, Cadolle, and Carine Gilson to name a few.  You can peruse them all together by shopping online at Dessus Dessous, but I strongly recommend scheduling an afternoon for the lingerie floor at Galeries Lafayette where you'll find the brands listed above and a whole lot more.
If you're really in the mood to invest in some beautiful pieces, consider a private lingerie shopping tour.  You can set one up with Galeries Lafayette's VIP concierge service (minimum purchase required), or you can go with a shopping organizer such as Paris Lingerie Tours.